A good cheesecake has to be one of my favourite sweet treats to bake at home. I would usually make it as a dessert, but why not enjoy cheesecake as a snack too?
There are a million flavoured cheesecake recipes, but for this one I wanted to combine my love of coffee and cheesecake in one glorious slice.
The result? Our baked coffee cheesecake slice is oh so simple to make and utterly delicious as an afternoon snack. I hope you love it as much as I do.
Why make a baked coffee cheesecake slice?
Cheesecake is a popular choice for celebrations in Australia, but what if you can't wait for the next birthday or big occasion to enjoy it?
The answer is my coffee cheesecake bars recipe! Baked in a loaf tin or small tray and sliced into small (or not so small) portions, all of a sudden a decadent dessert becomes a lovely little treat to enjoy with a cup of coffee before the kids get home from school.
Not only that, my baked cheesecake slice recipe is also a crowd pleaser at school fetes, the bake sale or your next party.
And the other reason? Unlike my mocha brownies recipe, the kids might not like it so much, which means all the more for me. Mean? Possibly. These mocha almond popsicles are a great adults only snack too!
Espresso cheesecake ingredients
In Australia the most common sweet biscuits used to make a cheesecake base are McVites Digestives or Arnotts Granitas. Both are easy to find at your supermarket. If you are based in the US or Canada, graham crackers are your best option.
For the coffee swirl on top in our recipe for coffee cheesecake, I have used espresso. If you don't own a home espresso machine, any type of coffee is fine to substitute – just make sure it is quite strong to achieve the nice caramel colour.
Finally, in terms of what tray to use, I have baked this coffee flavoured cheesecake slice in a 23 x 13 cm (9×5 inch) loaf pan. If you don't have one, a 20 cm (8-inch) square pan is a good alternative.
How to make coffee cheesecake
Step 1 – Bake your cheesecake base
Once you have set the oven to 160 C /140 C fan forced (325 Fahrenheit) line your pan with baking paper.
As we are using a loaf tin instead of the typical spring form pan, I recommend lining the tin so there is plenty of paper up both sides of the tin. This will make it easier to remove from the pan post-cooking.
First step is to blitz your cheesecake crumb base. Throw the biscuits in a food processor or good quality blender and blend. Once you have a nice fine grind, pop them in a bowl and combine with the sugar, melted butter and cinnamon.
Tip the mix into the base of your tin, spread it out and press down firmly with a spatula or your fingers to achieve a nice flat, firm crumb base.
Pop in the oven and set the timer for 10 minutes.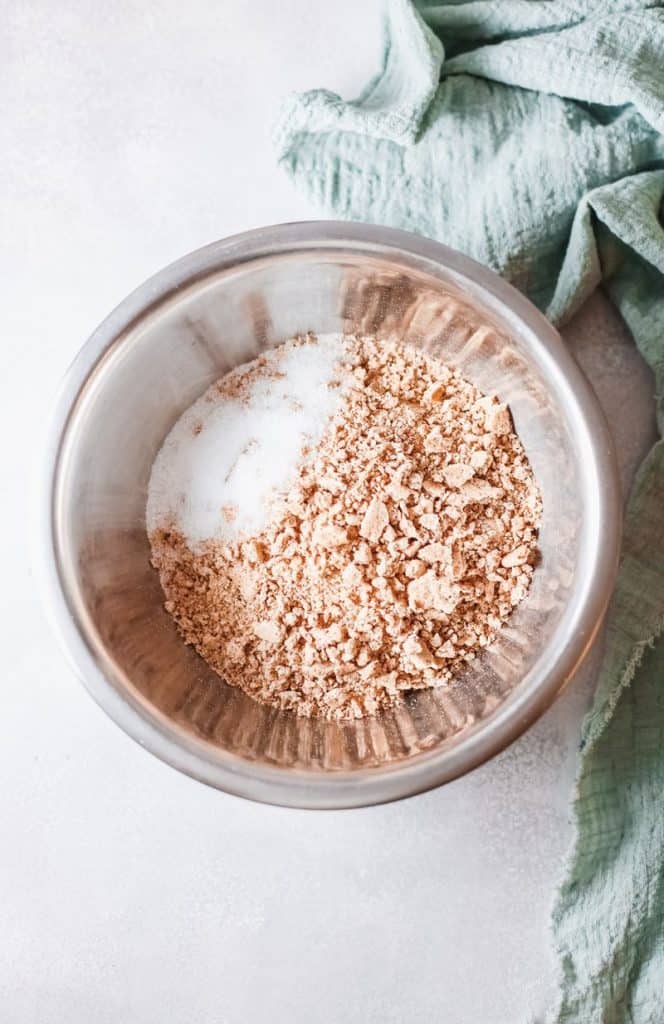 Step 2 – Prepare the cheesecake filling
While your base is cooking, make a start on your filling. In a mixer beat the softened cream cheese until smooth.
Add the sugar then the eggs, one at a time, blending well between each addition.
Reduce the mixer speed and add the thickened (heavy) cream and vanilla extract. Beat on medium speed for a couple of minutes until the mixture is light and airy.
Step 3 – Add the filling to your pan
In order to achieve a caramel, uneven finish on the top of the coffee cheesecake slice, you want to pour just half the batter on top of your crumb base in your tin.
Add the espresso to the remaining batter in the bowl and mix gently. Pour this batter into your tin and swirl with a spoon to achieve a marbled effect.
Pop your cheesecake into the oven and bake for 50 minutes or until set.
Once the timer has gone off you have two options. To achieve a perfectly set cheesecake with no cracks, turn the oven off and leave the door closed to cool the cheesecake completely in the oven.
Alternatively, if perfection is not your vibe, remove the pan from the oven and cool.
Once cooled, remove from the tin by lifting the paper on either side of the tin and slice into portions.
If there are any left, refrigerate until next time.
Tips for making the best coffee cheesecake bars
Don't use too big a tin, as the filling to crumb ration will be too thin
If you are making this baked coffee cheesecake recipe to sell as individual portions at the school fete, don't make them too large, as they can be a little hard to eat with your hands. Smaller is better.
Store in the fridge for 3 days if you need, but it is unlikely to last that long!
Oh, and if you need a recipe converter for this coffee lovers cheesecake, try this one.
Simply select the units you are converting from and to, choose the ingredient you are converting and it will display the correct amount.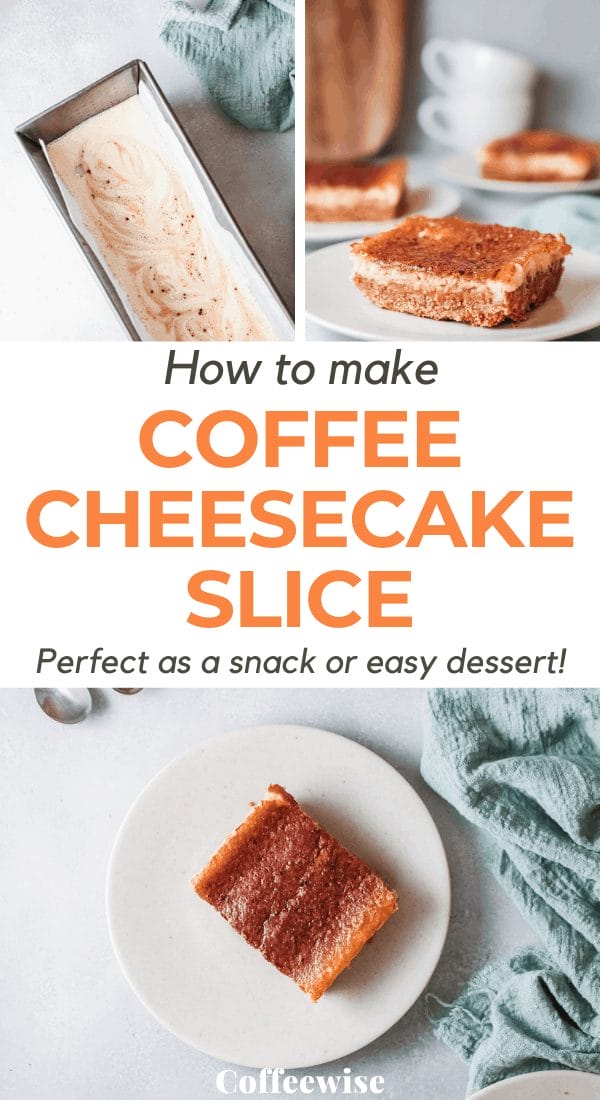 More coffee recipes to try
If you love baking with coffee, here are some more yummy recipes to try:
See all our coffee recipes here. If you love to make great coffee at home, read more about the best coffee equipment here.
Disclaimer: As an Amazon Associate I earn from qualifying purchases.
Like this recipe? Don't forget where you found it! Save it to Pinterest for later.
Plus don't forget to follow us on Pinterest or Facebook to see more great coffee recipes like this one in your feed.
Baked coffee cheesecake slice
Additional Time:
1 minute
Total Time:
1 hour
11 minutes
A super simple baked coffee cheesecake slice recipe with a delicious espresso topping for coffee lovers. Enjoy as a simple dessert or slice into coffee cheesecake bars for a heavenly afternoon treat.
Ingredients
For the cheesecake crust:
1 cup digestive crumbs (or graham crackers)
3 tbsp castor sugar
5 tbsp (70g) butter, melted
Pinch of cinnamon
For the cheesecake filling:
1 1/2 cups (340g) cream cheese, softened
1/2 cup castor sugar
1/2 cup thickened (heavy) cream
2 eggs
1 tsp vanilla extract
For the coffee swirl topping:
Instructions
Preheat the oven to 160 C / 140 C fan forced (325 f). Line a 22x13 cm (9x5 inch) loaf pan with baking paper and set aside.
Prepare the cheesecake base
Blitz the biscuits until they are fine crumbs. Transfer to a mixing bowl and stir in the sugar and cinnamon, then add the butter and mix.
Press firmly into the bottom of the prepared pan and bake in the oven for 10 minutes.
Prepare the espresso cheesecake filling
In a mixing bowl beat the cream cheese until smooth.
Add the sugar and mix until light and fluffy.
Add the eggs one at a time and incorporate well between each addition.
Add heavy cream and vanilla extract and beat on medium speed for 4 minutes or until airy.
Pour half the batter over the crust in the tin.
Add the espresso to the remaining batter and mix gently. Do not over mix.
Pour over the rest of the batter and swirl it with a spoon.
Take to the oven and bake for 50 minutes or until set.
Once set, remove from oven and set aside to cool.
Remove slice from the pan and slice or refrigerate until required.
Notes
If you don't have a loaf tin, a 20cm (8-inch) square tin is an equivalent alternative.
Generously line the tin so there is baking paper up the sides to help you remove the slice from the pan once cooked.
For a no-crack cheesecake, when the slice is set, turn the oven off and leave the door closed and cool completely (around 1 hour).
Portion size is completely up to you, but we sliced our awesome baked espresso cheesecake into 8 portions.
Nutrition Information:
Yield:

8
Serving Size:

1
Amount Per Serving:
Calories:

441
Total Fat:

30g
Saturated Fat:

17g
Trans Fat:

0g
Unsaturated Fat:

10g
Cholesterol:

112mg
Sodium:

288mg
Carbohydrates:

39g
Fiber:

1g
Sugar:

30g
Protein:

6g
Please note that nutrition information is a computer generated estimate and should not be interpreted as a dietitian's advice. Values can vary greatly among brands, amounts and ingredients used.