If you are looking for healthy smoothie recipes with coffee, you have to try our banana coffee smoothie recipe.
With frozen banana, cacao and a dash of vanilla, our coffee banana smoothie makes for the perfect breakfast coffee smoothie (or even an afternoon treat).
Packed full of energy and a subtle choc-vanilla flavour, this easy coffee smoothie recipe is highly likely to become a new favourite!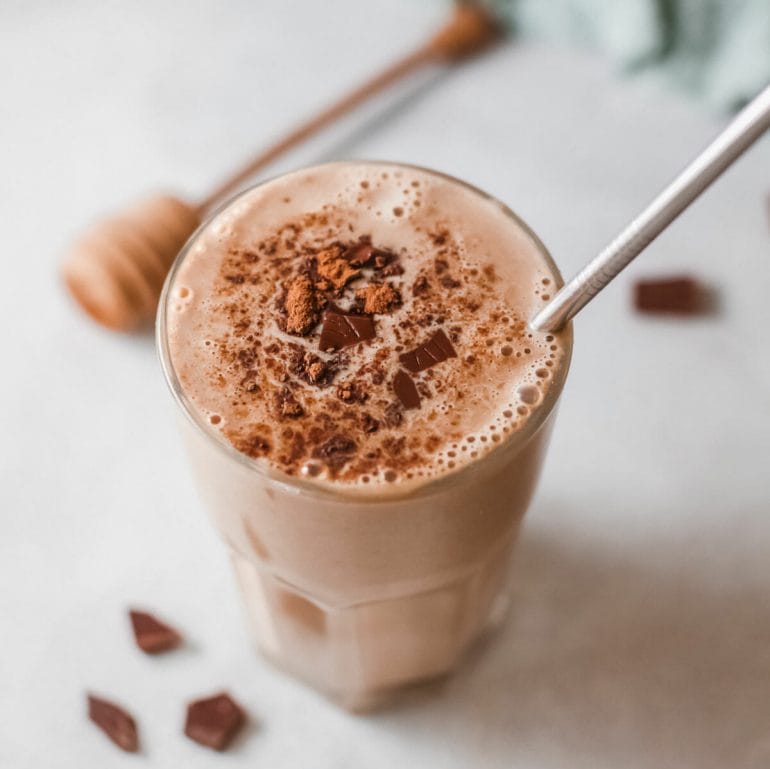 Why we love this banana coffee smoothie recipe
I am a huge fan of hot coffee (I make espresso based coffee every day). But as the weather warms up, I find myself looking for cold alternatives to enjoy my daily caffeine fix.
There are plenty of cold coffee options (iced latte, iced coffee and coffee frappes come to mind), but another great type of coffee drink is a simple coffee smoothie.
Great as an afternoon snack, this coffee and fruit smoothie is also the perfect alternative for a quick and healthy breakfast, or can be enjoyed on the go.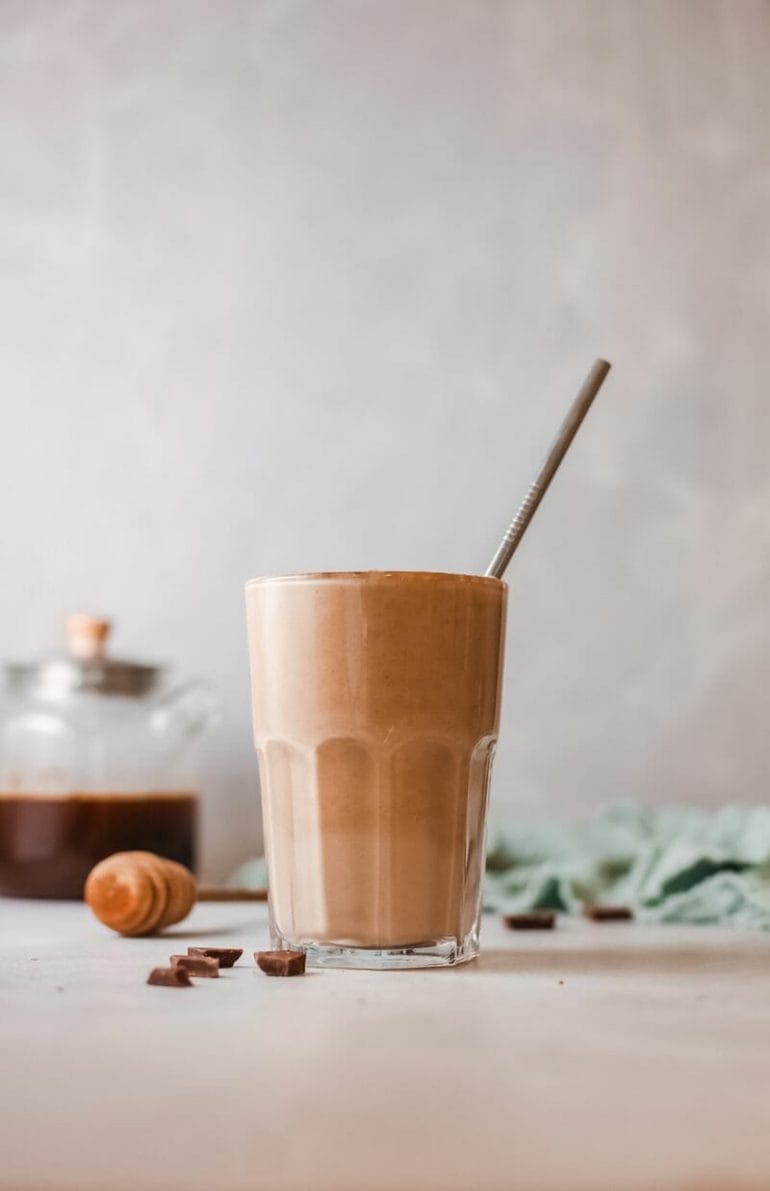 Equipment to make a coffee and banana smoothie
If you make smoothies or frappes at home, you already know how important it is to use a good blender.
Especially if you are blending ice or frozen ingredients, a good quality blender is essential for a smooth creamy finish.
To achieve a creamy texture in our healthy coffee smoothie you will need a good blender.
I love the NutriBullet 1200W blender. Powerful enough to blend the frozen banana, it comes with a cup and flip top lids for drinking on the move. Click here to check the price.
Healthy coffee smoothie ingredients
This easy banana coffee smoothie recipe can be made up in a matter of minutes and has options to customise too.
You will need:
Strong brewed coffee
Frozen banana
Cacao powder
Vanilla extract
Milk of choice
I always seem to have overripe bananas sitting in our fruit bowl. Instead of throwing them out, I peel them, break them into pieces and pop them in a freezer bag in the freezer.
Frozen bananas are perfect for baking and for making an icy cold frozen banana smoothie recipe.
We have made our banana mocha smoothie with full cream milk, but you can easily substitute with your preferred milk.
Use soy, almond, oat milk or coconut milk to turn it into a great vegan coffee option.
Substitutions
Use your favourite brewed coffee style – all types of coffee machine will work: cold brew, stovetop coffee maker, espresso machine, plunger, coffee pod machine or even instant.
If you don't have cacao powder, cocoa is a suitable substitute, as is drinking chocolate for a sweeter mocha smoothie.
Add your favourite spice as a topping to your coffee breakfast smoothie – cinnamon, nutmeg, or pumpkin spice all work well.
How to make a coffee smoothie
Step 1 – Brew your coffee
Our recipe includes a cup of strong coffee. Any style of brewed coffee will work – french press, cold brew, stove top..
If you have an espresso machine, we suggest you pull a double shot of espresso and add hot water to make up a full cup of coffee to make your espresso banana smoothie.
You can use leftover coffee from your drip coffee machine. Simply store it in the fridge until you need it for your coffee and banana smoothie recipe.
To make an instant coffee smoothie, we suggest you use a good quality dark roast instant coffee for the best flavour.
Step 2 – Blend your ingredients
Pop all your ingredients in the blender. If you don't have frozen banana, simply add a handful of ice cubes to the blender.
Blend well until creamy and frothy.
Pour into two glasses and enjoy your banana coffee smoothie!
We hope you enjoy our homemade coffee smoothie recipe. If you love cold coffee, why not try our vanilla iced latte too?
More coffee recipes and reviews
Find more great coffee recipes here. If you love to brew coffee at home, you can find reviews of all the best coffee equipment here.
Disclaimer: As an Amazon Associate I earn from qualifying purchases.
Like this recipe? Don't forget where you found it! Save it to Pinterest for later.
Plus don't forget to follow us on Pinterest or Facebook to see more great coffee recipes like this one in your feed.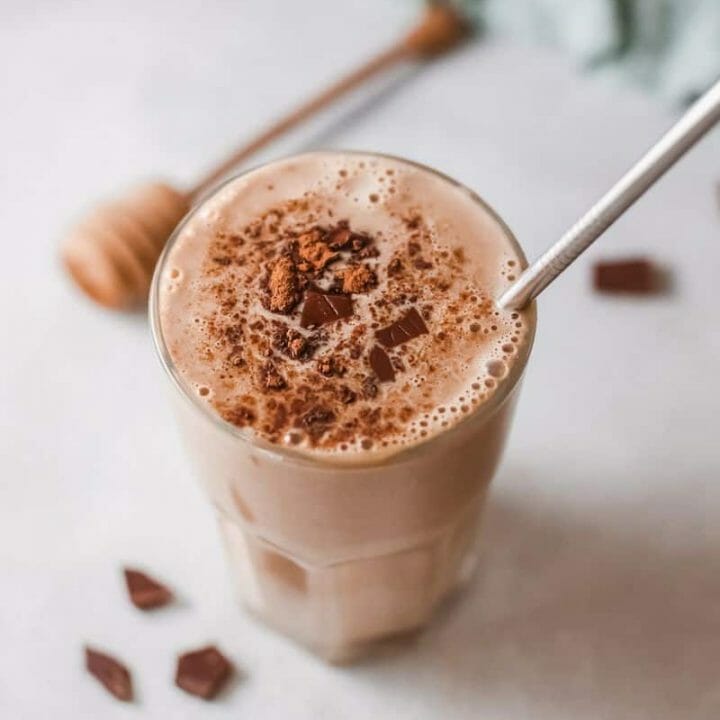 Frozen banana coffee smoothie
This easy banana coffee smoothie recipe is the best smoothie recipe for coffee lovers. With a hint of vanilla and cacao and your choice of milk, this healthy coffee smoothie is the perfect way to start your day.
Ingredients
1 cup strong brewed coffee, cooled
2 bananas, frozen and diced
1 tbsp cacao powder
1 cup milk
1 tsp vanilla extract
Instructions
Combine all ingredients in a blender and pulse until creamy and frothy.
Pour into 2 tall glasses.
Enjoy!
Notes
1. If you don't have leftover coffee, simply brew and pop in the fridge to cool for a few minutes.
2. No frozen bananas? No problem! Just add fresh bananas and throw a cup of ice cubes into the blender.
3. Use your preferred milk - full cream, skinny, coconut, almond or soy all work well.
Nutrition Information:
Yield:

2
Serving Size:

1
Amount Per Serving:
Calories:

189
Total Fat:

3g
Saturated Fat:

2g
Trans Fat:

0g
Unsaturated Fat:

1g
Cholesterol:

10mg
Sodium:

67mg
Carbohydrates:

35g
Fiber:

4g
Sugar:

15g
Protein:

6g
Please note that nutrition information is a computer generated estimate and should not be interpreted as a dietitian's advice. Values can vary greatly among brands, amounts and ingredients used.