If you love coffee and dessert, this article is for you! We've curated a list of 20 of the best coffee dessert recipes you can easily make at home.
Coffee can be added to desserts in many different forms – a shot of espresso, instant coffee granules, brewed coffee and even dehydrated espresso powder. Baked, blended or frozen – it is the perfect way to add an extra kick to your favourite dessert.
From classic tiramisu to mocha cheesecake and coffee mousse, these coffee dessert recipes are the perfect after dinner treat for coffee lovers.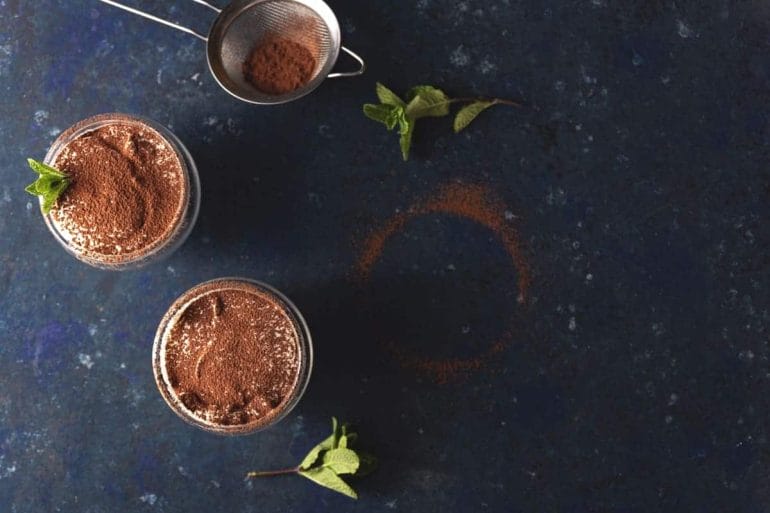 Best Coffee Desserts
Desserts with coffee are perfect for impressing your friends and family. My coffee panna cotta recipe and coffee mousse can be whipped up in no time and are fantastic make ahead desserts.
If you are looking for a way to jazz up simple desserts, try my coffee syrup recipe – perfect for coffee desserts and drinks.
Another alternative is to serve coffee flavoured cake – and you can find 13 easy coffee cake recipes here to try.
If you need a recipe converter for any of these ingredients, try this one.
Simply select the units you are converting from and to, choose the ingredient you are converting and it will display the correct amount.
I hope you enjoy browsing through these coffee based desserts. Happy baking!
Best Coffee Dessert Recipes
The coffee dessert recipe ideas are divided into the following sections for easy reading:
Best coffee desserts served in single cups
Best dinner party desserts
Best french desserts including coffee
Best baked dessert coffee recipes
Best no bake coffee desserts
Best keto desserts with coffee
More coffee recipes
If you loved our list of best coffee desserts, you may like to try some of these delicious coffee recipes.
For more recipes, hop over to coffee recipes page. Want to brew better coffee? See our top coffee equipment here.
Disclaimer: As an Amazon Associate I earn from qualifying purchases.
Plus, don't forget to follow us on Pinterest, Facebook or Twitter to see more great coffee articles like this one in your feed.