With the best stove top coffee maker Australia has, you can make rich and strong coffee at home for very little cost. Also called a moka pot and even a stovetop espresso maker, a stove top coffee pot is a small brewer that originated from Italy.
Stove top coffee makers are relatively inexpensive, easy to use and brew great tasting coffee. These little pots make amazing coffee, but like anything these days, you still need to do your homework to buy the best moka pot coffee maker.
Each stove top coffee machine differs in quality as well as the size and which stovetops they are compatible with. So if you're looking for a coffee maker – stove top option, then reading these best stovetop coffee maker reviews is a great place to start.
In this stove coffee maker guide, I first explain exactly just what a stove top moka pot is and then look at the different features you should consider before purchasing one.
Lastly, in the best moka pot review section, I compare some of the various coffee pot stovetop options currently on the Aussie market including the super popular Bialetti Italian stove top coffee maker – considered to be the world's best moka pot brand.
>> Click here to see the best stovetop coffee maker Australia has now
The Best Moka Pot Review Australia Comparison Chart
In these moka pot reviews, we look at both aluminium and the best stainless steel moka pot options, different sized and priced moka pots and more.
So no matter what type of on stove coffee maker you're after, or what your budget, you'll no doubt find the best moka coffee maker for you in this guide.
Below is a handy table where you can see all the different coffee maker for stove top options reviewed within this guide. The table lists the various features side by side to help you decide which coffee maker on stove option is best for you.
Keep reading the different coffee machine stove top reviews below for more information.
Top Pick: The Best Stove Top Coffee Maker Australia 2023
Don't have time to read my entire best coffee moka pot guide and just want to hear my recommendation for the best moka coffee machine? I can't go past the original Bialetti Moka Express.
Made by the best moka pot brand in the world, the Italian made Bialetti coffee maker is the perfect stove top espresso maker for all coffee lovers.
The pot is made with quality polished aluminium and this one has a 6 cup capacity but there is a huge range of sizes available.
Keep reading below for my full review on the Bialetti Moka Express or click here to buy now.
What Is A Moka Pot?
If you've never heard of the moka pot, you're probably saying right now "what is a moka pot" anyway.
Well a moka brewer or a stovetop coffee maker is a portable coffee pot that makes rich and strong coffee. They are also one of the most affordable coffee makers to buy.
A stove top coffee brewer makes coffee by first boiling water in a lower chamber. The pressure created forces the water up through a funnel into the centre basket where the coffee grounds are stored. The pressure continues to force the coffee into the upper chamber.
Once you hear the gurgling sound of coffee in the top chamber, the pot is removed from the cooktop to prevent over extraction and the bottom chamber boiling dry.
Enjoy the coffee straight, lengthened with hot water for a long black or paired with a milk frother to make your latte or flat white.
Depending on the beans you use and the method, you can even get some moka pots to produce a bit of crema like an espresso machine.
However it is worth noting that although stove pot coffee makers are often referred to as a stove top espresso machine, they technically don't brew espresso coffee at all.
Espresso coffee is extracted at a pressure of around 9 bar, while moka coffee is extracted at a much lower pressure of 1 to 2 bar. Regardless many people (myself included) claim the taste is similar to espresso brewing methods.
Choosing The Best Stove Top Coffee Pot
There are a few different things to consider when buying a top moka pot that meets your requirements.
To ensure you purchase one of the top moka coffee maker options, which is simply perfect for you, spend some time considering the following factors.
Number of cups
First, you're going to want to purchase a coffee stovetop maker which is the right size.
The number of cups of coffee a moka pot makes is not the standard size you might be thinking of. Rather these are small espresso cup sizes (demitasse) of strong espresso-like coffee.
So, for example, a moka pot – 6 cup coffee maker takes around 320ml of water and is probably better suited for around 2 cups of strong black coffee.
Or if you prefer a latte or americano, you will get more cups from each brew – simply add hot water or steamed milk to your brewed coffee.
So to pick the right size pot, questions to ask include:
How many people will you be brewing a coffee for at any given time
How many cups of coffee does each person drink
Do you regularly entertain friends
Will you be adding hot water or milk to the coffee
Consider all these questions and then think about this when looking at the size of the stovetop coffee makers.
You may even consider owning a few different sizes. We have a small 4 cup and large 9 cup moka pot to suit any occasion.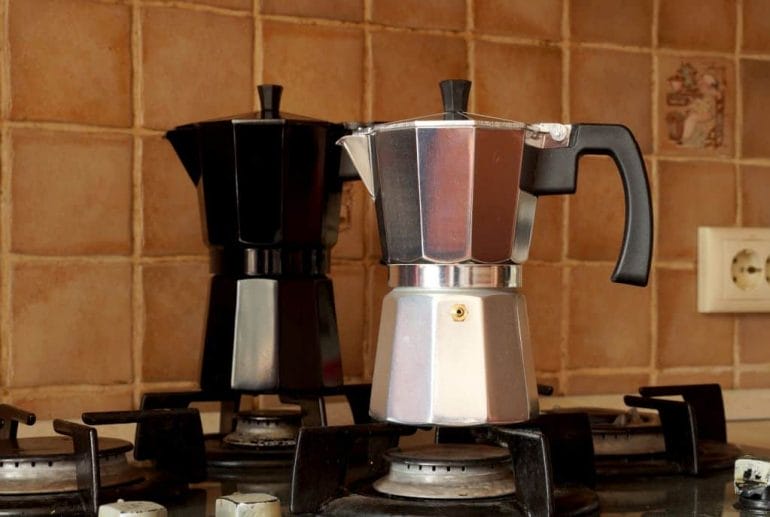 Stovetop compatibility
There are a range of different home stovetops (gas, electric, ceramic and induction) and not all are compatible with all moka pots.
While most pots are compatible with both gas or electric stovetops, not all are compatible with induction cooktops. So be sure to check the stovetop compatibility of your moka pot before purchasing.
In the moka pot reviews below I've mentioned which stovetops each one is compatible with.
Aluminium or stainless steel
Originally moka pots were designed as aluminium pots, however these days there are many stainless steel stovetop coffee makers available too.
In most cases, you'll find an aluminium moka pot to be cheaper, whereas a stainless steel stove top coffee maker is more expensive. However a stainless steel moka pot may offer better quality in that they are more durable and easier to clean.
A good quality aluminium pot is still fine particularly if it's made with anodized aluminium which is corrosive resistant and more durable than standard aluminium. The Bialetti brand continues to use aluminium for their Moka express pots.
In fact, aluminium tends to be faster and more efficient than a stainless moka pot as its better at conducting heat than stainless steel. However avoid buying super cheap aluminium moka pots as the quality just won't be there.
Do you want crema?
While a moka pot doesn't technically make espresso coffee, many people say they might as well be considered a stovetop espresso coffee maker.
And so if you like espresso coffee, then you may want to purchase the best moka coffee pot which can produce a bit of crema like high end espresso machines.
However do keep in mind that these espresso stove top makers are not espresso machines, so if you want shots of thick, creamy espresso then an actual espresso machine is going to be the better option for you rather than a moka pot.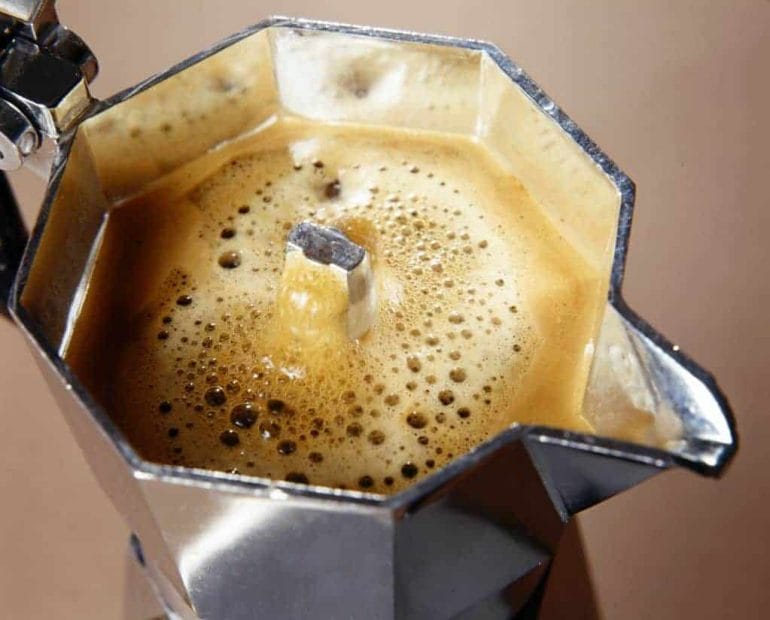 Easy to clean
The great news about a stovetop moka pot is they tend to be easy to clean unlike other fancy coffee machines with multiple parts.
To keep your coffee moka pot in good working order, after each use give it a rinse out and ensure all the coffee grounds have been removed from the filter.
Once a week or so hand wash with hot soapy water if required to remove stains. Rinse well to remove any soap residue and ensure it is fully dry before storing.
If you want to go an extra step, check for moka pots that are dishwasher safe but it really isn't necessary.
Top 10 Best Stovetop Coffee Makers Australia 2023 Product Recap
So to quickly recap, here are all the stove top espresso makers brands and models reviewed below. Read on for the full reviews.
Bialetti Moka Express 6800 – aluminium
Bellman CX-25P stovetop espresso maker and milk steamer – stainless steel
Bialetti Mini Express CM922 moka pot – aluminium
Copperbull Turkish coffee pot – copper
Alessi stovetop coffee maker 9090 – stainless steel
Bialetti Mukka Express Cappuccino Maker – aluminium
Bialetti induction stove espresso maker – stainless steel
Leaf & Bean glass stovetop coffee maker – aluminium
Bialetti Venus Induction – stainless steel
Farberware Yosemite percolator – stainless steel
The Best Stovetop Coffee Maker Reviews Australia 2023
Below I've listed my recommendations for the best stove pot coffee maker options currently available in Australia.
Let's get into it and find you the perfect moka pot coffee maker!
The original and the best Bialetti moka pot Australia
Specifications
Material: Aluminium
Capacity: 6 cup
Induction compatible: No
Bialetti is one of the most popular moka pot brands in the world! So you won't be surprised to see multiple Bialetti moka pot options in these reviews such as the best seller Bialetti Moka Express coffee maker.
The Italian made Bialetti Moka Express is the perfect stovetop coffee maker for all coffee lovers. Constructed with quality polished aluminium, this is a fast brewing pot which can brew your morning cuppa in around 5 minutes.
I own this Bialetti Moka and use it at home, when camping and away for the weekend.
This Bialetti Moka Express has a capacity of 6 cups (300ml), which is ideal for about two full strong cups of coffee.
It features a heat resistant grip is easy to clean and comes with a 2 year warranty.
Please note that this moka pot is not suitable for induction stovetops.
The Bialetti Moka Express 6 cup is simple to use, easy to clean and comes at a great price, making it ideal for anyone after a top quality moka pot. It is perfect for a quick cup of coffee at home, and is ideal to take on a weekend away or for a camping trip.
What we like
Robust and durable construction
Large range of cup size options
What we don't like
Handle curls in, so can get exposed to heat on gas cooktops
Aluminium not preferred by some
Best for: This stovetop coffee maker is perfect for almost everyone! The iconic Bialetti Moka Express espresso maker comes in a large range of cup sizes and colours to suit every coffee drinker.
>> Click here to check the price and read more reviews
Best stovetop coffee maker for latte lovers
Specifications
Material: Stainless steel
Capacity: 9 cups
Induction compatible: Yes
The Bellman Stainless Stove Top Coffee Maker CX25P is a unique top quality, durable moka pot, ideal for making espresso and cappuccino coffee.
This is a versatile moka pot able to brew a range of different coffees and is compatible with all stovetops including induction cooktops.
The Bellman moka pot is constructed from heavy duty 18/8 stainless and features a safety valve and heat resistant handles.
The easy to use pressure gauge will help step you through the process, ensuring you obtain the exact bars of pressure for the perfect espressos and cappuccinos.
This stove top espresso maker is capable of making either 3, 6 or 9 cups of coffee in a single brew which is perfect whether you are making coffee for one or a crowd.
Then once your coffee is extracted, use the steam to froth your milk with the attached steamer.
This is one of the more expensive moka pots in these reviews but is also extremely durable and a little more versatile in terms of the different coffees it can make.
It is also perfect not only for the home but for weekends away and camping trips too. I have seen it in action and it a great little unit once you get the hang of how it works.
What we like
Brews both coffee and steams milk
Gauge for managing extraction and steaming pressure
What we don't like
Learning curve to master
Single hole steam wand takes time to froth
Best for: The Bellman CX-25P is a great one to consider if you're after a stainless steel stovetop espresso maker that can brew coffee and also steam milk for lattes or cappuccinos.
>> Click here to check the price and read more reviews
If you're after a small stove top coffee pot, then you'll love the Bialetti Mini Express Coffee Maker. This is such a cute mini moka pot and comes in a gorgeous bright red colour as well as including two red coffee cups.
Bialetti often have special releases of this stovetop coffee maker, with unique colors and cup designs.
This small moka pot works like your standard stovetop coffee pot, however instead of the top chamber, your coffee is poured directly into your espresso cups via the dual spouts.
Where you'd usually expect to see the top chamber, your cups sit directly onto of the lower chamber, which has a warming plate on top.
Do keep in mind, this Bialetti moka maker only makes 2 cups of 30ml espresso at one time, although perfect for those who love silky and delicious Italian style coffee. Simply add hot water for an americano style coffee, or top with milk for a regular white coffee.
What we like
Contemporary bright colour with matching cups
Cups kept warm on support plate
What we don't like
Small capacity
Demitasse cups required
Best for: With the bright colours of this top moka mini coffee maker, the Bialetti Mini is sure to make a statement in your kitchen or caravan, and no doubt be a talking point when your friends come around.
>> Click here to check the price and read more reviews
Best Turkish coffee maker Australia
Specifications
Material: Copper and tin
Capacity: 6 cups
Induction compatible: No
It's not just the Italians who love their moka pots, the Turkish love them too and the Turkish made Copperbull is a great alternative to your more traditional style moka pots.
As the name suggests, the Copperbull is made from thick 2mm copper – the only pot in this guide that is. Copper is an excellent conductor of heat, which helps this pot brew your coffee with low to moderate heat.
The pot is tin lined and features a wooden handle. It is a good sized pot which a 6 cup capacity so great for around 2 strong coffees or 5-6 demitasse cups.
Note this coffee pot should be hand washed and not put in the dishwasher.
What we like
Good capacity
High quality copper pot
What we don't like
Prone to scratching if metal utensils used
Labour intensive method of making coffee
Best for: Lovers of Turkish coffee. If you're in the market for something a little different than your everyday traditional moka pot, then why not consider the Copperbull 6 cup moka pot.
>> Click here to check the price and read more reviews
Specifications
Material: Stainless steel
Capacity: 6 cups
Induction compatible: Yes
If you're after the best stainless steel stovetop coffee makers money can buy, then look no further than the Alessi Espresso Maker.
This is a stylish and high quality stainless steel stove top coffee pot, but keep in mind it also comes with a hefty price tag.
Made in Italy from 18/10 mirror polished stainless steel this is a durable stove top espresso coffee maker which also features a cast iron handle. The moka espresso maker also has a magnetic heat diffusing bottom and is compatible with all stovetops, including induction.
Unlike the Bialetti design you don't need to screw the bottom chamber to the top – it simply clicks into place. The 6 cup comes with a reducer filter for times you want to brew just 3 cups instead of 6.
What we like
Beautiful design
Unique v shaped spout to minimise drips
Wide bottom good for gas hobs
What we don't like
Premium price point
Manufacturer recommends a low heat, which takes longer to brew
Best for: If you love stylish design pieces and premium quality, the Alessi stovetop Espresso pot is a great choice. It is a stunning looking moka pot and will look great in any kitchen.
>> Click here to check the price and read more reviews
Best stove top espresso maker with milk steamer integrated
Another Bialetti but unlike their other moka pots, the Bialetti Mukka Express is designed for all the latte and cappuccino lovers. With a built in steam wand in the top chamber, this all in one Bialetti moka pot brews great tasting cappuccinos.
The Mukka Express stovetop espresso maker works like the other Bialetti moka pots, but the main difference here is the additional steaming wand in the top chamber, where you add milk.
As the coffee is being brewed, it then mixes with the milk and the steam wand automatically activates to produce rich and creamy cappuccino. It makes two small cups each time.
This Bialetti moka 2 cup pot is made from aluminium, has heat resistant handles and has a cute little cow design. It is compatible with all stovetops except for induction stovetops and comes with an instructional DVD to get you started.
What we like
Unique concept for all in one coffee
Milk automatically steamed
Froth control settings
What we don't like
Small capacity
Milk doesn't get piping hot
More cleaning required
Best for: If you enjoy the odd cappuccino or want to be able to make them for when friends come to visit or when you go camping, consider getting yourself the Bialetti Mukka Express.
>> Click here to check the price and read more reviews
Specifications
Material: Stainless steel and aluminium
Capacity: 2,4,6 cups
Induction compatible: Yes
For those who love the style of the popular Bialetti moka pots but have an induction stovetop, then this is the espresso maker for you, as this moka pot is suitable for all types of cooktops.
This Bialetti moka coffee maker has a stainless steel base and aluminium top chamber.
It features a heat resistant handle, with a lifting loop on the top of the hinged lid.
It also comes in either a 2 cup, 4 cup or 6 cup capacity so you can choose the size that is best suited to you. Just keep in mind these are 60ml espresso serves.
What we like
Nice color range
Classic bialetti design
What we don't like
Handle can get hot
Not 100% stainless steel
Best for: If you're the owner of an induction cooktop, you don't need to go without as this Bialetti moka stainless steel coffee pot is perfect for you. Plus this particular model comes in a range of great colours too including red, grey, black and white.
>> Click here to check the price and read more reviews
Specifications
Material: Glass and aluminium
Capacity: 3 cups
Induction compatible: No
A more unique option is the Leaf and Bean Stovetop Espresso Maker.
This is a gorgeous looking moka pot, with a unique glass top chamber so you can watch as your coffee brews and easily judge when it is finished brewing.
The brewer is crafted with aluminium and glass and features a large handle. This is a reasonably small moka pot, with the capacity to brew just 3 cups of espresso at once.
This best stovetop espresso maker is compatible with glass, electric and ceramic stovetops. The stove top maker has such a unique design and will look right at home in any kitchen.
What we like
Glass top chamber for viewing
Value price point
What we don't like
Glass more fragile than traditional stovetop brewers
Important to clean glass well after each use
Best for: For those coffee lovers with looking for a fun and unique glass stove top coffee maker, certainly take a look at the Leaf and Bean coffee maker.
>> Click here to check the price and read more reviews
Best induction moka pot
Specifications
Material: Stainless steel
Capacity: 4 cups
Induction compatible: Yes
The Venus Induction is the last of our Bialetti's in these reviews and a great option for those coffee lovers with induction cooktops. This is another great looking Italian moka pot crafted with high quality materials.
The Bialetti Venus moka pot is made from 18/10 stainless steel and features a black heat resistant handle made from Bakelite.
As mentioned above, it's suitable for all kinds of cooktops which is ideal for those with an induction stovetop.
The Venus comes in a range of size options from 2 cups to 10 cups. Note the 2 cup version is not induction compatible.
The smaller moka pot capacity is not well suited to those households with multiple coffee lovers who like a full size coffee and we suggest you opt for the larger size.
What we like
Glossy and stylish stainless steel design
Heat resistant and comfortable handle
Dishwasher safe
What we don't like
Gap in handle hinge can cause steam and coffee to escape
Best for: The Bialetti Venus Induction coffee maker is a stylish and great quality moka pot to consider, particularly for those households with induction cooktops.
>> Click here to check the price and read more reviews
Best stovetop percolator
Specifications
Material: Stainless steel
Capacity: 12 cups
Induction compatible: Yes
For something a little different, the Farberware is a stove top coffee percolator as opposed to a traditional style moka pot.
Unlike your standard moka pot which has multiple champers, the Farberware has just the one chamber which also houses the percolator filter basket.
The Farberware stove top percolator coffee pot is made from heavy duty stainless steel which is polished for a stylish and elegant look. It also features an ergonomic handle to ensure a good grip while pouring your coffee.
On the inside, the pot features a permanent percolator filter basket so there is no need for paper filters and with the clear glass knob you can easily see when percolating begins.
With a 12 cup capacity, this is one of the largest stovetop coffee pots in these reviews, so perfect for large households. The stove top percolator coffee maker is also easy to use and dishwasher safe so easy to clean as well.
What we like
Glass knob to monitor coffee progress
Dishwasher safe
What we don't like
Method takes practice to prevent bitter coffee
Best for: Lovers of percolated coffee. The Farberware Yosemite is a great alternative to your traditional moka pots. This is a large, high quality and great looking maker that will brew stovetop coffee for years to come.
>> Click here to check the price and read more reviews
Before You Go
I hope you found this guide to the best stovetop espresso makers helpful.
You might like to pair your stovetop coffee maker with a coffee grinder for the freshest coffee. See our manual coffee grinder reviews here or the automatic coffee grinder reviews here.
Moka pots are great for travel too – you can see our full guide to the best travel coffee makers here and find all our coffee machine reviews here.
More Coffee Equipment Reviews
Disclaimer: As an Amazon Associate I earn from qualifying purchases.
Pin and share