Indulge in a quick and nutritious breakfast with this healthy breakfast coffee smoothie without banana.
Packed with all-natural ingredients, this morning breakfast smoothie is a complete meal in a glass that can be blended and enjoyed on the go in minutes.
If you're looking for a healthy and delicious caffeine smoothie, you will love this easy coffee smoothie recipe without banana.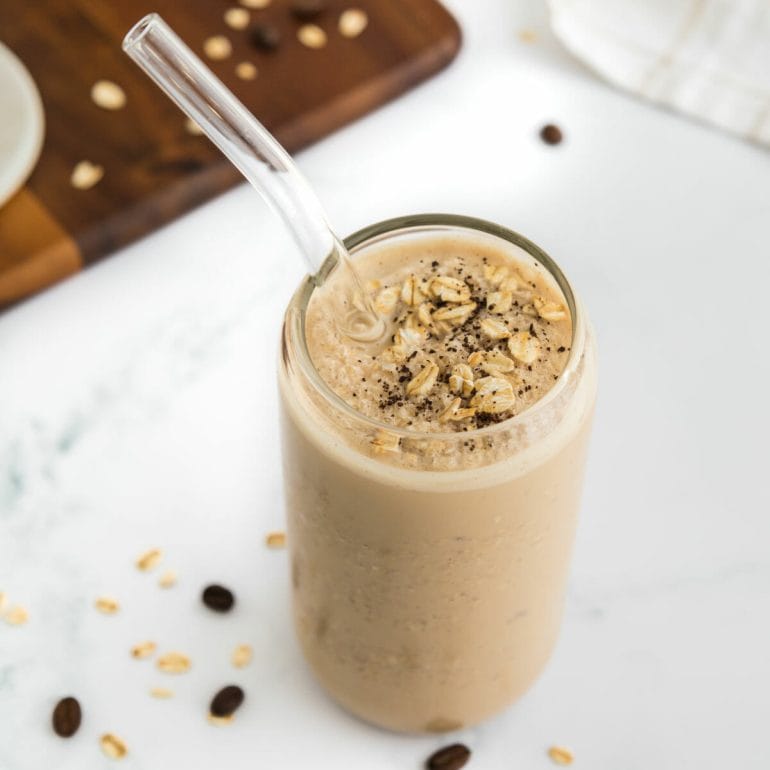 Breakfast Coffee Smoothie Without Banana Recipe
Coffee breakfast smoothies are such a great way to start the day.
Nutrient dense, low in sugar and with a nice caffeine boost, you can enjoy a healthy meal in a glass, whether you are at home or rushing out the door.
You probably know that banana is a common ingredient in breakfast smoothie recipes. I use it in my banana coffee smoothie recipe.
Banana helps give smoothies a creamy texture and if frozen, make it thick and icy cold too.
But there are several reasons why you might like to make a morning smoothie without banana including:
You don't like bananas!
You want to reduce the sugar or calories in your breakfast smoothie.
You're following a low or no-fruit diet.
You're allergic to bananas.
So in this easy breakfast smoothie recipe I removed the banana and focused on creating a complete meal with all-natural ingredients.
This coffee breakfast smoothie is creamy and thick with a subtle sweetness and nice caffeine boost to get you moving in the morning.
What You'll Need To Make A Breakfast Smoothie With Coffee
To make an iced coffee smoothie at home you will need:
A coffee maker and
High speed blender.
A high speed blender is the most important piece of equipment you need for making good smoothies at home.
I love the Nutribullet 1200w blender as it is powerful enough to blend to a smooth texture but doesn't take up a lot of room in your kitchen.
The type of coffee maker really doesn't matter – you could use filter coffee, french press, cold brew or espresso.
Just make sure you brew it quite strong and remember to brew it prior to making the smoothie so it has time to cool down to room temperature.
No Banana Coffee Smoothie Ingredients
To make a coffee smoothie (no banana) at home you will need:
Coffee
Milk
Yoghurt
Oats
Almond butter
Vanilla
Dates
Maple syrup
Ice cubes
Coffee
Strong cold coffee in any form is good for this recipe.
I think brewed coffee, plunger coffee and cold brew coffee all work well. If using espresso, I recommend using a double shot.
Note that your coffee needs to be cold or at least room temperature so best to make the day before. Don't add hot coffee to your other ingredients as it may curdle.
Milk
I use cow's milk, but almond or oat milk also work well in this recipe.
Yoghurt
I use plain Greek yoghurt in my coffee smoothies as it is so lovely and creamy – but any unflavored natural yogurt will be fine.
Oats
The best oatmeal to use in smoothies is quick-cook oats. Also known as rolled oats, they are softer and combine more readily in the blender.
Traditional oats will work, but they may leave a slightly more grainy texture – depending on how high powered your blender is.
Avoid steel cut oats as they won't break down well.
Almond Butter
Almond butter is the secret to the lovely creamy, nutty flavor in this breakfast smoothie.
I experimented with peanut butter but found the flavour a little too overpowering in the drink. But if you love peanut butter it is a suitable substitute!
Vanilla
I use Vanilla essence or vanilla extract in my coffee recipes.
If you don't have this ingredient at home you can substitute vanilla syrup – but note it will be sweeter, so you may not need to add the maple syrup as well.
How To Make A Healthy Coffee Smoothie Without Banana
It couldn't be easier to make a healthy coffee smoothie without bananas.
Simply add all of your ingredients to your blender, pop the lid on and blend for 30-60 seconds or until nice and smooth.
If your blender has a smoothie setting, use that and let your blender do the work!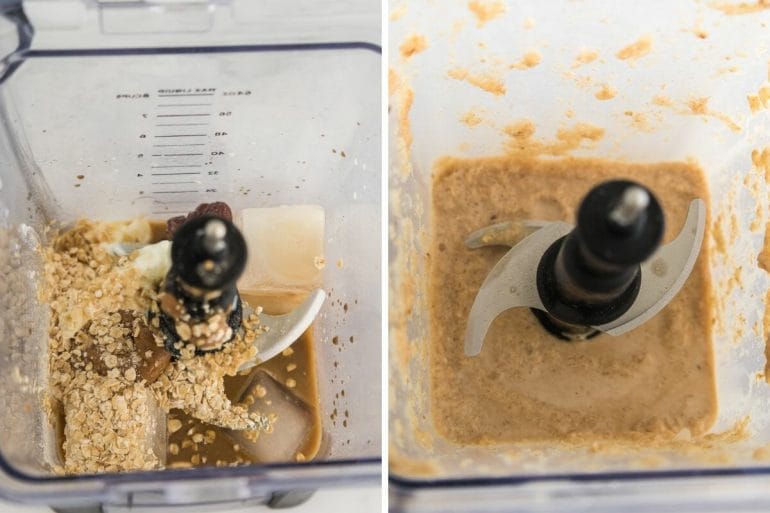 I always recommend trying a little bit of your blended drink before pouring it into your glass.
That way you can adjust for sweetness (or add more coffee) while the smoothie is still in the blender.
Pour your smoothie into a tall glass to enjoy right away or pour into your travel cup to enjoy on the go.
Coffee Oatmeal Smoothie Variations
There are so many ways you can vary this recipe – here are just a few ideas:
Add a few tablespoons of protein powder to make a coffee protein smoothie.
Use frozen coffee ice cubes instead of brewed coffee. Frozen coffee is great to have in the freezer for the times you forget to brew your coffee the night before.
Add your favourite spice for extra flavor. Cinnamon, nutmeg or cacao all work nicely.
Coffee Breakfast Smoothie Recipe FAQs
What Can I Put In A Smoothie Instead Of Fruit?
Good alternatives to fruit in a smoothie include nut butters like almond butter for flavour, yoghurt for creaminess and oats for texture.
Does Greek Yoghurt Make Smoothies Thicker?
Yes, Greek yoghurt is a good way to make your smoothie thicker and is a good alternative to banana.
Yoghurt has a creamy texture which is why it is a good smoothie ingredient.
Can I Blend Raw Oats In A Smoothie?
Yes, raw oats are a good ingredient to add to smoothies. They add bulk and texture to your drink.

Quick-cook or rolled oats are the best type of oats to use in a smoothie as they blend more easily.

Also use a high powered blender to break the oats down, otherwise they may leave a slightly grainy taste.
More Cold Coffee Recipes
If you loved this easy coffee smoothie recipe without banana, you may like to try some of these delicious cold coffee drinks recipes.
See all our coffee recipes here. If you love to make great coffee at home, read more about the best coffee equipment here.
Disclaimer: As an Amazon Associate I earn from qualifying purchases.
Like this recipe? Subscribe to my newsletter for all the latest recipes and brewing tips.
Plus don't forget to follow us on Pinterest or Facebook to see more great coffee recipes like this one in your feed.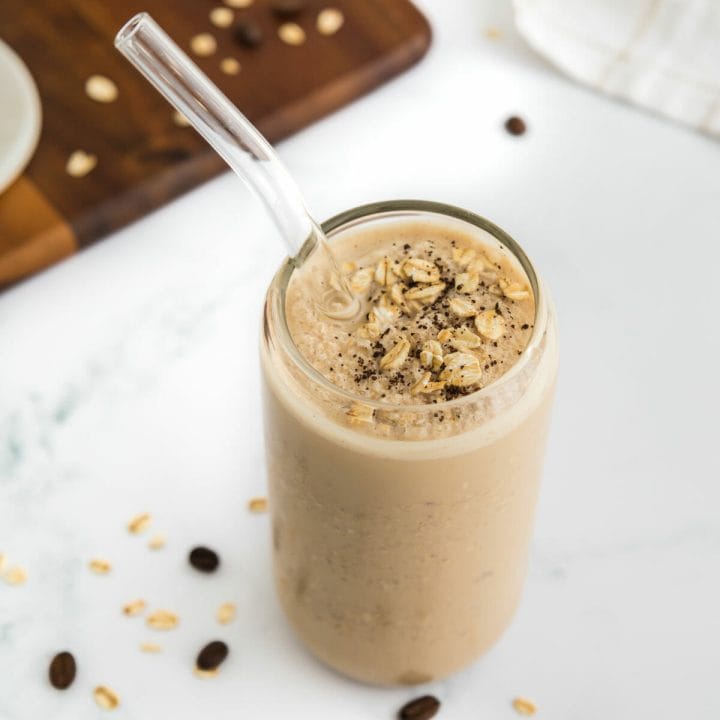 Healthy Breakfast Coffee Smoothie Without Banana
Enjoy a quick and nutritious meal with this breakfast coffee smoothie without banana. Packed with natural ingredients, this complete meal in a glass can be easily blended and enjoyed on the go.
Ingredients
1/4 cup milk
1/2 cup cold coffee
1/4 cup greek yoghurt
1/4 cup quick-cook oats
2 tablespoons almond butter
1/2 teaspoon vanilla essence
2 dates (seeded)
1 teaspoon maple syrup
8-10 Ice cubes
Instructions
Place all ingredients in a high speed blender.
Blend for 30-60 seconds (or select your smoothie option) and blend until smooth.
Pour into a tall glass or your to go cup and enjoy.
Notes
You can use any type of coffee - brewed, plunger, cold brew or espresso. If using espresso, substitute 1/2 cup coffee with 2 shots of espresso. It does need to be room temperature or chilled so best to make the night before.
Quick-cook rolled oats work best as they blend well. Traditional oats are fine but the drink may have a more grainy texture.
Peanut butter can be used instead of almond butter - but note it does change the taste as peanut butter has a stronger flavour than almond butter.
If you don't have vanilla essence (or extract) use a vanilla syrup instead.
Any type of plain yoghurt will be suitable.
Recommended Products
As an Amazon Associate and member of other affiliate programs, I earn from qualifying purchases.
Nutrition Information:
Yield:

1
Serving Size:

1
Amount Per Serving:
Calories:

402
Total Fat:

21g
Saturated Fat:

3g
Trans Fat:

0g
Unsaturated Fat:

16g
Cholesterol:

8mg
Sodium:

87mg
Carbohydrates:

42g
Fiber:

6g
Sugar:

22g
Protein:

15g
Please note that nutrition information is a computer generated estimate and should not be interpreted as a dietitian's advice. Values can vary greatly among brands, amounts and ingredients used.