This delicious chocolate coffee granola is a simple, healthy homemade granola recipe for coffee lovers.
With a subtle coffee and chocolate flavour it is perfect for a healthy breakfast and with just 6 ingredients, this crunchy granola recipe is quick and easy to make too.
Crunchy, healthy, simple and tasty – what could be better!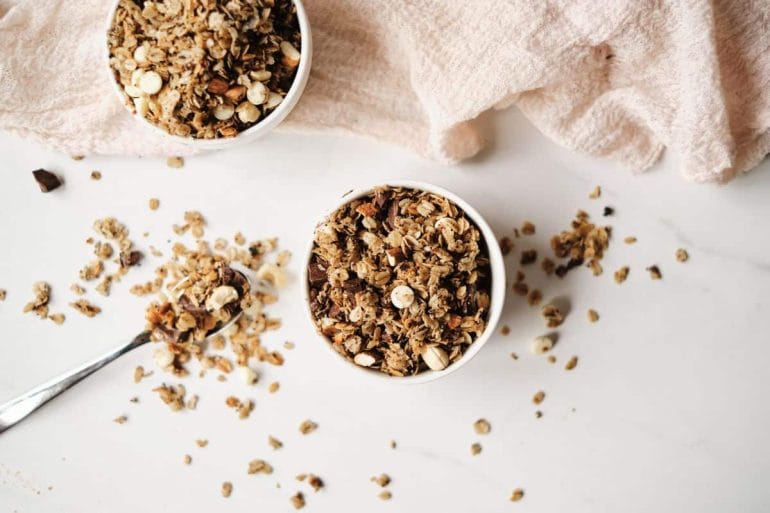 Why I love this chocolate coffee granola recipe
If you are looking for a healthy granola recipe to bake at home, this coffee granola mix is a great choice.
A lot of homemade granola recipes have a lot of sweeteners like honey, maple syrup or sugar added to the mix.
But this easy granola recipe is different – it is a super simple granola recipe and the result is that not only is this mocha granola healthy, it can be be vegan and gluten free granola too!
It is delicious paired with other natural ingredients like yoghurt, fresh fruit and your favourite milk.
Ways to use granola
Apart from enjoying for breakfast, another reason I love this coffee chocolate granola recipe is that it is perfect to take camping.
Homemade baked granola is a great camp breakfast as there is no refrigeration and little clean up required.
Another great way to use granola is at Christmas time to make DIY gifts in a jar.
Homemade food gifts are a budget friendly way to give during the holiday season and this basic granola recipe is the perfect affordable option.
Kilner have a range of practical and vintage jar designs that are perfect for packaging healthy food gifts.
This breakfast jar set is perfect, and they also have simple jars in different sizes too.
So let's take a look at the ingredients and steps to make this homemade easy granola.
Coffee chocolate granola ingredient list
With just 6 main ingredients and 1 optional ingredient, there really isn't a lot to prepare to make your own granola recipe.
Old fashioned oats (oatmeal)
Coconut oil
Instant coffee
Cocoa powder
Chopped almonds (macadamias and cashews work well too)
Dark chocolate chunks
White chocolate or yoghurt chips (optional)
To make this granola recipe vegan, add vegan chocolate chips and omit the optional yoghurt chips.
If you want to make gluten free granola, check the ingredients in your chocolate as not all chocolate brands are gluten free. Also ensure you use 100% pure cocoa powder and not cocoa blends.
Coffee chocolate chip granola recipe variations
What I really love about making easy homemade granola is the flexibility to switch up the ingredients to make a different breakfast granola each time.
We love our dark chocolate almond granola just the way it is, but you can also use this DIY granola as the base to experiment with new ingredients once you have made it the first time.
Other great healthy ingredients to add include cranberries, hazelnuts, dried blueberries, dried mango and shredded coconut.
How to make mocha granola cereal
Outlined below are the steps to make our homemade healthy granola recipe.
Step 1 – Combine your ingredients
Before you start, pre-heat the oven to 140 C / 120 C fan forced (275 F) and line a large baking tray with baking paper.
In a small bowl combine your coconut oil, instant coffee and cocoa powder and stir to combine.
Step 2 – Blend the ingredients
Place the oats in a medium sized bowl and pour the oil mix over the oats. Mix well to combine.
Tip the coated oats onto your lined baking tray, spread out into a thin layer and pop in the oven for around 25 minutes.
Check on your granola and give it a mix at the half way point to ensure it doesn't burn around the edges.
Your granola is ready when it is no longer wet and has dried out. If not, leave in for another 5-10 minutes but watch it closely to ensure it doesn't burn.
Step 3 – Add remaining ingredients
Once the granola is baked, remove from the oven and leave to cool for 10 minutes before adding the remaining ingredients.
Add the nuts, chocolate chips and yoghurt chips (if using) and any other ingredients and mix well to combine.
Once the granola has cooled completely transfer it to a container or jar.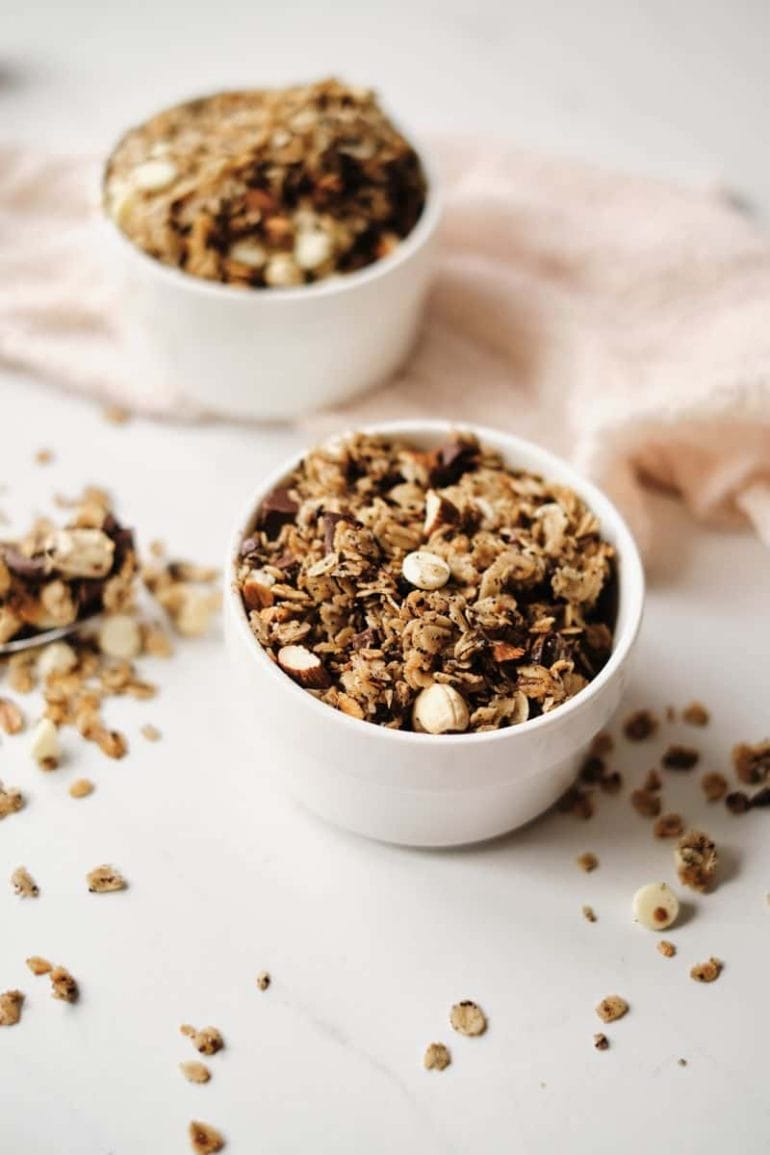 How to serve your coffee chocolate granola
Our coffee granola is perfect for enjoying at home for breakfast, or as an afternoon snack.
Simply add yoghurt, fresh fruit and your preferred milk for a healthy breakfast granola dish.
Camping granola
Another great way to enjoy our coffee granola recipe is as an easy camping breakfast.
For hikers simply portion the granola into bags before leaving and add 1/3 cup powdered milk to the bag.
When you want to eat add 1/2 cup of water to the bag, shake to combine and you have an easy no clean up breakfast!
If you are car camping or staying at a campsite, simply bring the granola along in a jar or container and serve for breakfast with milk for a great energy packed camping breakfast with minimal clean up.
How to store your mocha granola
Granola should be stored in an airtight container or jar once it has completely cooled down.
It doesn't need to be refrigerated and should keep for about a month (if it lasts that long!)
Your healthy granola questions answered
Can I add dried fruit to this baked granola?
Yes, absolutely you can customise this granola recipe to include your favourite ingredients. Add dried fruit to your granola mix after baking. Popular fruits to add are cranberries, dried blueberries, dried apricots and dried pear.
Can I add nuts to the granola mix?
Yes, popular ingredients for a nutty granola are hazelnuts, almonds and pecans. Chop the nuts and add to the granola after baking.
Can I use espresso in the granola cereal recipe?
For a stronger coffee flavour, add a shot or two of espresso (or coffee syrup) to your granola mix before baking. You may need to bake a couple of extra minutes due the extra liquid.
More coffee articles
If you loved our mocha granola recipe, here are some more great coffee articles and recipes to try:
Disclaimer: As an Amazon Associate I earn from qualifying purchases.
See all our coffee recipes here. If you love to make great coffee at home, read more about the best coffee equipment here.
Like this recipe? Don't forget where you found it! Save it to Pinterest for later.
Plus don't forget to follow us on Pinterest or Facebook to see more great coffee recipes like this one in your feed.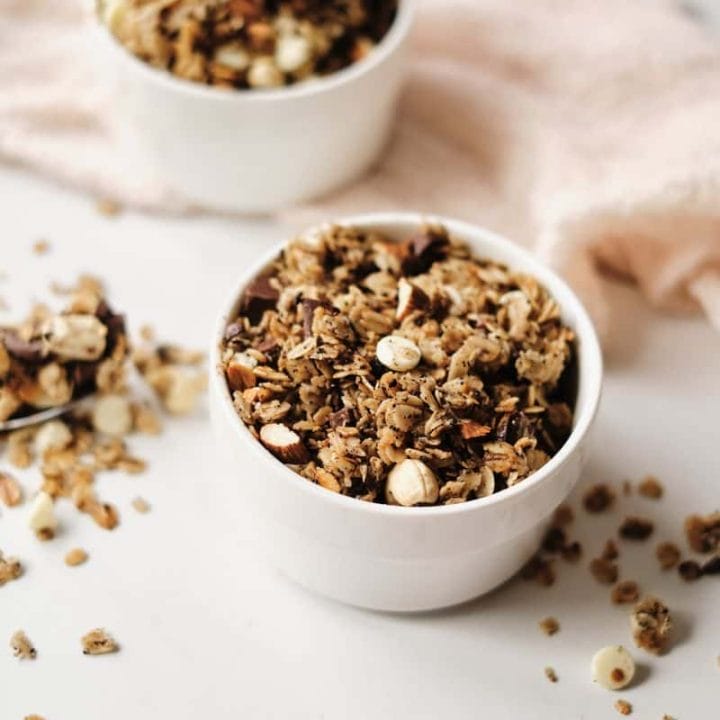 Homemade mocha granola
An easy mocha granola recipe with a subtle coffee and chocolate flavour. This homemade healthy chocolate granola with coffee is the perfect breakfast for coffee lovers.
Ingredients
2 cups oats (oatmeal)
3 tbsp coconut oil (or light tasting oil)
2 tsp instant coffee
1 tbsp cocoa powder
3 tbsp chopped dark chocolate
1/2 cup chopped almonds
Optional Ingredients
1/4 cup white chocolate or yoghurt chips
Instructions
Preheat the oven to 140 C / 120 C fan forced (275 F).
Line a large baking tray with baking paper.
Mix coconut oil, instant coffee, and cocoa powder in a small bowl. The mixture should be well combined.
Place oats in a medium sized bowl and add oil/chocolate mixture to the oats and mix well to combine.
Spread the oats thinly on a lined baking tray and bake at for 25 minutes.
Remove the tray from the oven and mix the granola half way through the cooking time.
The mixture is ready when it has dried out a little. If you find that it is not, bake for up to 10 minutes more but do not burn.
Remove the tray from the oven and allow to cool a little.
Add the almonds, chopped chocolate and white chocolate chips to the mix and combine well.
Serve and enjoy on its own or with yoghurt and fresh fruit.
Store in an airtight container for up to a month.
Notes
1. If using granulated instant coffee, dissolve it in a tablespoon of hot water before adding to the coconut oil.
2. Ensure the oat granola mix is spread thinly on the tray. If you can't spread thinly, split onto two trays. This ensures it becomes crunchy in the baking time.
3. The granola will continue to crisp up after it is removed from the oven, so don't be tempted to over bake it!
4. Only transfer the granola to a container once it has completely cooled.
Nutrition Information:
Yield:

4
Serving Size:

1
Amount Per Serving:
Calories:

327
Total Fat:

23g
Saturated Fat:

11g
Trans Fat:

0g
Unsaturated Fat:

10g
Cholesterol:

1mg
Sodium:

82mg
Carbohydrates:

24g
Fiber:

5g
Sugar:

6g
Protein:

7g
Please note that nutrition information is a computer generated estimate and should not be interpreted as a dietitian's advice. Values can vary greatly among brands, amounts and ingredients used.