Homemade coffee jelly with milk is a fun and tasty coffee drink recipe you can make at home.
A popular addition to tea and coffee drinks in Japan and Taiwan, this easy coffee jelly recipe is perfect for coffee desserts too.
Made with just three ingredients, I'm going to show you how to make a coffee jelly in a few simple steps.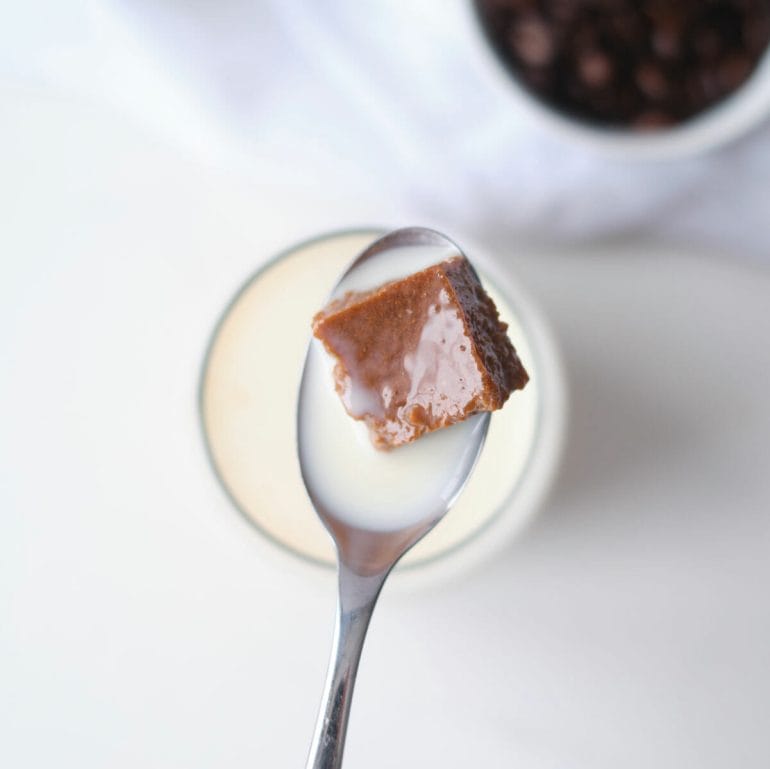 Homemade coffee jelly with milk
If you are looking for some new types of coffee drinks to make at home, you can't get more different than coffee jello!
Popularised by Starbucks in Japan, this unique coffee drink is also known as Japanese coffee jelly.
Often added to the base of milk tea, iced coffees and frappuccino drinks in Japan, it is also enjoyed as a coffee jelly dessert with whipped cream and/or sweetened condensed milk.
This is a great simple coffee jelly recipe, and quite healthy too.
With no added sugar, condensed milk or cream, it is a great option if you want to reduce the coffee jelly calories.
What you need for making coffee jelly
To make easy coffee jelly coffee you will need:
A small saucepan
Freezer mold or shallow tray lined with baking paper (parchment paper)
Coffee maker.
Coffee jelly ingredients
There are only three ingredients for coffee jelly, so our simple coffee jelly couldn't be easier to prepare:
Strong coffee
Gelatine
Milk
Type of coffee
I used cold brew coffee in this recipe for coffee jelly. But you can use any brewed coffee that has been brought to room temperature.
Strong drip coffee or espresso would work well or even bottled cold brew.
You can also use instant coffee – in which case you would mix 2 cups of hot water with 3 tablespoons of instant coffee granules for a strong instant coffee brew.
Type of milk
I use plain milk for a healthy coffee jelly recipe.
Other options include coffee creamer, half and half or evaporated milk for a sweeter, creamy coffee jelly recipe. It is completely up to you!
Gelatin
Powdered gelatin comes in individual packets, or in a large container.
If you are using packets, this recipe needs 2 envelopes / packages of gelatin.
Alternatively, use one and a half AU tablespoons (2 US tbspns) of gelatine powder.
To make the recipe vegetarian, simply use agar-agar powder instead of gelatin.
How to make coffee jelly
Step 1 – Prepare your coffee
First prepare your coffee.
If cold brewing you will need 12-18 hours to immerse and brew. See our full guide to cold brew coffee brewing here.
Otherwise prepare 2 cups of coffee in your drip brewer, french press, moka pot or espresso machine and leave to cool.
Step 2 – Prepare the coffee gelatin mix
In a small saucepan combine your room temperature coffee and gelatine over a medium heat.
Whisk the mixture as you gradually heat it to hot.
Tip: If you want to add sugar to the mix, add it now and stir to dissolve completely.
Once hot and the gelatin has fully dissolved, pour the coffee jelly mix into your molds or parchment paper lined tray.
Leave to cool for a few minutes before placing in the refrigerator to set.
Step 3 – Prepare your coffee jelly drink
When you are ready to serve, remove the gelatin coffee from the fridge.
Cut the jelly into cubes and add to the base of your glasses.
Top with milk and serve.
Coffee jelly with milk recipe variations
There are so many different ways you can modify this coffee jello recipe.
Here are just a few ideas.
Creamy sweet coffee jelly recipe – combine cooled brewed coffee with sweetened condensed milk and pour over the jelly.
Iced coffee jelly – add ice and cooled black coffee to your coffee jelly cubes. Top with a dash of creamer or milk.
Easy coffee dessert idea – pour the coffee jelly mix into 4 single serve dessert glasses, refrigerate until firm and top with whipped cream.
Coffee jelly frappuccino – top your coffee jelly with milk, coffee syrup, whipped cream and your favourite flavoured syrup.
Taiwanese milk tea – pour strong cooled tea combined with cream over the jelly.
More coffee recipes
If you loved our Japanese coffee jelly recipe, you may like to try some of these delicious recipes with coffee.
See all our coffee drinks here. If you love to cook with coffee at home, find all our coffee recipes here.
Disclaimer: As an Amazon Associate I earn from qualifying purchases.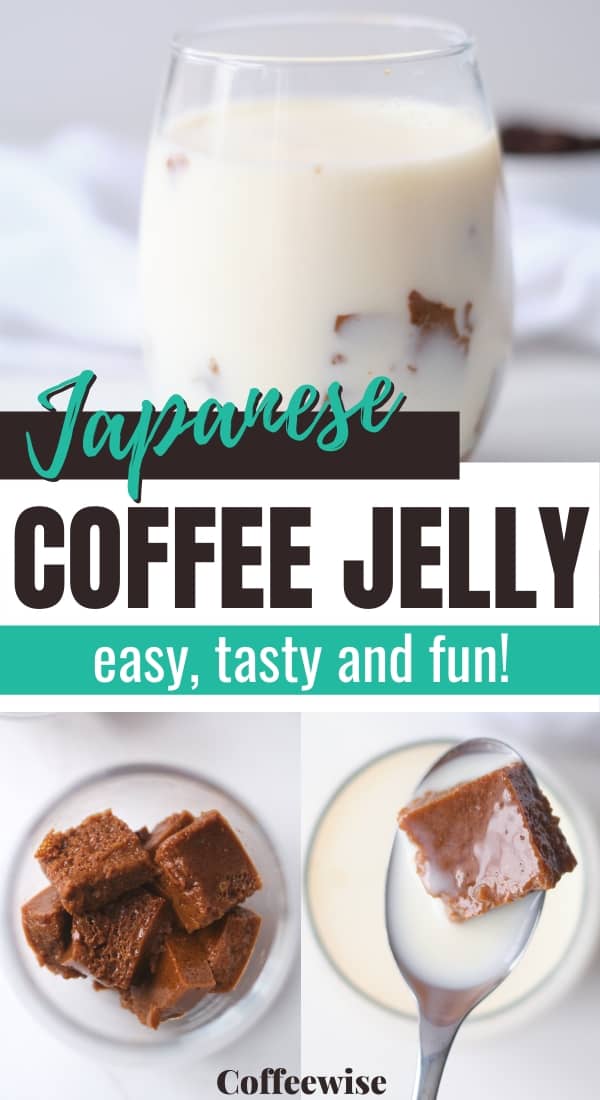 Like this recipe? Don't forget where you found it! Save it to Pinterest for later.
Plus don't forget to follow us on Pinterest or Facebook to see more great coffee recipes like this one in your feed.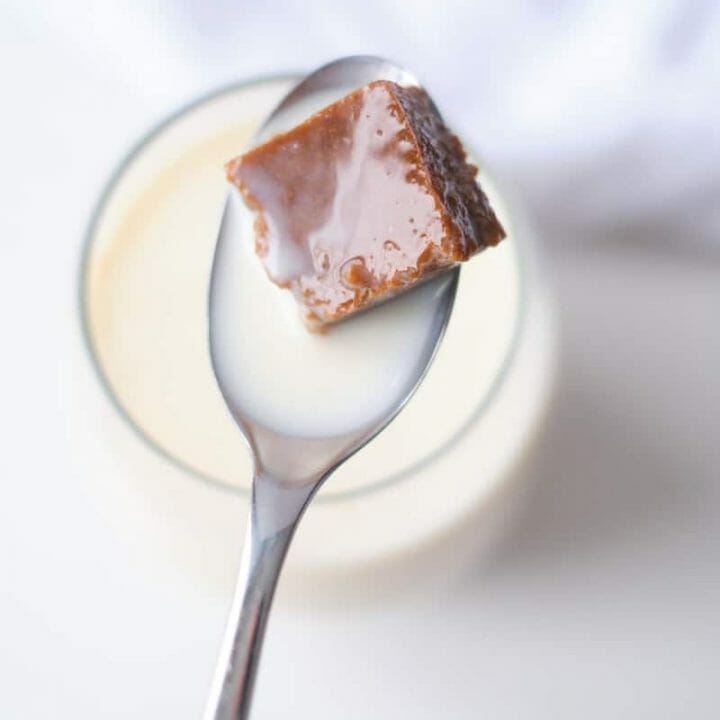 Easy coffee jelly drink
Total Time:
8 hours
10 minutes
This easy recipe for coffee jelly is the perfect base for popular coffee drinks and desserts like Japanese coffee jelly and coffee jelly with milk.
Ingredients
2 cups cold brew coffee
2 tablespoons (2 packets) plain gelatin
6 cups of milk
Instructions
Heat the cold brew coffee and the gelatin in a saucepan until hot. Whisk as you heat to ensure there are no clumps. If you want to sweeten the jelly, add the sugar or sweetener too and mix until dissolved.
Pour the mixture into a tray lined with baking paper (parchment paper) or into silicone molds, cool for a few minutes then place in the fridge overnight or until firm.
When you are ready to serve, remove the coffee jelly from the molds (or tray) and cut into cubes.
Place about ¼ cup of the cubes into a glass and fill the glass with milk.
Serve coffee jelly with milk with a straw and spoon.

Notes
1. You can also use room temperature brewed coffee or instant coffee instead of cold brew coffee.
2. The jelly will not dissolve in cold milk, but it will gradually release some of the coffee flavor into the milk.
3. For an extra sweet coffee jelly drink, top with whipped cream and your favourite syrup. Caramel, butterscotch and chocolate syrups are popular choices.
4. To serve the coffee jelly as a simple coffee dessert, place jelly cubes in a small dessert glass and top with whipped cream.
Nutrition Information:
Yield:

6
Serving Size:

1
Amount Per Serving:
Calories:

134
Total Fat:

5g
Saturated Fat:

3g
Trans Fat:

0g
Unsaturated Fat:

2g
Cholesterol:

20mg
Sodium:

134mg
Carbohydrates:

12g
Fiber:

0g
Sugar:

0g
Protein:

11g
Please note that nutrition information is a computer generated estimate and should not be interpreted as a dietitian's advice. Values can vary greatly among brands, amounts and ingredients used.