These coffee panna cotta dessert cups are a luxurious no bake dessert. With a creamy base, lightly flavoured espresso syrup and melt in your mouth texture, they are the ultimate coffee lover's dessert.
Don't be fooled into thinking they are difficult to make either. This coffee flavoured panna cotta recipe is surprisingly quick and easy to prepare (in around 20 minutes) and they set in the fridge – perfect as a make ahead dessert.
In our espresso panna cotta recipe we show you step by step, with photos, how to make panna cotta at home. If you are looking for new easy dessert ideas that will impress, this coffee dessert recipe is definitely worth trying!
Why I love these coffee panna cotta dessert cups
Individual desserts in a cup are such an ingenious way to prepare sweets.
Whether you are entertaining a crowd or planning dinner with friends, they are a great way to simplify your preparation and cooking time.
In the past I generally avoided making desserts with gelatin and my coffee granita recipe is a good example of another simple coffee dessert.
But with a few handy tips (that I share below) I realised it really isn't that difficult and the results with this coffee panna cotta recipe using gelatin powder are fantastic!
You will note this espresso panna cotta recipe is set and served in the glass. You can also prepare in moulds and unmould to serve on plates if you wish.
The flavoured panna cotta is topped with an espresso syrup. The syrup has a subtle sweet flavour thanks to the addition of a little honey and vanilla.
Combined with the creamy panna cotta underneath, it is a dreamy combination for anyone who loves coffee!
Espresso panna cotta ingredients
You will notice when scanning the ingredients, panna cotta can't really be considered a healthy dessert!
Made with milk, cream and icing sugar, there is no doubt it is a rich dessert. However, don't be tempted to substitute with light milk or cream. The result and texture will not be the same.
In terms of what coffee to use, I have specified both strong brewed coffee and espresso in the coffee panna cotta dessert recipe.
If you don't have a home coffee machine simply replace with whatever you have at home – stove top, drip, french press or even a strong cold brew will work just as well.
The key is to brew strong coffee in order for the flavour to carry through the other ingredients.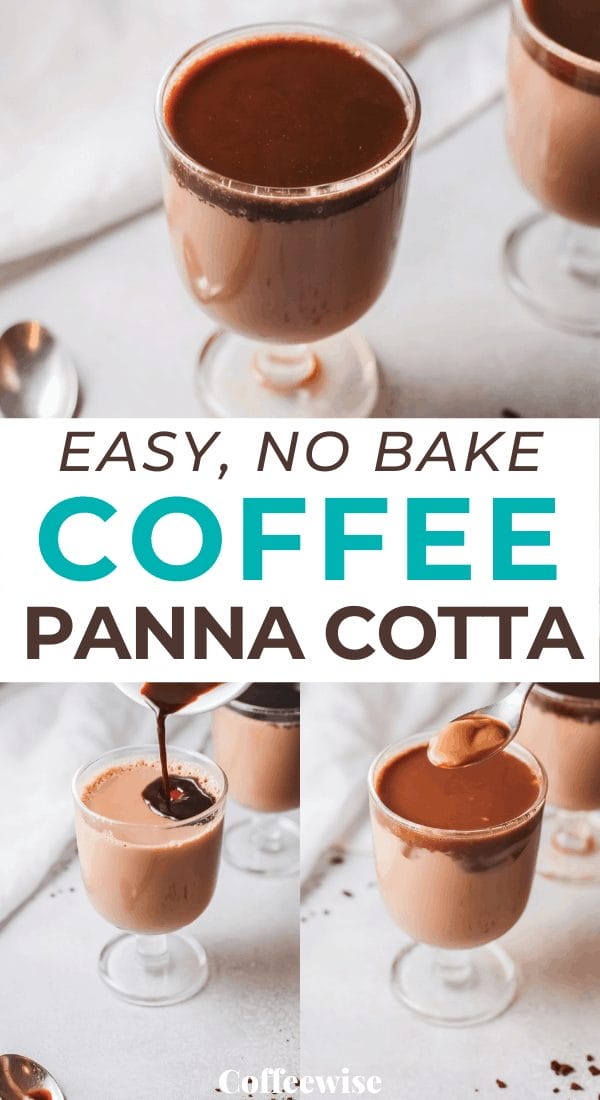 How to make coffee panna cotta
Step 1 – Prepare the gelatin
The first step in our panna cotta pudding recipe is to soften the gelatin powder so it dissolves more easily in your mixture.
This is a really important step and shouldn't be skipped to save time!
The best way to do this is to sprinkle the gelatin powder over the cold milk in a medium sized saucepan for a 3 – 5 minutes.
The gelatin will absorb some of the liquid and the milk will appear slightly wrinkled on top.
Step 2 – Warm your panna cotta ingredients
Now you want to warm the milk and stir the gelatin in order for it to dissolve.
The secret here is to use a gentle heat and gradually warm the milk. It should not boil, and should only be just warm. It should take just 2-3 minutes.
Once your milk is just warm, add the sugar and stir to dissolve and combine. This should take only a minute or so.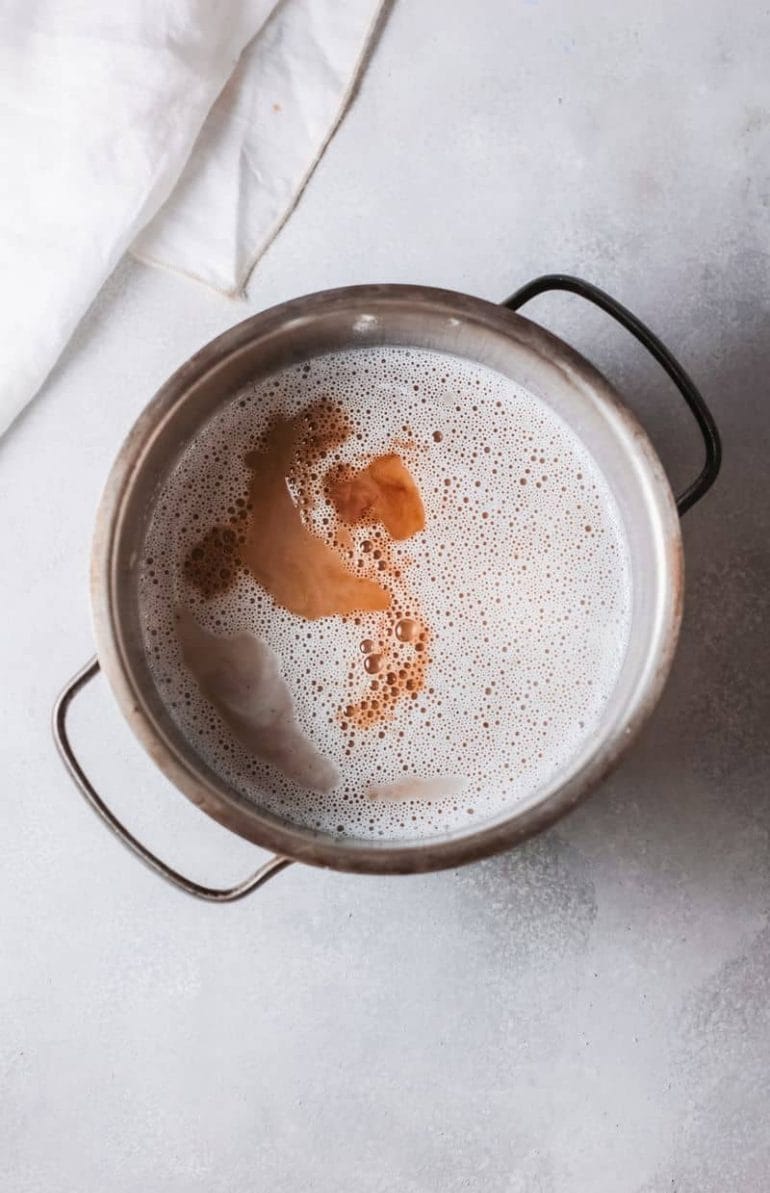 Next add the cream and coffee, stir to combine and remove from the heat.
Pour into 4 glasses and place in the refrigerator to set for at least 4 hours, preferably overnight.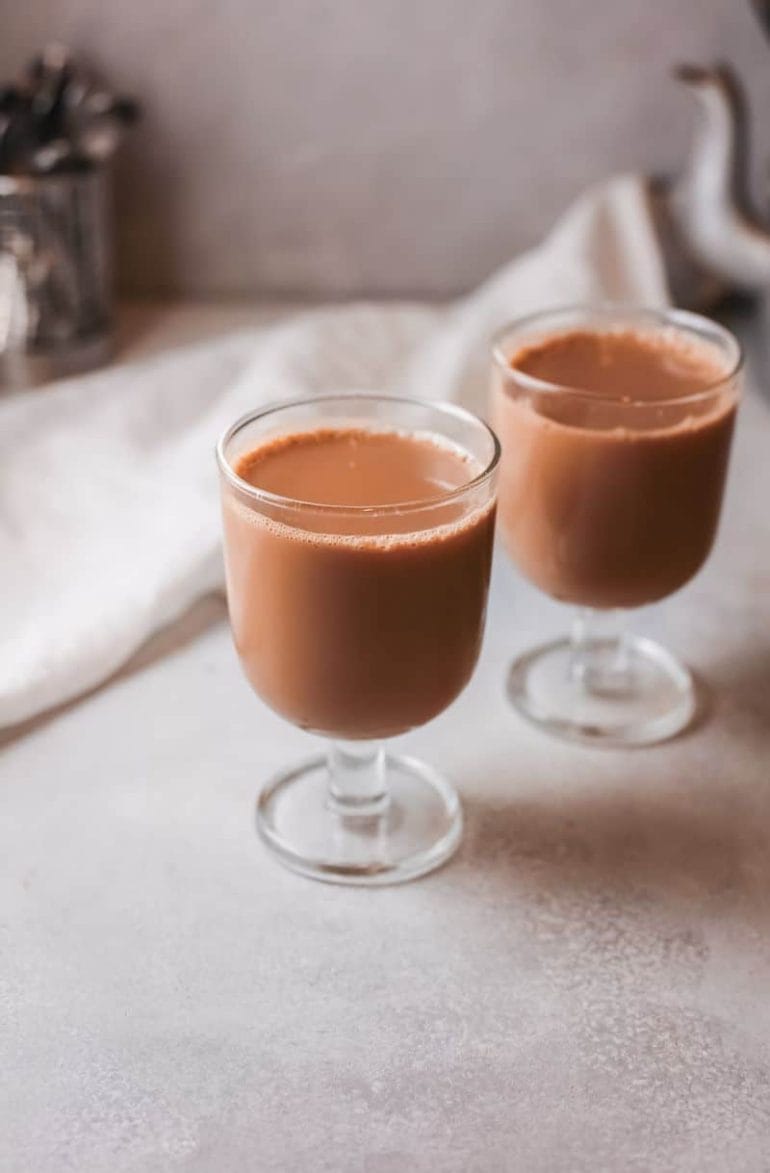 Step 3 – Prepare the espresso syrup
To make the espresso syrup, simply combine the cooled espresso, honey and vanilla in a small bowl.
Stir and set aside until you are ready to serve the panna cotta espresso desserts.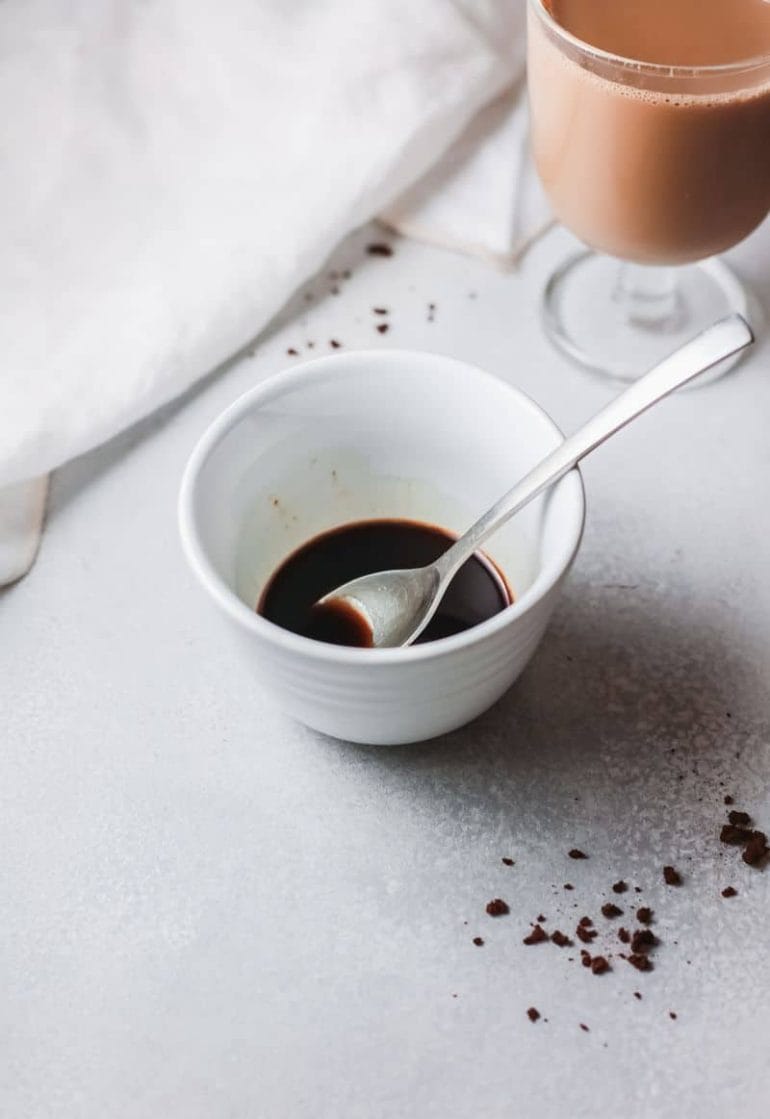 Step 4 – Serve your panna cotta dessert cups
When you are ready to serve your panna cotta pudding, bring them out of the fridge, divide the espresso syrup between the 4 glasses and gently pour over the top.
Serve and enjoy!
Tips for making our coffee flavoured panna cotta recipe
Allow time for the gelatin powder to bloom before heating the milk. This will ensure it fully dissolves.
Allow plenty of time for the panna cotta coffee dessert to set.
Allow the espresso syrup to cool completely before pouring on top.
And that's it! I hope you enjoy making this easy coffee panna cotta recipe. For more great recipe ideas, see the links below.
More Coffee Dessert Recipes To Try
See all our coffee recipes here. If you love to make great coffee at home, read more about the best coffee equipment here.
Disclaimer: As an Amazon Associate I earn from qualifying purchases.
Like this recipe? Don't forget where you found it! Save it to Pinterest for later.
Plus don't forget to follow us on Pinterest or Facebook to see more great coffee recipes like this one in your feed.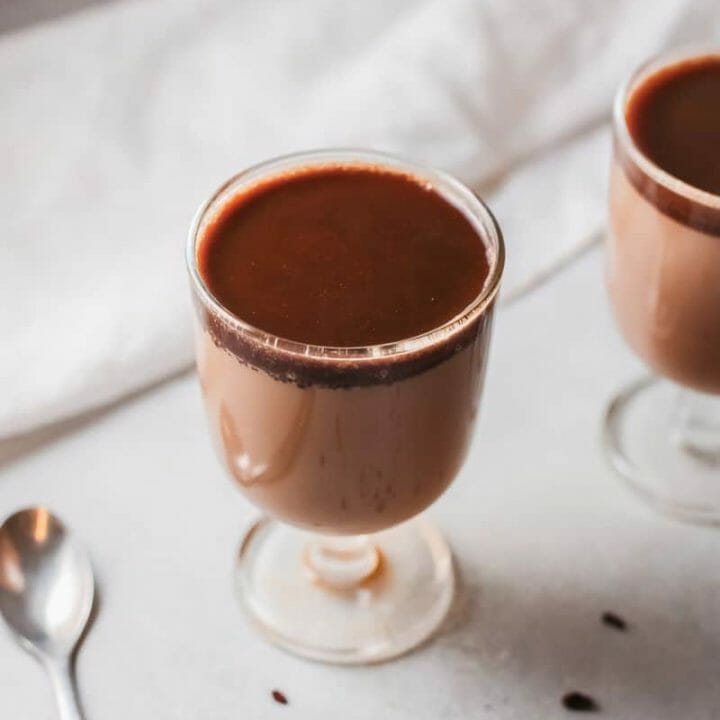 Coffee Panna Cotta Recipe
Total Time:
6 hours
20 minutes
A super easy coffee pudding dessert for coffee lovers. Served in individual cups and drizzled with a flavoured espresso syrup, these no bake desserts in a cup are one of the best make ahead desserts.
Ingredients
For the panna cotta:
2 cups milk
1 cup thickened (heavy) cream
1/2 cup strong brewed coffee
3/4 cup icing (confectioners) sugar
4 tsp gelatin powder
For the espresso syrup:
4 tbsp espresso
2 tsp honey or maple syrup
1 tsp vanilla extract
Instructions
In a small saucepan sprinkle the gelatin powder over the cold milk and leave to bloom for 3-5 minutes until wrinkly on top.
Gently heat the milk for 2-3 minutes or until just warm, stirring occasionally to dissolve the gelatin.
Add the sugar and stir for 1 - 2 minutes until dissolved.
Add the cream and coffee, stir to combine and simmer for 1 - 2 minutes.
Pour the coffee panna cotta into 4 glasses and refrigerate for at least 6 hours, preferably overnight.
In a small bowl combine the honey, espresso and vanilla extract and stir to combine.
When ready to serve, pour the espresso syrup over the panna cotta and enjoy.
Notes
Ensure you bloom the gelatin over cold milk - this will help it dissolve more easily once you heat the milk.
Be careful not to boil the milk - it should be just warm.
Ensure the espresso syrup is fully cooled before pouring over the espresso panna cotta.
Nutrition Information:
Yield:

4
Serving Size:

1
Amount Per Serving:
Calories:

381
Total Fat:

24g
Saturated Fat:

15g
Trans Fat:

1g
Unsaturated Fat:

7g
Cholesterol:

77mg
Sodium:

88mg
Carbohydrates:

35g
Fiber:

0g
Sugar:

28g
Protein:

8g
Please note that nutrition information is a computer generated estimate and should not be interpreted as a dietitian's advice. Values can vary greatly among brands, amounts and ingredients used.