Sweet, cold and refreshing, this easy cold brew float is a great way to enjoy your coffee when it's warm outside and you need a little pick me up.
A mash up of a traditional Italian affogato and ice cream float, my coffee float recipe is quick and easy to make at home with just a handful of ingredients.
So if you love cold brew and ice cream, you are going to love this cold brew coffee ice cream float recipe!
A Short History Of The Cold Brew Float
An ice cream float, also known in parts of the world as an ice cream soda or a spider here in Australia, is traditionally made by combining soft drink or soda with ice cream and flavoured syrup.
Originating in the US in the late 19th Century, many countries around the world now have their own versions of this sweet and creamy drink, popular with kids and adults alike.
Then in the 20th century after the invention of the espresso machine, the Italians created the affogato, a simple coffee dessert made with a scoop of ice cream and a shot of hot espresso.
So somewhere after the invention of the ice cream float and the affogato is the ingenious creation of the coffee float.
Several large chains have added an ice coffee float to the menu including the Starbucks cold brew float, cementing its popularity amongst coffee drinkers.
Made by combining cold coffee with ice cream and flavoured syrup it is the perfect adult version of your favourite childhood drink.
Cold Brew Coffee Float Recipe Ingredients
The beauty of a cold brew coffee float (like any cold brew coffee drink) is there a million different ways you can customise it with ice cream flavours and flavoured syrups, even different coffee beans.
So while I have a specific recipe to share with you below, don't limit yourself as there are loads of coffee ice cream float combinations you can make and I share some of my favourites down below.
To make a cold brew float you will need the following ingredients.
Cold Brew Coffee
I like to use homemade cold brew coffee for cold coffee drinks recipes as it has a smooth taste I enjoy. But if you are not a fan, then don't worry as you can use any type of coffee to make an iced coffee float.
French press, stovetop, pour over or drip filter coffee will all work equally well – just be sure to chill your brew in the fridge for at least 30 minutes before using.
I share 4 ways to make cold brew coffee at home in this cold brew coffee guide, so if you are new to cold brew, definitely check it out.
Note if you are a first time cold brew coffee brewer, it will take 12-16 hours to brew a batch of cold brew, so you will need to plan ahead to make cold brew coffee based drinks.
Alternatively, there are plenty of ready to go cold brew concentrates, canned and bottled cold brew coffee options available in the supermarket and online.
Ice Cream
I use caramel ice cream for this recipe, as I was in the mood for a caramel coffee float, but feel free to substitute for your preferred ice cream flavour.
Note the flavour of the ice cream should pair well with your choice of flavoured syrup (if using).
Vanilla icecream is always an excellent choice, as it pairs well with any flavoured syrup.
Or try my hazelnut coffee ice cream for an extra coffee flavour boost.
Flavoured Syrup
Traditional ice cream sodas and floats use flavoured syrup, and many coffee float recipes use syrups too.
I use salted caramel syrup in this recipe – the syrup adds extra sweetness and flavour to the float.
The syrup is, however, optional and if you want to reduce the calorie total or you don't want the extra sweetness you can easily cut the syrup from the recipe steps.
How To Make A Coffee Float At Home
Okay let's take a look at the steps to make your delicious cold brew ice cream float.
Step 1 – Prepare your glass
First step is to drizzle the inside of your glass with your flavoured syrup of choice. Use as little or as much as you like!
Then drop 3 or 4 ice cubes into your glass. The ice cubes chill your glass and help slow the rate of ice cream melting later.
Step 2 – Add the cold brew coffee
The next step is to add your cup of cold coffee to your glass, leaving a little room in the top for your ice cream.
You may be asking why not do ice cream first? Well, you can! If you have always made your ice cream sodas by adding the ice cream first, swap this step around with the next one.
Note you won't get the volcanic type eruption you usually do when you add soft drink (soda) to ice cream, as the coffee is not carbonated (unless you use Nitro coffee!).
Step 3 – Top with ice cream
Finally, top your coffee with a scoop of ice cream and enjoy your cup of sweet, creamy coffee deliciousness.
Yummy Coffee Ice Cream Float Combinations
As I mentioned at the start, there are a bunch of different ways you can customise the recipe to make it your own.
Some good alternative cold brew with ice cream combinations include:
Vanilla coffee float – vanilla syrup and ice cream added to ice coffee.
Chocolate coffee float – chocolate sauce and chocolate (or vanilla) ice cream with coffee.
Nitro cold brew float – use canned nitro coffee and vanilla ice cream for a more traditional carbonated ice coffee float experience.
Toffee coffee float – toffee ice cream and butter toffee syrup with your cold brew.
Coffee coffee float – coffee ice cream with coffee syrup for the ultimate caffeinated beverage!
Coconut coffee float – coconut icecream with cold brew, similar in flavor to this coconut cold brew recipe.
What are your favourite ice cream float combinations? Let me know in the comments below!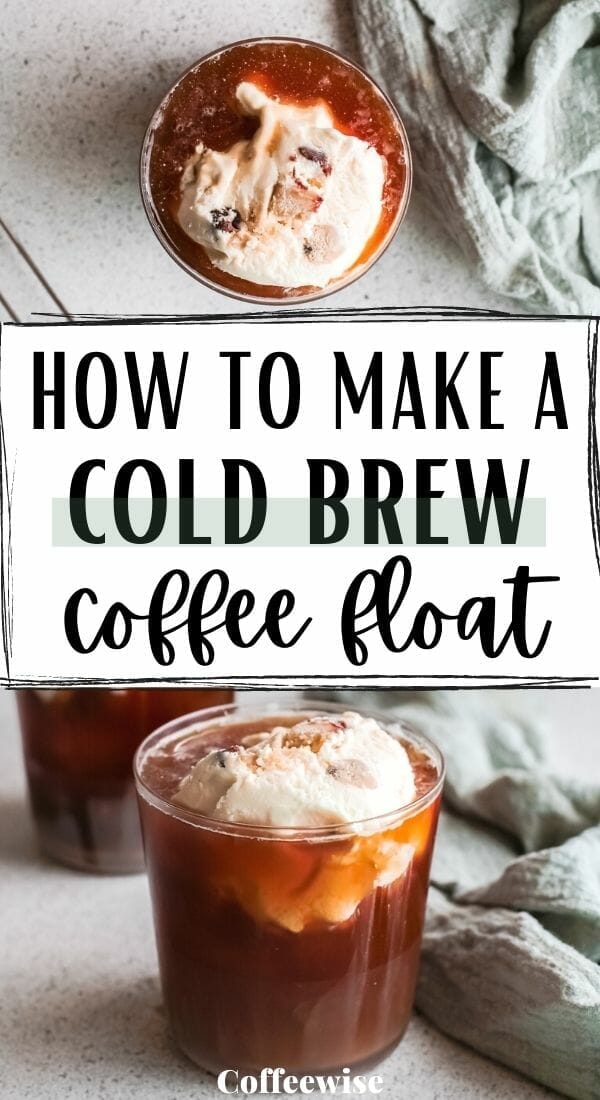 More Cold Coffee Recipes
If you loved our cold brew coffee ice cream float recipe, try some of these delicious coffee recipes:
You can find even more cold brew drink ideas here. For more great ways to make coffee at home, hop over to our coffee recipes.
If you want to upgrade your coffee gear, read more about the best coffee equipment.
Disclaimer: As an Amazon Associate I earn from qualifying purchases.
Like this recipe? Don't forget where you found it! Save it to Pinterest for later.
Plus don't forget to follow us on Pinterest or Facebook to see more great coffee recipes like this one in your feed.
Easy Cold Brew Float
Cold and sweet, this easy cold brew float recipe is perfect as a Summer coffee drink or quick and easy coffee dessert. Enjoy plain or add your favourite coffee syrup for an extra boost of sweetness.
Ingredients
1 cup cold brew coffee
1 scoop ice cream
Ice cubes
Flavoured sauce or syrup (optional)
Instructions
If using flavoured sauce, first drizzle the inside walls of the glass with the sauce (see note 1). I use salted caramel sauce here.
Add 3 or 4 ice cubes to the glass.
Pour the cold brew coffee into the glass.
Finish off with a scoop of your favourite ice cream (I used caramel ice cream) and enjoy.
Notes
Using flavoured sauce is completely optional and sweetens the drink. I recommend you match the sauce flavour with your ice cream.
You can use any flavour ice cream you like. The ice cream flavour you choose will then flavour your coffee. Flavours that pair well with coffee include vanilla, caramel, toffee and chocolate.
I use home made cold brew coffee, but any kind of cooled coffee works well - including brewed, french press and even espresso. Just make sure you chill in the fridge for at least 30 minutes after brewing or else your ice cream will melt fast.
You can also use store bought cold brew concentrate. Simply dilute as per the instructions on the bottle.
Nutrition Information:
Yield:

1
Serving Size:

1
Amount Per Serving:
Calories:

139
Total Fat:

7g
Saturated Fat:

4g
Trans Fat:

0g
Unsaturated Fat:

2g
Cholesterol:

29mg
Sodium:

59mg
Carbohydrates:

16g
Fiber:

0g
Sugar:

14g
Protein:

3g
Please note that nutrition information is a computer generated estimate and should not be interpreted as a dietitian's advice. Values can vary greatly among brands, amounts and ingredients used.