If you are looking for simple coffee desserts to make at home, this easy coffee mousse recipe is a great choice.
With a creamy texture and subtle coffee flavour, these little espresso mousse cups are sophisticated, yet easy coffee desserts to serve at your next dinner party or celebration.
With just 4 ingredients they are quick to make and can be stored in the fridge until needed. They are the perfect make ahead dessert for coffee lovers.
Why I love this easy coffee mousse recipe
There are a few reasons why I love this simple mousse recipe
With just 4 ingredients, this recipe for coffee mousse is super easy to prepare with ingredients you are likely to have in your fridge and pantry.
There is no gelatine in this quick mousse recipe, so no extra time is required for your whipped cream mousse recipe to set.
This coffee dessert recipe is also no bake! No bake coffee desserts are a great option for dinner parties and large family celebrations. Simply make the coffee mousse cups the day before, pop them in the fridge and you have a delicious coffee mousse dessert ready to go.
Espresso mousse equipment list
Whilst this isn't quite a one bowl recipe, there aren't many pieces of equipment required to whip up this espresso coffee mousse dessert.
Double boiler, or a saucepan and heat proof bowl
Whisk
Electric mixer
Spatula
Serving mugs or glasses
If you don't have a double boiler (like this one), you can simply place a heat proof bowl over a saucepan of water.
An electric mixer speeds up the process for whipping the cream, but a handheld beater or whisk will also do the job.
Ingredient list for coffee mousse cups
I love a short ingredient list when I'm cooking, and this espresso mousse recipe is just 4 ingredients long:
Thickened cream
Egg yolks
Castor sugar
Espresso powder
Like many coffee cake recipes, this coffee mousse recipe without gelatin includes espresso powder. It gives a subtle coffee aroma and flavour without being overpowering.
Espresso powder can be expensive and hard to find in Australia but it is often available online. Click here to check if it is available now.
The cost and challenge to source espresso powder makes it a great coffee gift idea for those who love to bake with coffee.
Espresso powder can be substituted for dark roast instant coffee granules dissolved in a small amount of water, but they won't have the same depth of flavour as good quality espresso powder.
Alternatively, if you have a good home coffee grinder, you can also try to make espresso powder from scratch.
How to make coffee mousse
Step 1 – Prepare the mousse flavour base
Place your egg yolks and sugar into a double boiler and whisk over gentle heat for 3 minutes. It is important not to leave the eggs unattended as they will over cook.
Once the eggs are whisked for 3 minutes, add the espresso powder and 1/4 cup of thickened cream and continue whisking until the mixture thickens.
Once thickened, remove from the heat and place in the fridge to cool for about 30 minutes.
Step 2 – Beat the cream
While the base mix is cooling in the fridge, it is time to start beating your cold cream.
Using an electric mixer (or whisk), whip the cream until firm peaks form.
Add the espresso base mix and continue beating until incorporated and fluffy, and stiff peaks form.
Step 3 – Divide into serving cups
Divide the mixture into your serving cups or glasses.
This coffee mousse recipe will fill 6 small cups. If you want a more decadent coffee cream dessert, divide the mixture between just 4 larger glasses or cups.
And that is it! If you want a soft creamy mousse, there is no need to refrigerate. However if you prefer a firmer coffee dessert, simply pop in the fridge for 30 minutes or so or until needed.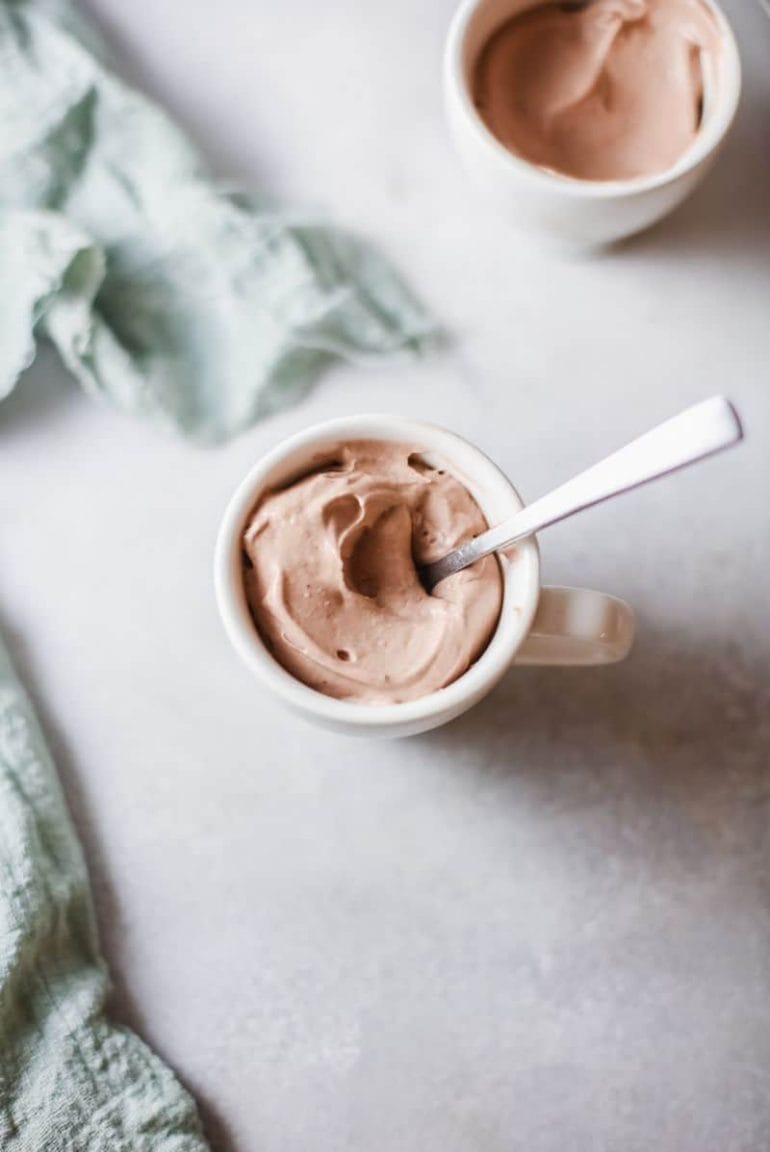 Tips for making the best coffee mousse recipe
Don't leave the stove or have the heat too high while you are whisking the eggs. Whisk constantly and do not overcook.
Beat the cold cream until you have stiff peaks, otherwise your homemade mousse will be a little too soft.
Rest the espresso mousse cups in the fridge for a firmer consistency.
More Coffee Desserts Recipes
See more great coffee recipes here. If you love to make great coffee at home, read more about the best coffee equipment here.
Disclaimer: As an Amazon Associate I earn from qualifying purchases.
Like this recipe? Don't forget where you found it! Save it to Pinterest for later.
Plus don't forget to follow us on Pinterest or Facebook to see more great coffee recipes like this one in your feed.
Coffee mousse
Additional Time:
30 minutes
This super simple creamy no-bake coffee mousse is the perfect make ahead dinner party dessert.
Ingredients
3 egg yolks
1/4 cup castor (white) sugar
1/4 cup thickened (heavy) cream
2 tbsp espresso powder (or instant coffee)
2 cups thickened (heavy) cream
Instructions
Place the egg yolks and sugar in a double boiler. Whisk over a gentle heat for 3 minutes.
Add 1/4 cup of thickened cream and espresso powder to the pan with the eggs and continue whisking until thickened.
Remove from the heat and place in the refrigerator to cool.
Using an electric mixer or whisk, beat the cold thickened cream until stiff peaks form.
Add the cooled coffee mixture to the cream and continue beating until incorporated and fluffy.
Spoon the mixture into individual serving glasses, mugs or ramekins.
Serve immediately or return to the refrigerator to firm up a little more until needed.
Notes
This simple coffee dessert can be made ahead of time and will keep in the refrigerator for up to 4 days. Ensure you tightly cover each mousse cup.
This recipe will fill 6 small cups or glasses.
Nutrition Information:
Yield:

6
Serving Size:

1
Amount Per Serving:
Calories:

364
Total Fat:

34g
Saturated Fat:

21g
Trans Fat:

1g
Unsaturated Fat:

11g
Cholesterol:

193mg
Sodium:

29mg
Carbohydrates:

11g
Fiber:

0g
Sugar:

11g
Protein:

4g
Please note that nutrition information is a computer generated estimate and should not be interpreted as a dietitian's advice. Values can vary greatly among brands, amounts and ingredients used.