Muffins may just be the perfect morning or afternoon snack. Small enough not to make you feel guilty but delicious enough to brighten your day, especially when enjoyed with a great cup of coffee.
If you love baking with coffee, you will love these easy mocha muffins with chocolate chips. They are really quick and easy to make, have a lovely coffee flavour and are super moist thanks to a secret ingredient!
These coffee chocolate chip muffins are perfect as weekend breakfast muffins, for brunch or an afternoon treat and are suitable for the whole family to enjoy.
What I love about these easy mocha muffins with chocolate chips
To make muffins from scratch is really quite simple and doesn't take long at all.
From start to finish you can have a batch of delicious fluffy warm muffins on the table in under 30 minutes. What is there not to love about that!
The other reason I love this mocha muffin recipe is that unlike many muffin recipes, these espresso muffins are made from pantry staples. There is no need to rush out to buy any special ingredients and no fancy equipment is required.
Mocha chocolate chip muffins ingredients
Like I said, most of the ingredients in our mocha chocolate chip muffins recipe are pantry staples. Below I explain a few of the ingredients and suggest some suitable alternatives.
Which type of coffee?
These are muffins made with brewed coffee. The coffee needs needs to be at room temperature before you use it, but it can be any type of coffee.
It could be cold brew, a double shot of espresso, stovetop, a pod from your Nespresso machine, instant coffee or french press. You get the picture – just use what you have on hand.
You can adjust the strength of the coffee down if you prefer more subtle coffee flavoured muffins, but be sure to keep the quantity the same.
Bicarb
One of the other ingredients in our recipe for coffee muffins is bicarbonate of soda. Also known in Australia as bicarb soda (we like to shorten everything here).
In other countries you may know it as baking soda.
Chocolate chips
I have an obsession with dark chocolate, so I prefer to use dark chocolate chips in my cappuccino chocolate chip muffin recipe below (and in these mocha popsicles too!)
If you or the kids don't like dark chocolate, milk chocolate chips work equally well.
The secret ingredient
And finally, the secret ingredient – yoghurt! I have used greek yoghurt, but you could also use vanilla yoghurt too.
This ingredient really is the secret to baking this super moist coffee muffin recipe.
How to make coffee muffins with chocolate chips
Step 1 – Combine dry ingredients
First step is to pre-heat your oven to 200 C (180 C fan forced). That is 390 F or 350 F for fan forced ovens.
If you are brewing hot coffee, do it now to allow time for it to cool. Also melt your butter first to allow it to cool a little.
In a medium bowl, add the flour, baking powder and bicarb soda (baking soda).
You can use a whisk to give it a quick mix to ensure there are no lumps and it is well combined.
Step 2 – Combine the wet ingredients
In a large bowl, add the eggs and lightly whisk.
Then add the melted butter, sugar, yogurt, milk, coffee and vanilla to the eggs and combine well.
Step 3 – Combine ingredients in one bowl
Now add the dry ingredients to the wet ingredients and lightly mix to bring together. Use a light hand and don't be tempted to over mix.
Next add the chocolate chips and gently mix until just combined.
Step 4 – Bake your mocha chip muffins
Place muffin or cupcake cases into a muffin tray and use an icecream scoop or tablespoon to scoop the batter into the cases.
The mix makes around 15 medium sized muffins. If you only want to bake one tray of large muffins, fill cases to the top. If you prefer to make 18 smaller muffins, use cupcake cases and fill to 1/2 full.
Place the muffin trays in the pre-heated oven and bake for 18-22 minutes. They are ready when the tops are firm but springy and a toothpick comes out clean.
When cooked, remove from the oven and cool in the tray for 5 minutes before removing onto a cooling rack.
Enjoy warm or store in an airtight container for up to 3 days. They are lovely reheated too.
Espresso chocolate chip muffins recipe tips
Don't overmix the batter once you combine the dry and wet ingredients as the muffins will be less fluffy and a little chewy.
Use dark chocolate chips for a richer chocolate flavour.
If you need a recipe converter for any of these ingredients, try this one.
Simply select the units you are converting from and to, choose the ingredient you are converting and it will display the correct amount.
More coffee baking recipes
If you loved our chocolate chip coffee muffins recipe, you may like to try some of these delicious recipes with coffee.
See all our drink and food coffee recipes here. If you want to make great coffee at home, read more about the best coffee equipment here.
Disclaimer: As an Amazon Associate I earn from qualifying purchases.
Like this recipe? Don't forget where you found it! Save it to Pinterest for later.
Plus don't forget to follow us on Pinterest or Facebook to see more great coffee recipes like this one in your feed.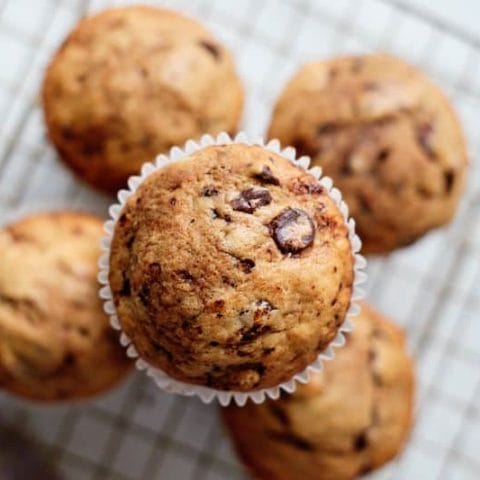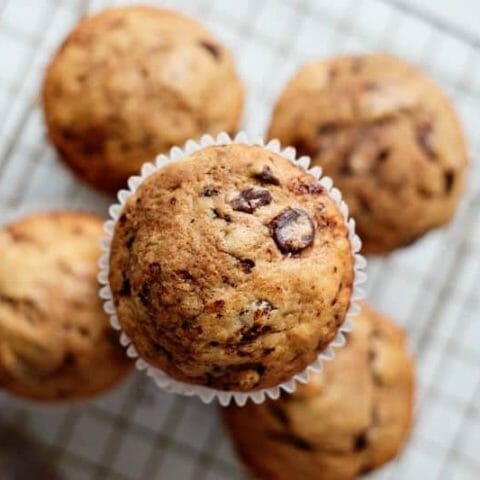 Mocha muffins with chocolate chips
Fluffy and moist mocha muffins recipe, perfect for breakfast or an afternoon snack. You can have a batch of these easy coffee muffins ready to eat in under 30 minutes!
Ingredients
2 1/2 cups plain flour (all purpose)
1 tsp baking powder
2 tsp bicarbonate soda (baking soda)
2 eggs
115g (1/2 cup) butter (melted)
3/4 cup brown sugar
1/2 cup greek yoghurt (or vanilla yoghurt)
1/4 cup milk (or plant based milk)
1/4 cup brewed coffee
1 tbsp vanilla extract
1 cup chocolate chips (dark or milk)
Instructions
Preheat conventional oven to 200 C (390 F) or 180 C (350 F) for fan forced oven.
In a bowl mix flour, baking powder and bicarb soda. Stir to combine and set aside.
In a separate bowl mix eggs, butter, sugar, yogurt, milk, coffee and vanilla. Whisk well until mixed.
Add the dry ingredients to the wet ingredients and mix to combine being careful not to over mix.
Add chocolate chips and combine.
Place muffin cases into a muffin or cupcake tray and scoop batter into the cases. Fill to ¾ way full for 15 high top bakery style muffins, or a little less for 18 small muffins.
Place in oven for 18-22 minutes or until a toothpick comes out clean. Tops should be firm but slightly springy to the touch.
Remove from oven and allow to cool on a cooling rack.
Notes
The key to light and fluffy muffins is to mix with a light hand and until just mixed.
Vanilla yoghurt can be used in place of greek yoghurt for a sweeter muffin.
If you like high top muffins, fill each muffin liner to 3/4 full. You will likely have 12 - 15 large muffins. For more smaller muffins, fill just a little less - you should get 18 small muffins from the mix.
Nutrition Information:
Yield:

15
Serving Size:

1
Amount Per Serving:
Calories:

240
Total Fat:

11g
Saturated Fat:

6g
Trans Fat:

0g
Unsaturated Fat:

4g
Cholesterol:

42mg
Sodium:

102mg
Carbohydrates:

33g
Fiber:

1g
Sugar:

16g
Protein:

4g
Please note that nutrition information is a computer generated estimate and should not be interpreted as a dietitian's advice. Values can vary greatly among brands, amounts and ingredients used.