This icy cold Nutella frappe is a delicious iced coffee drink you can quickly and easily make at home.
With a sweet chocolate hazelnut flavour and a good hit of caffeine, this Nutella coffee frappe recipe is the perfect afternoon pick me up.
What Is A Nutella Frappe?
A Nutella frappe is a blended cold coffee drink made with coffee, Nutella, milk and ice.
This iced Nutella coffee is also known as:
A Nutella iced coffee frappe
Hazelnut mocha Frappuccino
Nutella and coffee milkshake without ice cream
Coffee frappe with Nutella
Hazelnut frappe.
There may be many names, but what they all have in common is the clever combination of Nutella and coffee.
Nutella in coffee works so well because the hazelnut chocolate flavour of Nutella is such a great pairing with coffee.
When blended together it produces a creamy, icy cold coffee that tastes a lot like a chocolate coffee milkshake without ice cream.
Frappe vs Milkshake vs Smoothie
So what is the difference between a frappe vs milkshake vs smoothie, I hear you ask. Here are the basic differences:
In most places, (apart from Greece) a frappe is a blended drink made with coffee, milk and ice
Coffee milkshakes are made with coffee, milk and ice cream
A coffee smoothie typically combine coffee, fruit, dairy and ice
And what is a frappuccino? Well a frappuccino is the Starbucks trademarked name for a frappe.
Starbucks Nutella Frappuccino
The Nutella Frappuccino is an unofficial recipe on the Starbucks Secret Menu.
If you want to try it, here is the Nutella Frappuccino Starbucks recipe to give the barista to make your drink:
Base: coffee Frappuccino
Add: 2 pumps mocha syrup, 1 pump hazelnut syrup, blended and topped with whipped cream.
The key difference between a Starbucks Nutella Frappuccino and a homemade Nutella espresso frappe is that Starbucks don't actually use Nutella – they use a hazelnut syrup instead.
Okay so now we know the difference between the types of drinks, let's show you how to make a coffee frappe with Nutella.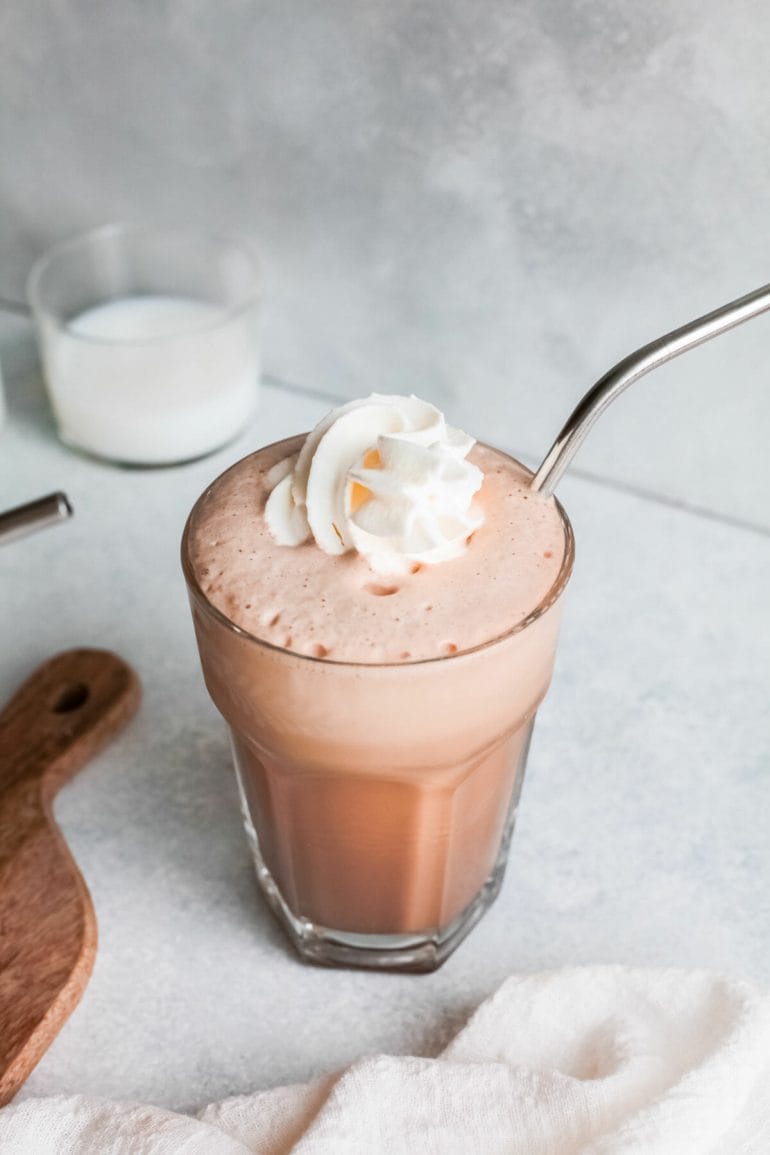 Essential Equipment To Make A Nutella Coffee Frappe
The only piece of equipment you need to make a coffee frappe at home is a good blender.
You want to achieve a creamy ice cold texture with no chunks of ice.
I love the NutriBullet 1200W blender. Powerful enough to crush and blend the ice, it comes with a cup and flip top lids for drinking on the move. Click here to check the price.
It is perfect for frappes and smoothies like my coffee oat smoothie.
Coffee Nutella Frappe Ingredients
In order to make my Nutella frappe recipe you will need:
Milk – I use whole milk, but you can use whatever type of milk you prefer
Nutella – chocolate hazelnut spread available at the supermarket or online
Espresso – I use espresso coffee. If you don't have an espresso machine simply brew a strong pot of coffee.
Vanilla extract – I love adding vanilla to cold coffee drinks as it gives that extra flavour boost without over the top sweetness.
Sugar – fine white or castor sugar to ensure if blends with your other ingredients.
Ice cubes
Whipped cream – an optional topping for an extra splurge
How To Make A Nutella Frappe At Home
Step 1 – Prepare your ingredients
The first step to make a frappe at home is to brew your coffee. If using a home espresso machine, pull two shots and set aside to cool.
If you are using a coffee maker or coffee plunger, brew a stronger batch than usual to ensure the coffee flavour carries through the other ingredients in the homemade frappe.
Next you want to gently microwave the Nutella until it is a pouring consistency. This should take between 10-30 seconds.
Softening the Nutella not only makes it easier to add to your blender, it also helps the Nutella combine with the other ingredients.
Step 2 – Add ingredients to blender
Now you want to add all your ingredients (except the ice) to your blender.
It is important to do blend before adding the ice.
Give the ingredients a quick pulse in the blender until combined.
The reason you add the ice in a second step is to ensure the Nutella with coffee and milk are well combined.
It also prevents the Nutella hardening and forming small solid pieces when it comes into contact with the ice.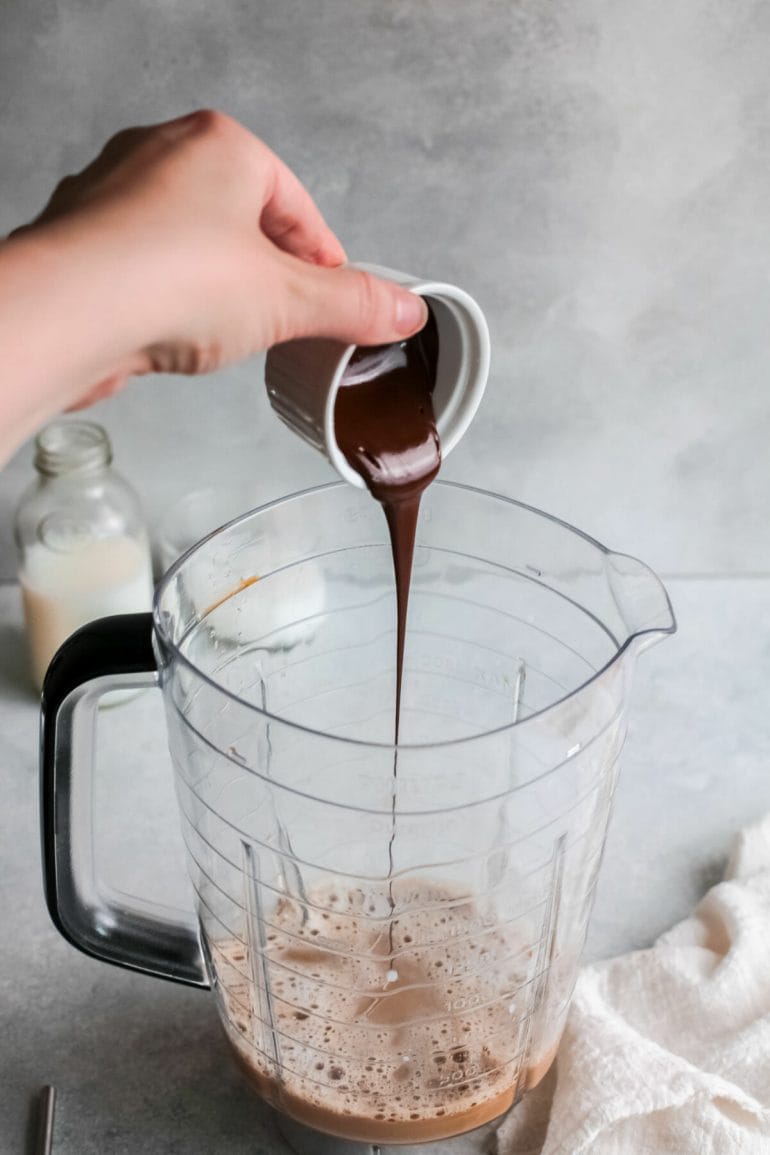 Step 3 – Blend ingredients with the ice
Now add the ice to your blender and pulse until thick and creamy.
Don't be shy with this step – give it a good blitz until the ice is completely crushed and combined with your other ingredients.
This helps create the creamy texture in a blended coffee frappe without adding ice cream.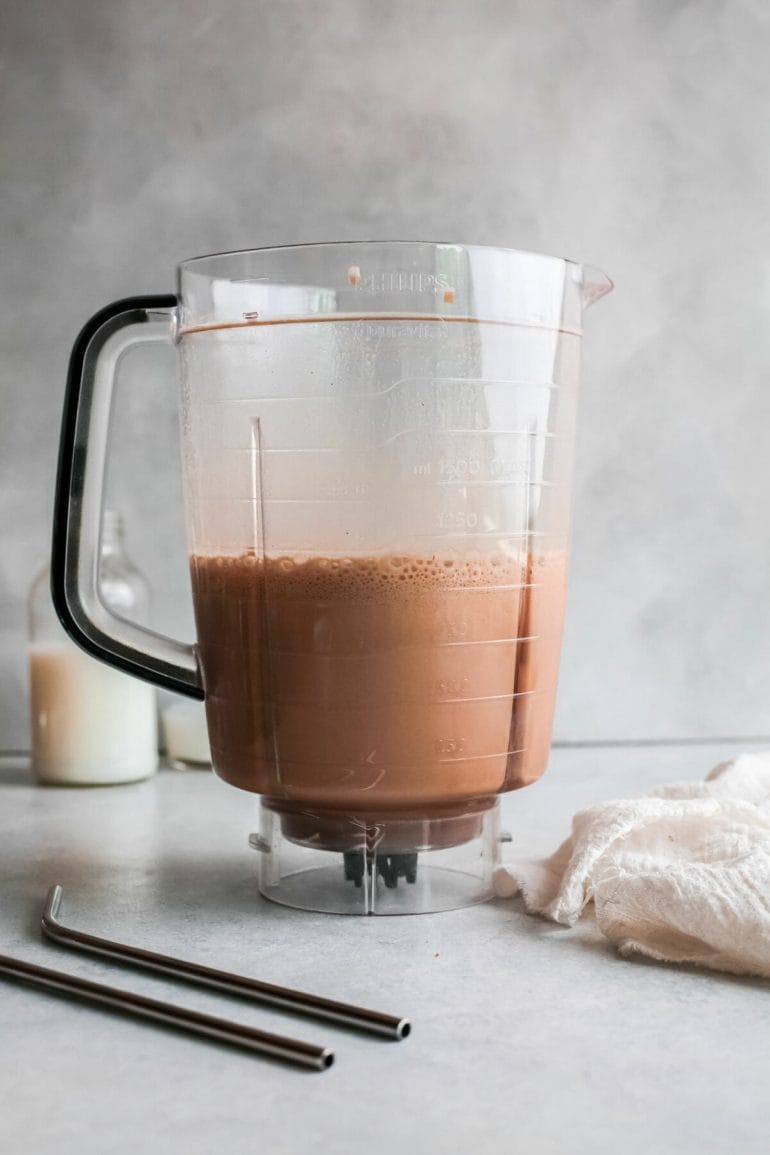 Step 4 – Serve
Now you are ready to serve! Grab your glasses and pour your Nutella coffee frappe into the glasses.
You can top with a little whipped cream for an extra indulgence and then serve with or without a straw.
Top Nutella Frappe Recipe Tips
Gently heat your Nutella in the microwave before adding to the blender
Blend your ingredients together before adding the ice to prevent the Nutella hardening and forming lumps
Blend well to create a creamy icy texture
Adjust the amount of coffee to suit your personal taste.
Common Nutella In Coffee Questions
Can you dissolve Nutella in coffee?
Yes you can dissolve Nutella in both hot and cold coffee. For hot coffee, simply add the Nutella directly to the cup of coffee and stir to combine.
When adding Nutella to cold coffee, it is best to gently warm the Nutella in the microwave for 10-30 seconds before adding to your glass. This will ensure the Nutella combines with the cold coffee.
Does Nutella contain palm oil?
One of the key ingredients in Nutella is palm oil. The manufacturers of Nutella, Ferrero, use 100% RSPO certified sustainable palm oil.
Does Nutella have caffeine?
Nutella contains cocoa, and all cocoa powders contain small amounts of caffeine. As a result Nutella does have caffeine, but in very small amounts.
Is there coffee in a frappe?
A frappe is traditionally a blended cold drink that contains coffee.
You can buy frappes and their Starbucks equivalent, a frappuccino, without coffee, but a classic frappe has coffee in it.
Is a frappe the same as a milkshake?
A frappe and milkshake are both cold milk based drinks that can be made with coffee or other flavors.
The difference is that a frappe is made by blending milk with ice. Whereas a milkshake is made by blending milk and ice cream.
What is the difference between a frappe and a coffee slushie?
A frappe is made with coffee, milk and ice, whereas a coffee slushie has just coffee and blended ice, much like a coffee granita.
More Cold Coffee Drinks Recipes
If you loved our Nutella iced coffee frappe recipe, you may like to try some of these cold coffee recipes:
See more coffee drinks here or all our coffee recipes here. If you love to make great coffee at home, read more about the best coffee equipment here.
Disclaimer: As an Amazon Associate I earn from qualifying purchases.
Like this recipe? Don't forget where you found it! Save it to Pinterest for later.
Plus don't forget to follow us on Pinterest or Facebook to see more great coffee recipes like this one in your feed.
Easy Nutella Frappe
Chocolatey and icy cold, this easy Nutella frappe recipe is a delicious Nutella coffee drink you can make at home.
Ingredients
1.5 cups whole milk
2 tablespoons sugar
4 tablespoons Nutella
1/4 cup (2 shots) espresso coffee or 1/2 cup strong brewed coffee
1 teaspoon vanilla extract
1.5 cups ice
Whipped cream (optional)
Instructions
Pull 2 espresso shots and set aside to cool.
Warm the Nutella in the microwave for 10-20 seconds (or on the stovetop) to soften.
Place milk, sugar, Nutella, coffee and vanilla into blender and pulse until combined.
Add the ice to the blender and pulse for around 1 minute, until smooth.
Pour into tall glasses and top with whipped cream (optional).
Notes
1. It's important to blend the ingredients together before adding the ice. This ensures the Nutella doesn't become lumpy.
Recommended Products
As an Amazon Associate and member of other affiliate programs, I earn from qualifying purchases.
Nutrition Information:
Yield:

2
Serving Size:

1
Amount Per Serving:
Calories:

324
Total Fat:

14g
Saturated Fat:

12g
Trans Fat:

0g
Unsaturated Fat:

2g
Cholesterol:

18mg
Sodium:

104mg
Carbohydrates:

40g
Fiber:

2g
Sugar:

37g
Protein:

7g
Please note that nutrition information is a computer generated estimate and should not be interpreted as a dietitian's advice. Values can vary greatly among brands, amounts and ingredients used.