Learn how to make a Greek frappe at home with this simple and delicious Greek frappe recipe.
Also known as a Nescafe frappe or Greek iced coffee, a Greek iced frappe is one of the easiest (and cheapest) iced coffee drinks you can make at home.
If you love strong and icy cold coffee drinks, you will love this Greek coffee frappe recipe.
What Is A Greek Frappe (Greek Iced Coffee)?
The Greek Frappe is a simple iced coffee drink that originated in Greece in the 1950s.
Also known as the Nescafe Classic Frappe thanks to its main ingredient, Nescafe Classic instant coffee, it is a strong and cold coffee drink made with just a handful of ingredients including instant coffee, sugar, milk, ice and water.
The Nescafe Greek frappe coffee dominated the coffee scene in Greece until the 1990s, when the espresso based Greek Freddo gained popularity amongst coffee drinkers.
Still popular today with locals and tourists alike in Greece and internationally, the classic Greek iced coffee frappe is an affordable, quick and easy iced coffee recipe you can make at home in just a few minutes.
And before I get inundated with comments on the recipe – Yes, my recipe looks a little different!
I love a classic Greek Frappe, but for this recipe I wanted to change it up, just a little.
Don't worry – the recipe ingredients stay true to an authentic iced Greek frappe. The key difference is the order I have added them to the glass, making it more of a Greek style frappe with a pretty layered look!
What You Need To Make A Homemade Greek Iced Coffee
Like most instant iced coffee drink recipes, you don't need any expensive coffee making equipment to make a Greek iced coffee at home.
All you need is a jar or shaker bottle with a lid, a tall glass and a straw.
You may have noticed that many Greek cafes use a frappe mixer, similar to a milkshake maker, to make a Greek cold coffee frappe.
A mixer speeds up the process and creates great froth, but a frappe blender isn't required when making a homemade Nescafe frappe recipe.
If you already have a handheld milk frother, you can use that to froth the mixture, otherwise do what most people do at home – use a jar or bottle to shake the coffee mixture.
Greek Nescafe Frappe Ingredients
A basic Greek frappe has just two ingredients – Nescafe Instant Coffee and Iced Water.
However, there are many Greek coffee frappe variations and my Greek Frappe recipe includes sugar and milk too.
The result is a perfectly delicious iced coffee drink without the bitterness often observed in the basic drink.
What Is The Best Instant Coffee For Greek Frappe?
Lovers of the Greek frappe will insist the best instant coffee for Greek frappe coffee is Nescafe Classic instant coffee grounds.
However, the Classic blend can be tricky to find outside of specialty Greek grocery stores.
So if you can't find the Classic blend in your local store or online, try a bold and strong instant coffee blend – Nescafe or another brand of instant coffee.
What Is The Best Milk For A Greek Iced Frappe?
While you can add any type of milk, in Greece the most common brand of milk used in an iced coffee frappe is NoyNoy.
NoyNoy milk is concentrated full cream milk in a can, and is a form of evaporated milk.
Evaporated milk is a shelf-stable naturally sweet and creamy milk commonly used in baking recipes.
Not to be confused with sweetened condensed milk, which is commonly used in Thai and Vietnamese iced coffee recipes.
You can find NoyNoy canned milk online and at Greek grocery stores. Alternatively you can substitute for a local brand of evaporated milk more easily found in your local supermarket.
If you can't find evaporated milk, simply use your every day milk – full cream, low fat or half and half!
How To Make A Greek Frappe At Home
Below I step you through the process of making Greek frappe coffee drinks at home. Be sure to refer to the recipe below for all the ingredient quantities and steps.
1. Create The Coffee Mixture
The first step is to create the base for your frappe – the frothy coffee mix.
The quantities and ratios of coffee and sugar are completely up to you – and we list the common variations to our recipe in the section below.
In a jar, bottle or cocktail shaker, add the instant coffee, sugar and cold water.
Pop the lid on and give it a really good shake – at least a minute, until frothy and creamy.
2. Prepare Your Glass
A classic frappe recipe will say to pour the coffee mixture into the glass FIRST, then add the rest of the ingredients.
So as you can see from the process images, this step is where I diverge from the classic Greek frappe.
For something a little different (and prettier!), add the ice, water and milk to the glass first.
Feel free to stick to the authentic Nescafe frappe recipe by adding the coffee first if you prefer!
3. Finish Creating Your Nescafe Iced Frappe
Finally, pour your sweet frothy coffee mixture over the top of the milk and water.
Serve with a straw and enjoy.
How To Customise Your Greek Frappe Recipe
Like any type of iced coffee drink there are essentially 4 different ways to customise a Greek frappe:
Plain/Black with no sugar or milk
Black with sugar
With milk and no sugar
With milk and sugar
In Greece this is explained with 4 different terms you need to know to order your favourite Greek Frappe:
Skéto – Plain. No milk or sugar added.
Métrio – Medium Sweet. Contains equal parts coffee and sugar.
Glykó – Sweet. Contains double the amount of sugar as instant coffee.
Me gála – With Milk. The amount of milk added varies and can be specified.
So to order our Greek frappe recipe in Greece or at a Greek coffee shop you would ask for "frappe metrio me gala".
Your Greek Coffee Frappe Questions Answered
What Is The Difference Between Greek Frappe vs Dalgona Coffee
Whilst the Greek Frappe and Dalgona Coffee are made with the same ingredients, there are several differences between them.
Greek frappes are predominately coffee and water with a little milk added (if at all). Whereas Dalgona coffee has a base of milk with the whipped coffee added to the top.
To make a classic frappe you shake the ingredients instead of whipping them together like you do for Dalgona. The frappe is less creamy as a result, but also blends better with the water or milk you add to the drink.
The final difference between the two drinks is the order they are added to the glass. For a traditional frappe the coffee is added first, followed by the water and milk. For Dalgona drinks, the milk is added to the glass first then topped with the whipped coffee.
Do I Need A Greek Frappe Mixer?
While many people recommend you use a frappe mixer or handheld milk frother, you really don't need one to make a great tasting frappe at home.
More Iced Coffee Recipes
If you loved this Greek coffee frappe recipe, try some of these delicious iced coffee recipes.
See all our coffee recipes here. If you love to make great coffee at home, read more about the best coffee equipment here.
Disclaimer: As an Amazon Associate I earn from qualifying purchases.
Like this recipe? Subscribe to my newsletter for all the latest recipes and brewing tips.
Plus don't forget to follow us on Pinterest or Facebook to see more great coffee recipes like this one in your feed.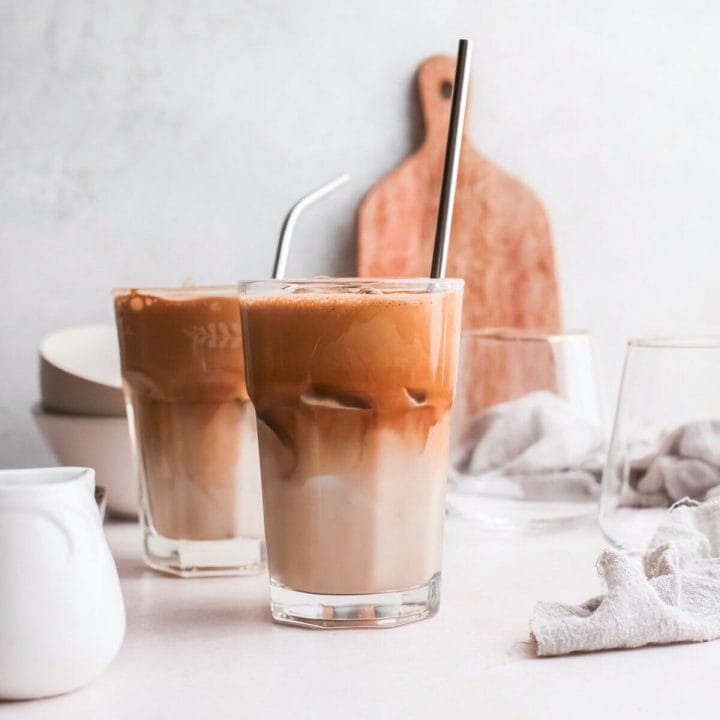 Greek Frappe
This quick and easy homemade greek frappe recipe is the perfect choice for hot Summer days. With just a handful of ingredients, tailor it to your taste for perfect instant iced coffee in minutes.
Ingredients
2 teaspoons Instant Coffee
2 teaspoons sugar
2 tablespoons cold water
2 tablespoons evaporated milk (see note 3)
1/2 cup iced water
Ice
Instructions
In a jar or cocktail shaker, add the instant coffee, sugar and enough cold water to just cover the coffee and sugar - around 1-2 tablespoons (see note 1).
Close the lid and shake vigorously for around a minute until the mixture is foamy and thick.
Half fill your tall glass with ice and add the milk and 1/2 cup iced water (see note 2).
Pour the coffee mixture into your glass and serve immediately with a straw.
Notes
You can use any jar or container with a lid to shake the mixture. A mason jar works well, as does a small plastic container.
For a classic Greek frappe, add your coffee mixture to the glass FIRST, then top with milk and water to taste. We just like the nice layered effect when adding the coffee last.
An authentic Greek frappe contains NoyNoy milk, which is similar to evaporated milk - sweet, rich and creamy. NoyNoy can be found at Greek grocery stores. If you can't find NoyNoy or evaporated milk, the best alternative is full cream milk or half and half for those based in the US.
Recommended Products
As an Amazon Associate and member of other affiliate programs, I earn from qualifying purchases.
Nutrition Information:
Yield:

1
Serving Size:

1
Amount Per Serving:
Calories:

48
Total Fat:

1g
Saturated Fat:

0g
Trans Fat:

0g
Unsaturated Fat:

0g
Cholesterol:

2mg
Sodium:

22mg
Carbohydrates:

10g
Fiber:

0g
Sugar:

10g
Protein:

1g
Please note that nutrition information is a computer generated estimate and should not be interpreted as a dietitian's advice. Values can vary greatly among brands, amounts and ingredients used.