There is nothing quite like sipping a homemade iced latte on a Summer's day. Icy cold and with a touch of vanilla, it is such a refreshing way to enjoy coffee on a hot day.
Here we explain how to make an iced vanilla latte at home – super quick and easy, this iced latte recipe is sure to become a new favourite way to enjoy coffee at home.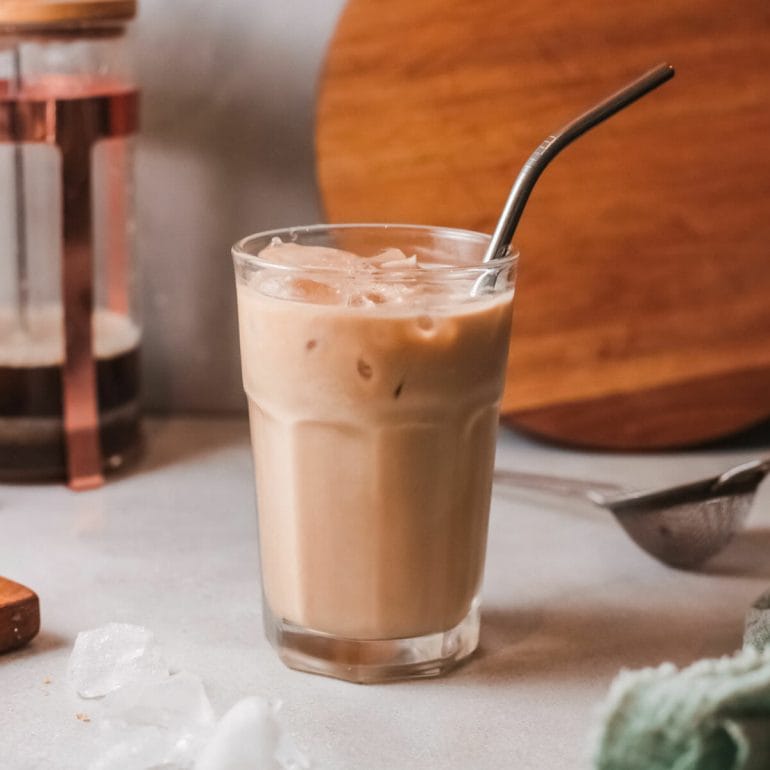 Iced latte vs iced coffee vs cold brew
There are quite a few ways you can enjoy coffee cold, so what is the difference between the different cold coffee drinks?
Cold brew coffee
Cold brew is a slow immersion brewing method where coffee grounds are immersed in cold water for 16-24 hours.
The method produces a flavourful coffee concentrate that can be enjoyed straight, over ice, with milk or as the base for coffee jelly.
Iced coffee
Iced coffee is a generic term used to refer to many different cold coffee drinks.
But, it most typically means a glass of hot brewed coffee poured over ice and then topped with a small amount of milk and/or cream or sweetened condensed milk in the case of a Vietnamese iced coffee!
Iced latte
An iced latte consists of 1 or 2 shots of hot espresso poured over ice and topped with cold milk.
Like a hot latte, it is a milk based coffee drink and has a higher percentage of milk to coffee than an iced coffee.
Just like an iced coffee an iced latte can be flavoured, like this dulce de leche iced latte, but they can also be enjoyed without flavour.
We do an in depth comparison of the differences between iced latte vs iced coffee or you can read more about all these coffee drink styles here.
Vanilla latte ingredients and substitutions
In order to make iced latte at home you really need just two ingredients – coffee and milk.
But for my iced vanilla coffee recipe I have added just one more ingredient – vanilla extract.
I think it adds a lovely smooth flavour to the drink, but it can be omitted if preferred.
Type of coffee
An iced latte is technically made with espresso from an espresso machine or Nespresso pod machine.
But don't worry, you can still enjoy an iced latte if you don't own one – see the next section below which explains how.
Type of milk
I have used whole milk in my iced caffe latte recipe as that is what I drink in my coffee.
However, if you want to make an iced skinny latte or a plant based latte like a soy iced latte, simply substitute your preferred milk in the recipe.
Iced latte flavours
My homemade vanilla iced latte recipe includes vanilla extract and sugar to taste.
These can be substituted for homemade or store bought coffee syrup if preferred.
How to make an iced vanilla latte at home
Step 1 – Brew your coffee
Pull 2 shots of espresso. If not using an espresso machine, you will need 1/2 cup of brewed coffee.
Step 2 – Add sweetener to coffee
Add vanilla and sugar (if using) to hot coffee and stir to combine.
Step 3 – Add cold milk
Finally, place ice cubes in a glass, pour the flavoured espresso over ice and add cold milk.
Stir to combine and enjoy at home or pop in a reusable coffee cup and drink on the go!
Note: You do not use hot milk in this iced vanilla latte recipe. Unlike a hot latte which has textured frothed milk, an iced latte coffee uses cold milk.
Some french vanilla iced latte recipes suggest frothing the cold milk, but I don't think it is necessary.
If you want to froth the milk and don't have a milk frother, we review some of the best milk frothers here.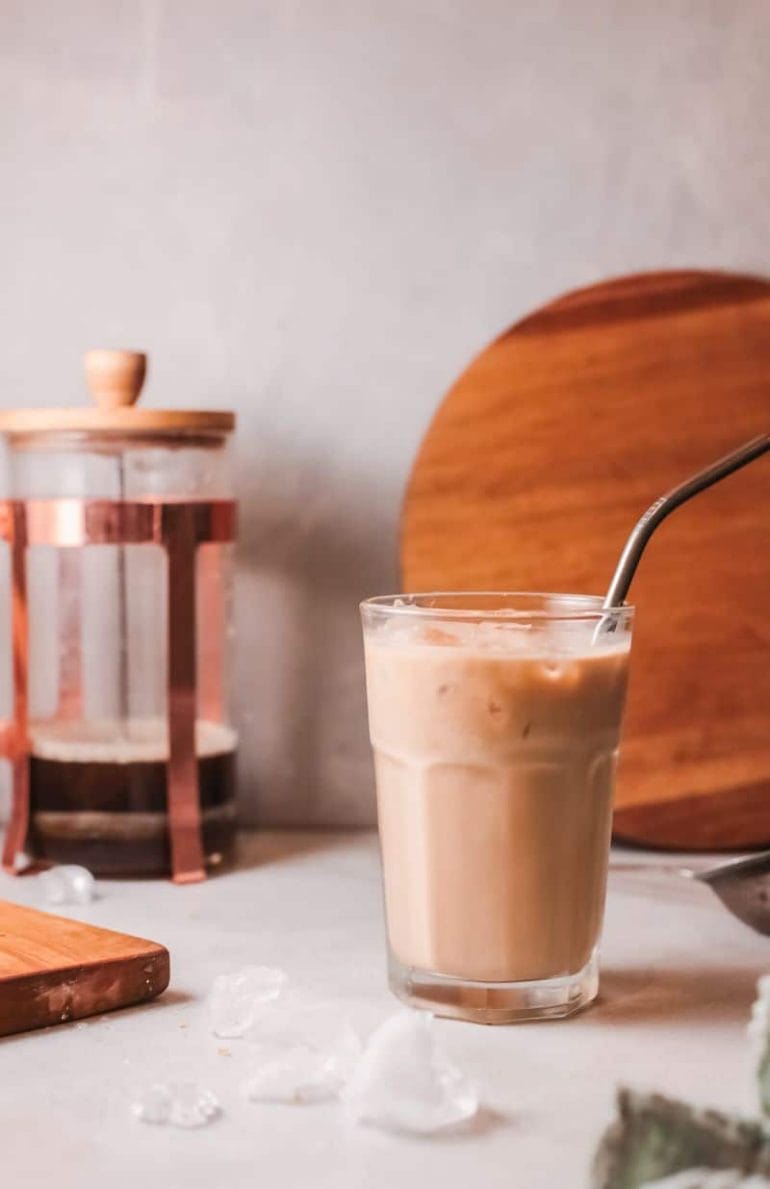 How to make an iced latte without an espresso machine
If you don't have a home coffee machine, you can still make your own iced latte with an alternative coffee maker.
If you have a coffee plunger, pour over, stovetop or drip coffee maker, simply brew a batch of strong coffee and use 1/2 cup of brewed coffee instead of the espresso shots in your iced vanilla latte.
You can use cold brew coffee, but note you can't dissolve sugar in cold coffee. So if you want to sweeten your iced cold brew latte you will need to use a liquid syrup or sweetener.
If you need a recipe converter for any of these ingredients, try this one.
Simply select the units you are converting from and to, choose the ingredient you are converting and it will display the correct amount.
More coffee recipes
If you loved our iced espresso recipe, you may like to try some of these delicious recipes with coffee.
See all our coffee recipes here. If you love to make great coffee at home, read more about the best coffee gear here.
Disclaimer: As an Amazon Associate I earn from qualifying purchases.
Like this recipe? Don't forget where you found it! Save it to Pinterest for later.
Plus don't forget to follow us on Pinterest or Facebook to see more great coffee recipes like this one in your feed.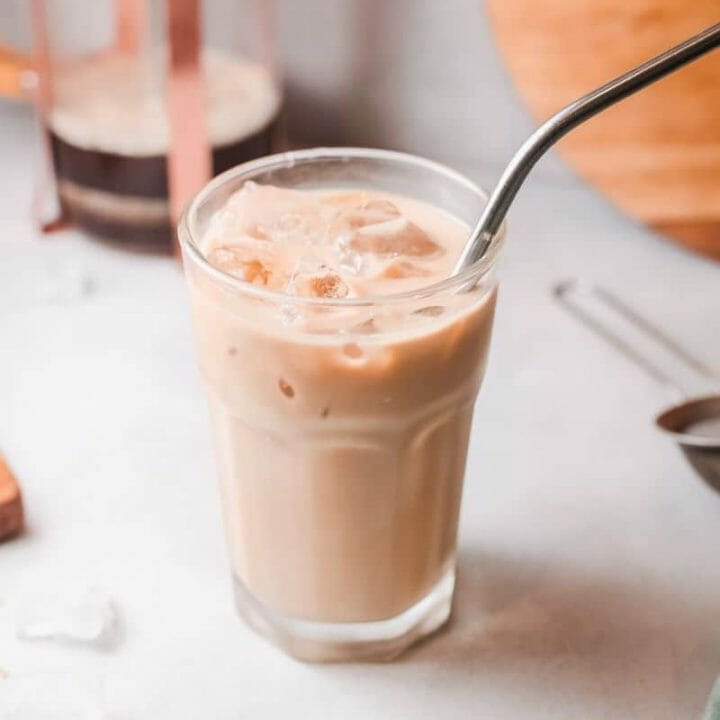 Easy Vanilla Iced Latte
Making an iced latte couldn't be simpler with this homemade iced vanilla coffee recipe. The most refreshing way to enjoy coffee on a hot Summer day.
Ingredients
2 shots espresso (or 1/2 cup brewed coffee)
1 cup milk (whole or plant based)
1 tsp vanilla extract
Sugar (to taste)
Ice cubes
Instructions
Brew your coffee.
Add vanilla extract and sugar (if using) to espresso and mix to combine.
Fill a separate glass with ice cubes.
Pour espresso shots over ice.
Add milk and stir to combine.
Serve and enjoy.
Notes
1. If using cold brew coffee, sugar will not dissolve so use a liquid sweetener instead.
2. If you don't have an espresso machine, brew coffee on your preferred coffee maker and use 1/2 cup brewed coffee in this recipe.
3. Add more or less milk and sweetener to taste.
Nutrition Information:
Yield:

1
Serving Size:

1
Amount Per Serving:
Calories:

138
Total Fat:

5g
Saturated Fat:

3g
Trans Fat:

0g
Unsaturated Fat:

2g
Cholesterol:

20mg
Sodium:

130mg
Carbohydrates:

13g
Fiber:

0g
Sugar:

1g
Protein:

9g
Please note that nutrition information is a computer generated estimate and should not be interpreted as a dietitian's advice. Values can vary greatly among brands, amounts and ingredients used.