A coffee granita is the perfect way to enjoy a delicious icy cold coffee.
Not only is granita coffee a refreshing alternative to a cold coffee drink, this coffee granita recipe is a great option if you are looking for coffee dessert ideas.
Read on to find out how to make coffee granita at home.
What Is A Granita?
Granita originates from Italy and is a simple frozen dessert made from water, sugar and flavours.
Traditional granita flavours include lemon, mulberry, coffee and almond, but almost any flavour can be added to make a tasty granita ice.
Shaved ice granita is similar to sorbet, but if comparing granita vs sorbet, granita has a lighter, grainier and fluffier texture than sorbet.
In Sicily, Italy, where it originates from, granita is traditionally served with fresh brioche for breakfast.
The brioche is torn and dipped into your glass of granita. What a heavenly combination!
Why I Love This Coffee Granita Recipe
One of the top reasons why I love this granita coffee recipe is that unlike other Italian coffee desserts, coffee granita siciliana is comparatively healthy!
Made with just water, coffee and sugar, my homemade granita is made from natural ingredients with no preservatives or artificial flavours.
In addition, whilst it requires regular mixing over a couple of hours, it is incredibly simple to prepare without the need to watch over it or bake in the oven.
Finally, the Sicilians may enjoy it for breakfast, but it also makes for the perfect afternoon treat or post-dinner snack during Summer.
Dressed up with a little whipped cream and a dash of liqueur it quickly becomes a memorable dessert for coffee lovers (more on that later).
Okay so now we know what's in a granita and why it is the perfect summer coffee treat, let's find out how to make granita ice.
How To Make Coffee Granita
It couldn't be simpler to make coffee granita. No special machine or equipment required!
Coffee granita mix ingredients
All you need to make your coffee granita mix is:
hot brewed coffee
sugar
vanilla extract
The most essential ingredient to make the best granita coffee is strong brewed coffee.
In this recipe I have brewed a strong batch of coffee using my french press. You could also use a moka pot or drip coffee maker.
You could even use espresso from your espresso machine to make an espresso granita.
The type of coffee machine doesn't matter, but the strength absolutely does.
Like with iced coffee, the coffee needs to be stronger than you would typically brew. Too weak and the granita mix will taste insipid and sugary.
Step 1 – Mix your granita ingredients together
In a medium sized bowl whisk together the hot brewed coffee with the sugar and vanilla extract. Mix until well combined the sugar has dissolved.
It is important you use hot brewed coffee in order to dissolve the sugar. Otherwise your caffe granita will be grainy.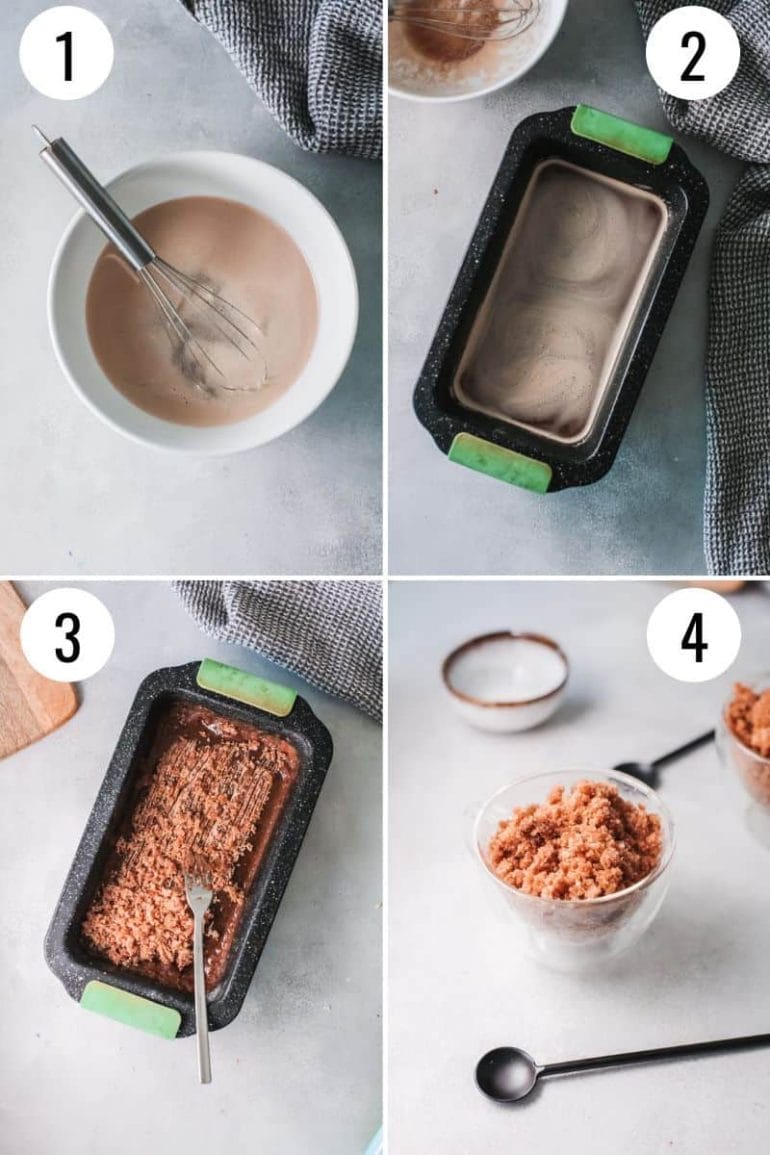 Step 2 – Cool and freeze the granita
Many granita recipes call for a large shallow baking tray.
This will help the mix freeze more quickly, but I prefer to use a slightly deeper pan is it is easier to stir and mix than when in a shallow tray.
Pour your coffee granita mix into a baking pan and place in the refrigerator for 10 minutes to cool. Once cooled, transfer to the freezer.
Pop your serving glasses in the fridge or freezer so they are cold when serving your frozen granita. This will help keep the granita mix frozen for longer.
Step 3 – Scrape and mix the granita
Every 30 minutes, remove the tray from the freezer and whisk or scrape the mixture.
At first the mixture will be soft and a whisk works well to combine the ice with the liquid. Be sure to scrape all the ice on the edge of the tray.
As it begins to firm up, scrape with a fork to give the granita it's trademark crystallised texture.
Repeat every 30 minutes for 2-3 hours. Granita can have difference textures from light and fluffy to a coarser mix.
The more times you scrape the mix with a fork, the lighter it will be. So continue scraping until you have the texture you prefer.
Step 4 – Serve your coffee granita dessert
To serve your coffee granita, divide the granita ice into chilled glasses and serve with a small spoon.
Coffee Granita Recipe Variations
Here are three additional ways to serve your frozen granita recipe:
With cream
If you are serving your coffee granita as a dessert, top with a small amount of whipped cream for a more decadent dessert.
With alcohol
Alternatively, if you want to try an alcoholic granita recipe, pour a chilled shot of your favourite liqueur over the top of the iced coffee granita.
Popular options include Amaretto, Baileys Irish Cream and Kahlua.
With chocolate
Finally, for a mocha granita drink similar to a frappe, swirl chocolate syrup into the base of a tall glass, add granita mixture to the glass and top with a generous serve of whipped cream.
How To Store Espresso Granita
Iced granita is best enjoyed on the day it is prepared, as the mix can become a little icy when stored for longer in the freezer.
But if you need to prepare it ahead of time, I recommend you transfer the granita espresso to a sealed container once ready to store in the freezer.
Then 30 minutes before serving, remove the granita from the freezer and leave out on the bench to soften slightly.
Use a fork to fluff the granita before returning to the freezer to firm up slightly before serving in chilled glasses.
If you need a recipe converter for any of these ingredients, try this one.
Simply select the units you are converting from and to, choose the ingredient you are converting and it will display the correct amount.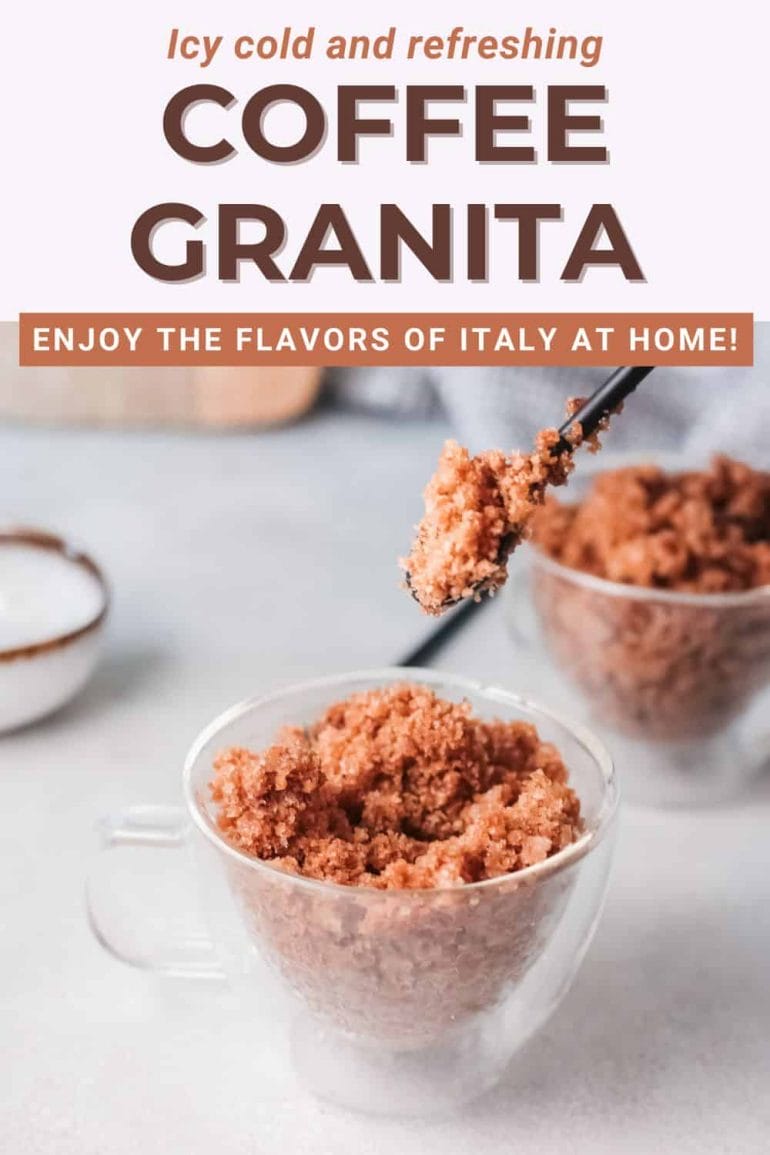 More Coffee Dessert Recipes
If you loved our Sicilian granita recipe, you may like to try some of these delicious dessert recipes with coffee.
Disclaimer: As an Amazon Associate I earn from qualifying purchases.
See all our coffee recipes here. If you love to make great coffee at home, read more about the best coffee equipment here.
Like this recipe? Don't forget where you found it! Save it to Pinterest for later.
Plus don't forget to follow us on Pinterest or Facebook to see more great coffee recipes like this one in your feed.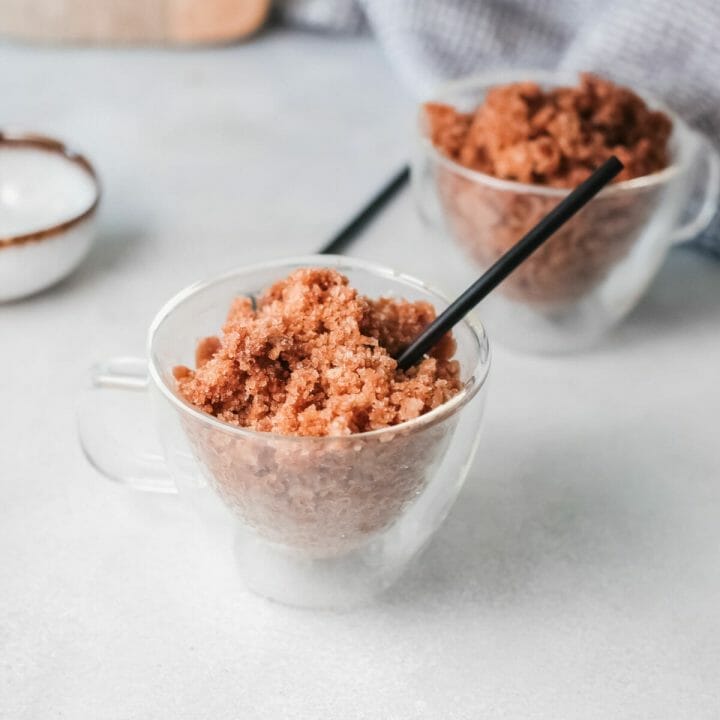 Coffee granita
Total Time:
3 hours
10 minutes
This easy coffee granita recipe is a delicious treat for the Summer. Enjoy as an icy cold refreshing snack or serve as the perfect dessert for coffee lovers.
Ingredients
2 cups strong brewed coffee
1/3 cup sugar
2 teaspoons vanilla extract
Instructions
In a bowl whisk together the hot coffee with sugar and vanilla until sugar is dissolved.
Transfer to a baking pan and chill in the fridge for 10 minutes.
Transfer the tray to the freezer for 30 minutes.
Remove from the freezer and use a fork to scrape around the edges and break up the large ice pieces. Return to the freezer.
Repeat step 4 every 30 minutes for 2-2.5 hours, breaking up any large ice pieces until you have a light and fluffy icy mix.
Spoon the granita into glasses and serve immediately.
Store any remaining granita in the freezer.
Notes
The granita is best eaten on the day it is prepared, but it can be stored in a sealed container in the freezer. You may need to sit it on the benchtop for 20 minutes to soften before scraping again with a fork.
Nutrition Information:
Yield:

4
Serving Size:

1
Amount Per Serving:
Calories:

71
Total Fat:

0g
Saturated Fat:

0g
Trans Fat:

0g
Unsaturated Fat:

0g
Cholesterol:

0mg
Sodium:

3mg
Carbohydrates:

17g
Fiber:

0g
Sugar:

17g
Protein:

0g
Please note that nutrition information is a computer generated estimate and should not be interpreted as a dietitian's advice. Values can vary greatly among brands, amounts and ingredients used.