Why not cool off this Summer with these delicious homemade coffee popsicles?
Once you know how to make coffee popsicles at home, you can enjoy a refreshing icy cold coffee snack whenever you please!
With a creamy texture and chunks of almond and chocolate these easy DIY popsicles are so simple and just a little bit fancy.
Why I Love This Coffee Popsicles Recipe
One of the best things about Summer is enjoying an icy cold ice cream or ice block at home on a hot day.
Also known as popsicles, ice lollies and ice pops, there are so many different kinds of popsicles.
While the kids enjoy fruit or yoghurt based ice blocks, I wanted to make something a little more interesting for the grown ups (like my coffee granita).
I love an iced latte, frappe and iced coffee and decided to turn them into an icy cold frozen treat instead.
The result? My homemade coffee popsicles recipe is a delicious combination of coffee, chocolate and yoghurt.
Plus with the addition of some chunks of almond and choc chips you not only get to enjoy frozen coffee, there is the added texture and taste of crunchy pieces of chocolate and almonds inside.
Best of all, whilst they look fancy, they are incredibly easy popsicles to make.
What You'll Need To Make Our Cold Brew Popsicles Recipe
There are a couple of essential pieces of equipment required in order to make popsicles at home.
Popsicle mould
To make coffee ice pops at home you will of course need ice block moulds.
You can make popsicles without a mould in a pinch (see the FAQ section below for details), but you will get the best results with a popsicle mould.
If you love the classic look of a wooden stick and stripes, then this mould is a great option. Click here to see the Norpro popsicle moulds.
There are also many options with an integrated stick which makes it even easier. These moulds by Lekue are great for small freezers as they are stackable. Click here to check the price.
Coffee maker
This coffee flavoured popsicles recipe uses cold brew coffee, which you can brew in a cold brew coffee maker, or even a French Press.
But don't worry if you don't have cold brew on hand.
You can use any kind of brewed coffee in the recipe depending on what coffee maker you have at home – drip, french press or stove top would work well for a stronger coffee flavour too.
Just be sure to cool hot brewed coffee down before adding yoghurt and the choc chips to the mix.
If you love cold brew coffee, there are some really great cold brew coffee makers on the market to choose from and we review the best ones here.
Ingredient List For Coffee Ice Blocks
The secret to our creamy coffee popsicles is the combination of yoghurt, melted chocolate and coffee.
I have used vanilla yoghurt but you could also substitute Greek yoghurt for a healthier option.
Instead of your regular iced coffee popsicles, I decided to make these into mocha pops with the addition of some melted milk chocolate.
The yoghurt and chocolate helps keep these mocha popsicles creamy in texture instead of icy.
You could also use melted dark chocolate for a richer flavour, or omit the chocolate altogether if you want to make homemade healthy popsicles.
Finally, the chunks of almond and chocolate give the popsicles a delicious crunch, but you can omit them if you prefer or swap them out for your favourite ingredients.
How To Make Coffee Popsicles At Home
Step 1 – Blend the ingredients
The first step to make these coffee ice popsicles is to blend your ingredients in a blender until smooth. This should take just a couple of minutes.
You could use a stand or stick blender for this step. If you don't own a blender, simply blend the ingredients in a bowl until well combined.
Step 2 – Add ingredients to the moulds
Add a couple of almonds and chocolate chips into the base of each mould before pouring your popsicle liquid into each mould.
Fill the moulds right to the top if you are using wooden popsicle sticks. You may need to fill just short of the top if you have integrated handle moulds.
Step 3 – Freeze
Add your lids or popsicle sticks if using, then seal and place in the freezer.
If you have trouble with the sticks moving around, a top tip is to freeze the ice blocks for a couple of hours before adding the sticks.
Depending on the size of your moulds, they will need at least 4-6 hours to freeze, ideally overnight.
When you are ready to eat, run warm water over the outside of the moulds for 10-20 seconds before gently removing from the mould.
If it doesn't come loose, run water for a little longer over the mould. Don't pull on the stick, as it may come loose and separate from the popsicle.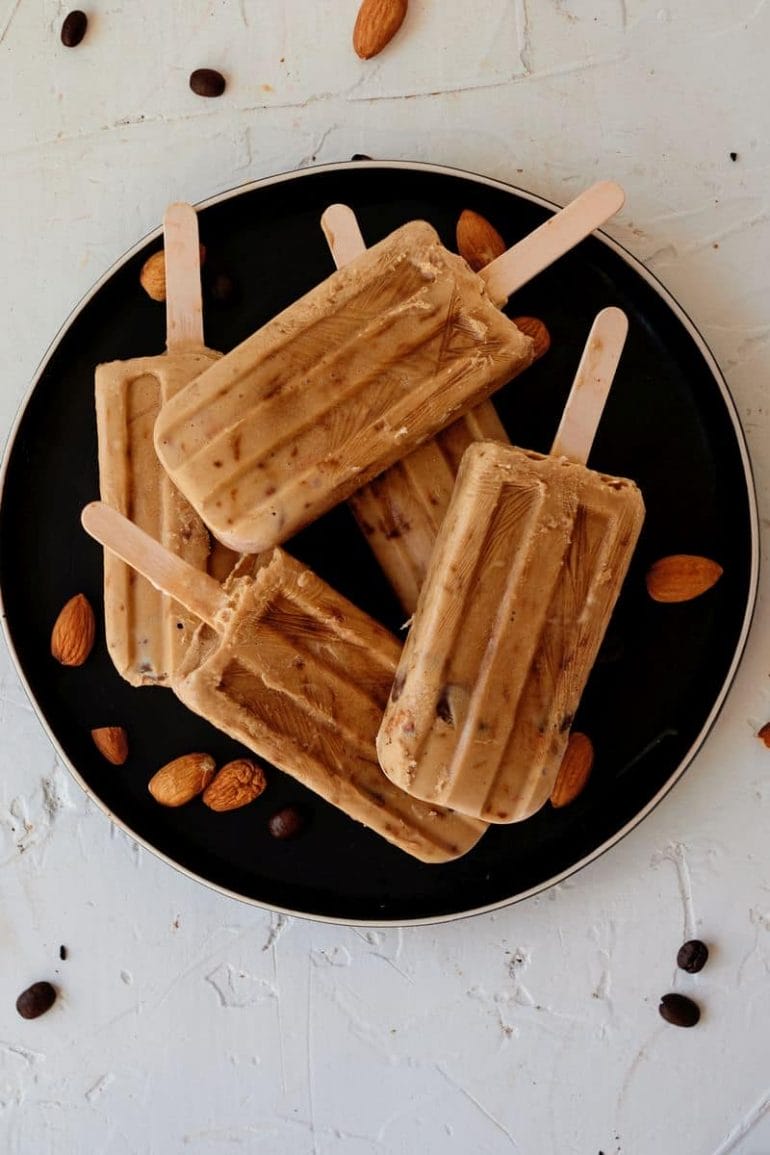 FAQ About Frozen Coffee Popsicles
How to wrap homemade popsicles
If you need to store popsicles in the freezer, you can save freezer space by removing them from the moulds and individually wrapping them.
You could use plastic wrap, but a more environmentally friendly option is to individually wrap them in baking paper. Just be sure to write the flavour on the paper before you put them in the freezer!
How to store homemade popsicles
If you have plenty of popsicle moulds, simply remove them from the mould platform and store in the mould in a container in the freezer.
Another option if you want to re-use the mould is to remove the popsicles from the moulds once frozen, lay them on a tray lined with baking paper.
Then place the tray in the freezer to firm the popsicles up again, then store the popsicles in a sealed container in the freezer. They won't stick together assuming your freezer stays cold!
How to make popsicles without molds
Don't have a mold handy? Don't worry you can still make your popsicles using one of the options below until you can get your hands on a mould.
Alternatives include shot glasses, paper cups, small glasses, muffin tins, even a loaf pan (that you slice after freezing).
More Coffee Snacks And Desserts
If you loved our awesome caffeine popsicles, you may like to try some of these other recipes made with coffee.
See all our coffee recipes here. If you love to make great coffee at home, read more about the best coffee equipment here.
Disclaimer: As an Amazon Associate I earn from qualifying purchases.
Like this recipe? Don't forget where you found it! Save it to Pinterest for later.
Plus don't forget to follow us on Pinterest or Facebook to see more great coffee recipes like this one in your feed.
Creamy mocha coffee popsicles
Total Time:
6 hours
10 minutes
Creamy cold brew coffee popsicles with yoghurt, chocolate and almond chunks. The perfect frozen snack for adults this Summer.
Ingredients
1 cup vanilla yogurt
1 cup cold brew coffee
1/2 cup melted chocolate
1/2 cup almonds
1/2 cup chocolate chips
Instructions
Mix yogurt, cold brew coffee and melted chocolate in a blender until smooth
Place a couple almonds and chocolate chips into each mould
Pour liquid to the top of the moulds (you will want to fill them right to the top)
Add lid, insert the popsicle sticks and place in the freezer for at least 6 hours, preferably overnight
To remove, run warm water around the outside of the moulds for 10 seconds and gently remove.

Notes
1. Any type of brewed coffee can be used - it just needs to be cooled before combining with the yoghurt.
2. The almond and chocolate chunks are optional and can be omitted if preferred.
Nutrition Information:
Yield:

6
Serving Size:

1
Amount Per Serving:
Calories:

246
Total Fat:

15g
Saturated Fat:

6g
Trans Fat:

0g
Unsaturated Fat:

8g
Cholesterol:

5mg
Sodium:

96mg
Carbohydrates:

25g
Fiber:

3g
Sugar:

21g
Protein:

6g
Please note that nutrition information is a computer generated estimate and should not be interpreted as a dietitian's advice. Values can vary greatly among brands, amounts and ingredients used.