This homemade coffee flavoured syrup is the perfect addition to ice cream, pancakes, coffee flavoured cocktails and of course coffee milk shakes and smoothies.
Once you learn how to make coffee syrup at home with all natural ingredients and no preservatives you can enjoy delicious coffee flavours in your favourite drinks, cakes and desserts.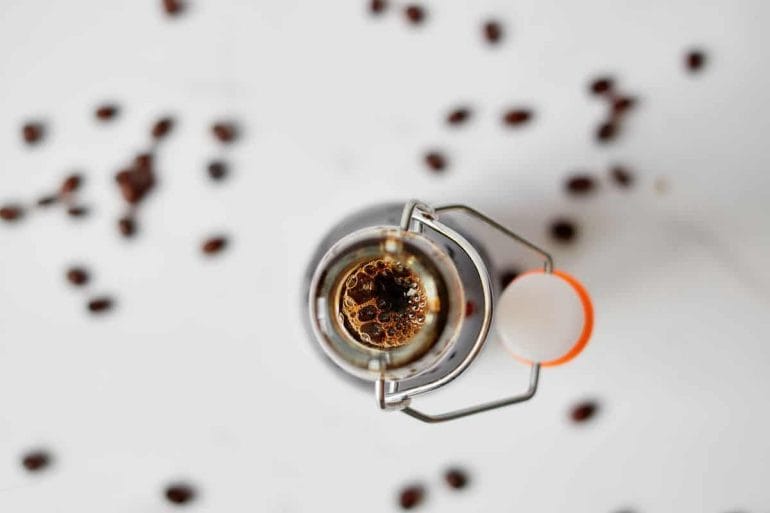 The Simplest Coffee Syrup Recipe
Coffee syrup is one of those things you don't need every day, but is so nice to have on hand when you do!
There are plenty of commercial coffee syrups on the market, but they often contain mostly corn syrup and very little coffee.
In fact many are made with just coffee extract, and not real coffee. So they lack a true coffee taste (and caffeine) and are super high in sugar.
Which is why you have to try my espresso syrup recipe.
Made with real coffee, this concentrated coffee syrup is great to have on the ready to spruce up simple desserts, drinks and cakes.
My recipe for coffee syrup is super easy to prepare and can be stored in the fridge for up to a month.
How To Use Coffee Syrup At Home
There are so many different ways to use coffee syrup at home. Here are just a few ways you can make use of your homemade syrup:
Coffee milk shakes
Ice cream topping
On or in pancakes
Coffee cocktails
Adding to hot chocolate
Cake or cupcake icing
Fondant
Dessert sauces
In marinades
Coffee syrup gifts
Coffee syrups also make great DIY coffee gifts.
Simply cook up a large batch of espresso syrup, pour into small bottles like these and you have coffee syrup gifts for friends and family at Christmas.
What You'll Need To Make My Coffee Flavoured Syrup Recipe
The only equipment you need to make a coffee syrup is a medium sized heavy saucepan and an airtight jar or bottle to store it in.
Coffee syrup ingredients
To make your own coffee syrup you will need white sugar, glucose (corn syrup) and very strong brewed coffee.
If you have an espresso machine or pod coffee machine, pull 4 shots of espresso and top up with hot water to make a full cup.
In a French press or drip coffee maker, increase the coffee to water ratio to brew a stronger than normal brew. Stovetop coffee works well and even a good quality dark roast instant coffee is fine if that is all you have at home.
It is even possible to make cold brew coffee syrup with a cold brew coffee maker, but it will just take a little longer to prepare.
It is important to brew very strong coffee (stronger than you would drink) in order for the coffee flavour to carry through the syrup.
How To Make Coffee Syrup At Home
Step 1 – Brew your coffee
The first step is to brew your coffee. Brew it strong and pour it into a heavy saucepan.
Step 2 – Boil the ingredients
Add the sugar and corn syrup to the pan with the coffee, mix well and bring to the boil.
Once boiling, reduce the heat slightly and simmer for 15 minutes.
The syrup should become thick and well, syrupy!
Step 3 – Cool and store
Once the syrup has thickened, turn the heat off and cool for 20 minutes before transferring to a jar or bottle.
Cold coffee syrup is easier to pour from a bottle like these ones, but a jar will be fine if that is all you have.
I find it easiest to transfer the thick coffee syrup from the saucepan into a small jug and then use a funnel (like this one) to pour the coffee into the bottle.
Close the lid and place the coffee flavouring syrup in the fridge and cool for 24 hours before using.
Store in the fridge in an air tight container for up to a month.
If you need a recipe converter for any of these ingredients, try this one.
Simply select the units you are converting from and to, choose the ingredient you are converting and it will display the correct amount.
Coffee Flavoured Syrup Frequently Asked Questions
Does coffee syrup have caffeine in it?
Although many store bought coffee syrups have only traces of caffeine, most DIY made coffee syrup recipes will contain caffeine as they are made with real coffee beans. The only exception would be coffee flavoured syrups made with decaf coffee.
What are some coffee syrup uses?
Coffee flavoured syrup is perfect for making coffee milkshakes, iced coffee and coffee cocktails. It is also great for serving on pancakes, as an icecream topping, drizzling over a simple pound cake and using in coffee dessert recipes.
What is the best way to store homemade coffee syrup?
Coffee syrup should be stored in an airtight bottle or jar in the fridge. It will keep for up to a month (if it lasts that long).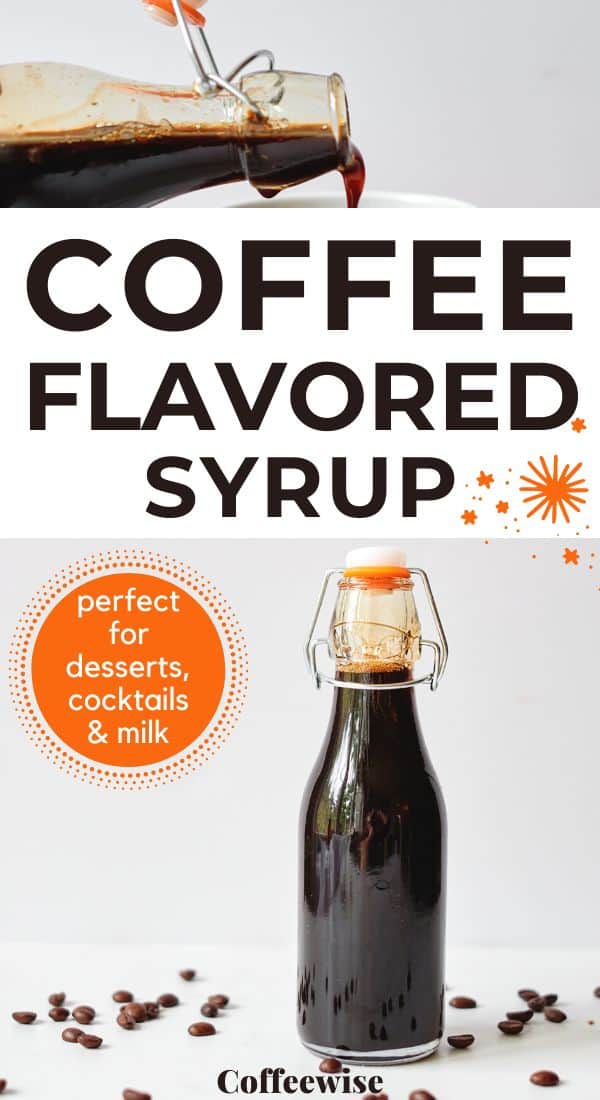 More Coffee Recipes
If you loved our concentrated coffee syrup recipe, you may like to try some of these delicious recipes with coffee.
See all our coffee recipes here. If you love to brew great coffee at home, find all the best coffee gear here.
Disclaimer: As an Amazon Associate I earn from qualifying purchases.
Like this recipe? Don't forget where you found it! Save it to Pinterest for later.
Plus don't forget to follow us on Pinterest or Facebook to see more great coffee recipes like this one in your feed.
Homemade Coffee Syrup
Total Time:
1 day
35 minutes
This DIY coffee syrup recipe is super simple to prepare and is perfect for adding to desserts, on pancakes, in coffee milkshakes and coffee flavoured cocktails!
Ingredients
1 cup brewed coffee (extra strong)
2 cups castor sugar
2 tbsp glucose (corn syrup)
Instructions
Mix all ingredients in a heavy saucepan over medium high heat.
Bring to a boil and stir to dissolve the sugar.
Turn the heat down to medium and simmer for 15 minutes, stirring frequently.
Allow to cool for 20 minutes before transferring to an airtight jar or bottle.
Allow to fully cool for 24 hours in the fridge.
Store in sealed container in the fridge for up to 4 weeks.
Notes
1. Extra strong coffee works best for coffee syrup. Increase the coffee to water ratio when brewing your coffee for a stronger brew.
Nutrition Information:
Yield:

12
Serving Size:

1 tbsp
Amount Per Serving:
Calories:

140
Total Fat:

0g
Saturated Fat:

0g
Trans Fat:

0g
Unsaturated Fat:

0g
Cholesterol:

0mg
Sodium:

3mg
Carbohydrates:

36g
Fiber:

0g
Sugar:

36g
Protein:

0g
Please note that nutrition information is a computer generated estimate and should not be interpreted as a dietitian's advice. Values can vary greatly among brands, amounts and ingredients used.