I first tried Vietnamese iced coffee traveling in Vietnam, where it is called Ca phe sua da.
Renowned for being super strong and sweet, this iced coffee with sweetened condensed milk is so refreshing and perfect to enjoy on hot Summer days.
While Vietnamese coffee is becoming easier to find in Cafes these days, this Vietnamese iced coffee recipe is one you can easily make at home.
With just a simple coffee filter and a few ingredients we show you how to make Vietnamese iced coffee at home.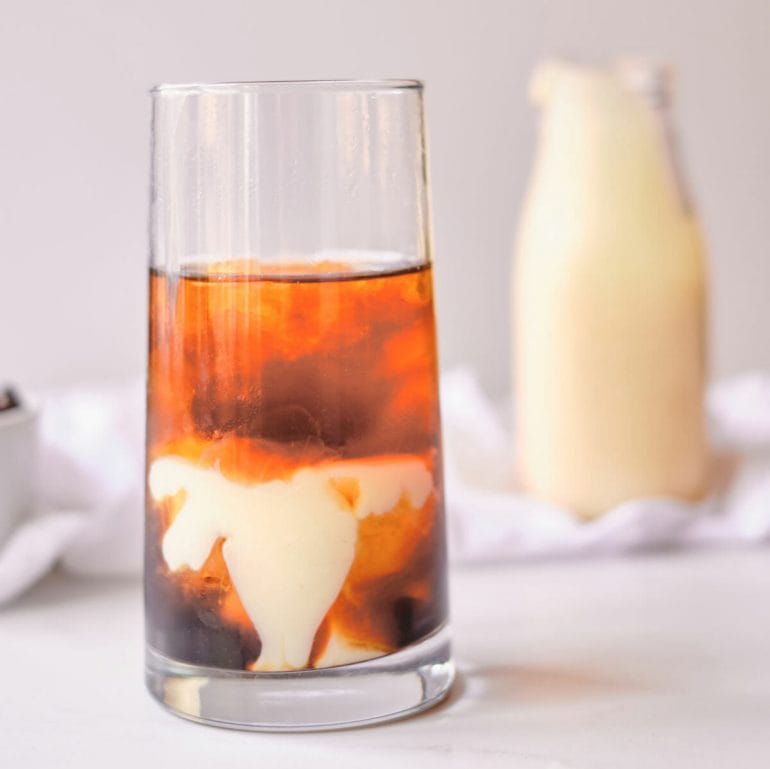 What is Vietnamese iced coffee?
It is thought coffee was introduced to Vietnam by the French in the 1800s.
Coffee is a popular type of coffee drink in the country and is enjoyed throughout the day in homes and at roadside Cafes, like the one where I tried Vietnamese iced coffee for the first time.
It is most commonly prepared with a slow drip coffee filter called a phin.
As coffee beans grown in the country are typically dark roasted Robusta beans, they tend to have an intense, highly caffeinated and often bitter flavor.
Due to the humid hot climate and problems with regular supplies of fresh milk in the 1800s, the French introduced sweetened condensed milk and the rest they say is history!
The strong dark nutty taste of the coffee is offset by the super sweet condensed milk to produce an iced coffee like no other.
What you need to make this iced Vietnamese coffee recipe
There are just a few pieces of coffee gear and ingredients to make Vietnamese ice coffee.
They are easy to source online or at your local Asian grocer.
Equipment
Vietnamese coffee filter (called a phin)
Spoon
Glass
Ingredients to make iced coffee with condensed milk
Ground coffee
Sweetened condensed milk
Ice
Vietnamese Coffee Filter
Also known as a phin, these small stainless steel coffee filters come in a range of sizes.
The traditional size is 4 oz but you can also find them in larger sizes. I have used a 4 oz filter for this recipe.
If you don't have a phin, you can find them in most Asian grocery stores or online. Click here to check the price online.
Best coffee for Vietnamese iced coffee
Vietnamese ground coffee is made from Robusta beans, so to achieve a traditional Vietnamese coffee flavour you need to source Vietnamese coffee brands.
Vietnamese coffee beans are typically dark roasted (also known as a French roast).
Trung Nguyen is one of the most recognised brands online. You can find it here.
If you don't have Vietnamese ground coffee, the best alternative is a dark roast coffee blend with a mix of Arabica and Robusta coffee.
This one by Sons of Amazon is a good option. Ensure it is a medium-coarse grind.
Best condensed milk for Vietnamese coffee
In Australia the most common sweetened condensed milk is made by Nestle.
Many Vietnamese coffee aficionados think Nestle coffee condensed milk is too sweet, but if you cannot source alternate brands at your local Asian grocer, it is fine to use.
The most popular condensed milk to use in Vietnamese coffee drinks is Longevity Brand.
It is not as sweet as other brands and has a rich creamy texture. You can find it online here.
How to make Vietnamese iced coffee at home
If you have never tried Vietnamese coffee with condensed milk before, be assured it really couldn't be simpler.
Outlined below are the detailed steps for how to make Vietnamese ice coffee.
Step 1 – Prepare the coffee filter
Preheat the filter by pouring a little hot water through it before adding the coffee.
Remove the filter press from the phin and add 1-2 tablespoons of ground dark roast coffee to the chamber.
The amount of coffee you add depends on the size of your phin. I have used 1 tablespoon for a 4 oz phin for a single serve in this iced coffee with condensed milk recipe.
Return the filter press to the chamber. If your phin has a central threaded shaft you can gently screw the press on.
Otherwise simply place the press back into the chamber on top of the grounds.
Note: If grinding whole beans at home you will need a medium-coarse grind to brew Vietnamese coffee. You can see our review of the best coffee grinders here.
Step 2 – Brew your coffee
Fill your glass with ice and place the phin on top of your glass.
Pour a small amount of hot water over the grounds. Leave for 30 seconds to allow the coffee to bloom. This enhances the flavour of the brew.
Next, slowly fill the filter with hot water. You can replace the lid, but I find it easier to keep the lid off to watch the progress of the drip process.
The coffee will slowly drip into your glass over ice. This instantly cools the coffee as it is brewed, which I find enhances the taste of the coffee and results in a much smoother brew.
If your phin allows you to screw the filter in place, tighten it a little to help compress the coffee and slow the brewing time.
Step 3 – Add condensed milk
Once all the water has passed through the filter into your glass, carefully remove the filter and add sweetened condensed milk to your glass.
I prefer to add the sweetened condensed milk at the end so it is not heat affected by the hot coffee, but you can add it to your glass first if you love a layered iced coffee drink.
I have suggested adding 2 tablespoons of condensed milk, but it is really to taste. Stir to combine and enjoy!
Vietnamese iced coffee recipe variations
When making Vietnamese coffee, it is most commonly served over ice but there are several variations you can try:
Served black over ice without sweetened condensed milk for a very easy iced coffee recipe.
You can serve without ice or sweetened condensed milk for a hot Vietnamese coffee drink.
If you prefer sweet Vietnamese hot coffee, add condensed milk to the brew, but no ice. Similar to a Cafe Bombon.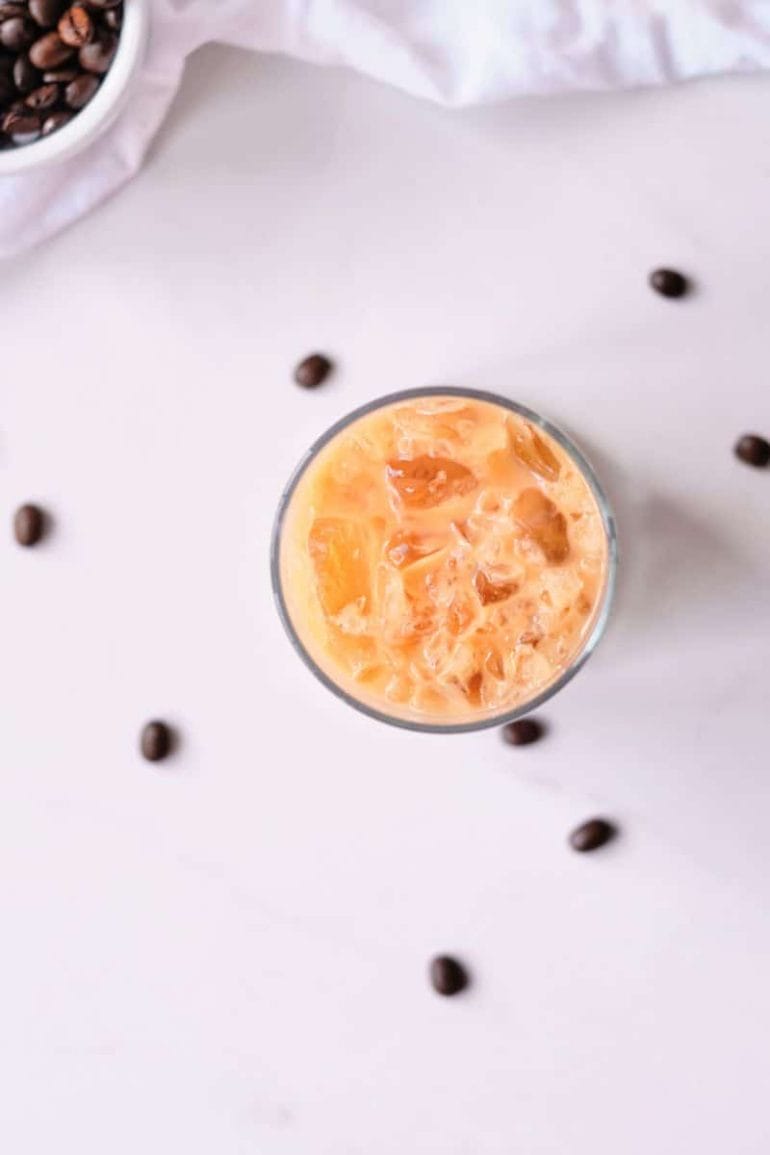 Vietnamese Coffee FAQ
What is the best coffee for Vietnamese iced coffee?
The best type of coffee to use when making iced Vietnamese coffee is Robusta coffee beans from Vietnam. One of the most popular Vietnamese coffee brands available online is Trung Nguyen.
How to make Vietnamese coffee without filter?
If you don't have a Vietnamese coffee filter, you can still enjoy a Vietnamese style iced coffee. Simply brew strong coffee using another method like espresso, Nespresso machine, stovetop, french press or pour over and then mix your coffee with condensed milk and ice.
What is the best condensed milk for Vietnamese coffee?
Longevity Brand is a popular choice available at Asian Grocers. Other popular choices include Eagle Brand and Nestle, which comes in a handy tube.
How is Vietnamese coffee made?
Ground coffee is placed in a phin filter and hot water poured over the top of the grinds into the filter. The coffee drips through the filter directly into your cup. You can then add sweetened condensed milk and/or ice and stir to blend.
How much caffeine is in Vietnamese iced coffee?
Vietnamese coffee brands typically use 100% Robusta coffee beans, which have almost twice the caffeine (2.7%) of Arabica beans (1.5%).
So an iced coffee made with Vietnamese coffee will have a higher caffeine content than one made with Arabica coffee beans more commonly found in the West.
Why is Vietnamese iced coffee so strong?
Vietnamese coffee is typically made with Robusta coffee beans, which are higher in caffeine and typically more bitter than Arabica coffee beans. This results in a strong iced coffee flavour.
More Iced Coffee Recipes
If you loved our Vietnamese iced coffee recipe with condensed milk you may like to take a look at these recipes with coffee.
See all our coffee recipes here. If you love to make great coffee at home, read more about the best coffee equipment here.
Disclaimer: As an Amazon Associate I earn from qualifying purchases.
Like this recipe? Don't forget where you found it! Save it to Pinterest for later.
Plus don't forget to follow us on Pinterest or Facebook to see more great coffee recipes like this one in your feed.
Vietnamese iced coffee with condensed milk
This sweet, intense coffee with condensed milk is a delicious cold coffee drink to enjoy on a hot Summer day. Served over ice it is the perfect pick me up for coffee lovers.
Ingredients
1 tbsp ground coffee (heaped)
2 tbsp sweetened condensed milk
Boiled water
Ice cubes
Instructions
Remove the filter press from the chamber and add 1-2 tablespoons of ground coffee.
Place the filter press back into the chamber and twist into place (firm but not too tight).
Fill glass at least half way with ice cubes (see Note B below)
Place the phin (coffee filter) on top of the glass.
Pour a tablespoon (20ml) of hot water into the filter and wait 30 seconds for the coffee to bloom.
Fill the phin with hot water and replace the lid.
Allow the hot water to filter through the coffee grinds into your cup (see Note A below).
Once the water has drained through the filter, carefully remove the filter from the glass.
Add the condensed milk to the glass and stir to combine.
Serve and enjoy.
Notes
A. The brewing time is around 3-5 minutes. If the coffee is flowing faster than this, you need to turn the press a little more to compact the coffee down. But don't twist too tight or you will end up with a bitter brew.
B. In our recipe we brew the coffee directly over ice, which results in a smoother brew. The traditional brew method is below for you to try if you prefer:
Add coffee to filter as above in steps 1 and 2.
Add condensed milk to a cup and place filter over the cup.
Fill the filter chamber with hot water and allow it to filter through the coffee grinds.
Once finished, remove the filter, and stir to combine the coffee and milk.
In a separate glass, add ice cubes.
Pour the mixed coffee and milk into the glass of ice.
Stir and serve.
Nutrition Information:
Yield:

1
Serving Size:

1
Amount Per Serving:
Calories:

123
Total Fat:

3g
Saturated Fat:

2g
Trans Fat:

0g
Unsaturated Fat:

1g
Cholesterol:

13mg
Sodium:

59mg
Carbohydrates:

21g
Fiber:

0g
Sugar:

21g
Protein:

3g
Please note that nutrition information is a computer generated estimate and should not be interpreted as a dietitian's advice. Values can vary greatly among brands, amounts and ingredients used.