This strong and sweet iced brown sugar latte is one of the easiest iced latte recipes to make at home.
A shot of espresso combined with brown sugar, milk and coffee ice cubes creates a delicious creamy, icy cold coffee drink that is simple and easy to prepare.
And if you have never tried brown sugar in coffee you are in for a treat! The caramel toffee like flavour adds a rich sweetness that makes this brown sugar iced latte recipe so delightful.
What Is An Iced Brown Sugar Latte?
An iced brown sugar latte is an iced espresso coffee drink made with espresso, brown sugar, coffee ice cubes and milk (or milk alternative).
Inspired by the Starbucks iced brown sugar shaken espresso, this iced brown sugar coffee is much simpler to prepare, for a fraction of the cost with an extra caffeinated boost thanks to the coffee ice cubes.
And unlike many iced coffee recipes, this iced brown sugar latte recipe doesn't require a lot of ingredients or expensive syrups. In fact, much like a Greek Frappe, you will most likely have everything you need in your pantry.
Can You Put Brown Sugar In Coffee?
While white sugar is the most common type of sugar used in coffee, you can use brown sugar in coffee too.
In fact there are two reasons why using brown sugar in coffee is a better option than white sugar:
Brown sugar dissolves more easily than white sugar in cold coffee drinks.
Putting brown sugar in coffee imparts a natural toffee like flavour with a more subtle sweetness than white sugar.
What You Need For This Brown Sugar Iced Latte Recipe
So to make this iced brown sugar latte recipe you will need the following equipment:
The coffee ice cubes are made with a batch of brewed coffee.
You can brew this using whatever brewing method you prefer or have handy at home – with a drip coffee maker, french press or even an espresso machine.
If you don't have an espresso machine, see our tips below in the next section for substitutions.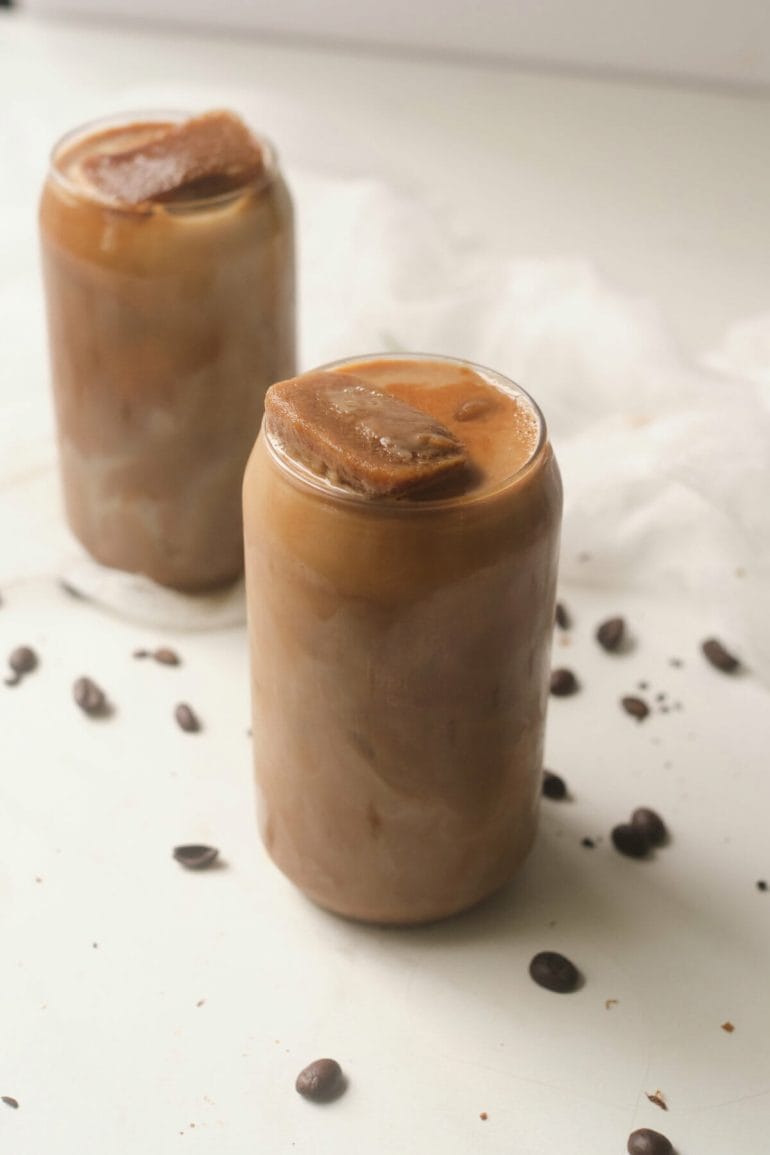 Iced Brown Sugar Coffee Ingredients
All you need to make this brown sugar iced coffee recipe is:
Coffee grounds
Brown sugar
Milk or milk alternative
Types Of Brown Sugar
As we don't cook a brown sugar syrup for coffee in this recipe it is important to use brown sugar.
Note that there are several sugars that are brown – including demerara and golden castor sugar.
However for this recipe be sure to use brown sugar.
Commonly used in baking, brown sugar is finer and more powdery than granulated sugar which means it will dissolve more easily in your cold coffee.
Best Coffee Grounds For Iced Coffee
As this recipe combines coffee and milk, I recommend using dark or medium-dark roasted coffee beans for both the coffee ice cubes and the espresso shot.
This allows the coffee flavour to carry through the milk. A light or medium-light roast will be a little lost in the mix.
If you don't have an espresso machine to pull the shot of espresso, the best alternatives are:
Milk
I like to use whole dairy milk for my brown sugar milk coffee to give it a rich, creamy taste.
You can however use a milk alternative if you prefer. Good options include oat milk or almond milk.
In fact the brown sugar coffee Starbucks is famous for uses oatmilk.
How To Make An Iced Brown Sugar Latte
1. Make Coffee Ice Cubes
First you need to brew a batch of coffee to make coffee ice cubes. You can do this with any type of coffee maker.
Leave the coffee to cool slightly after brewing, then pour the coffee into ice cube trays.
Pop in the freezer to firm up overnight.
Option: You can also use regular ice cubes if you don't have time to make frozen coffee cubes.
2. Prepare Brown Sugar Milk
In a small jug add the brown sugar and milk. Stir vigorously to combine until the sugar is mostly dissolved.
It is likely the sugar will not entirely dissolve. But that's okay!
I want to keep this recipe super quick and easy, which is why unlike most iced brown sugar espresso drink recipes I don't make a brown sugar syrup on the stove.
That said, if you want to fully dissolve the sugar, a good quick way is to mix a teaspoon or two of hot water to the sugar before pouring the milk into the jug.
3. Prepare Iced Brown Sugar Espresso
Pull your shot of espresso (or prepare your strong brewed coffee alternative) and set aside.
If you are using regular ice cubes instead of coffee ice cubes, pull a double shot of espresso to boost the coffee to milk ratio.
Then, fill a tall glass with your coffee ice cubes. Pour the sweet milk over the ice cubes.
Option: If using brewed coffee instead of espresso, reduce the amount of milk in the glass to about 1/2 cup to leave space for your coffee.
Finally, gently pour your shot of espresso over the top of the milk. If using strong brewed coffee in place of espresso, add about 1/2 cup of coffee.
Tip: Pouring the espresso slowly over the milk will give your coffee a nice layered effect.
Stir to combine or leave as is and enjoy.
Your Brown Sugar Iced Coffee Questions Answered
Is Brown Sugar Good In Coffee?
Brown sugar has a natural caramel like flavour which is a perfect pairing with coffee. It imparts a more subtle sweetness to the coffee without being overbearing or too dominant.
What Is The Difference Between Iced Latte vs Iced Coffee vs Iced Espresso?
Iced coffee is a common term used to describe all types of cold coffee drinks whether they be made with brewed coffee, cold brew espresso or even instant coffee.

Whereas an iced latte is a cold coffee drink made with espresso and milk.

Iced espresso technically means a chilled shot of espresso, but the term is also used to describe iced coffee drinks made with espresso – like the iced brown sugar oatmilk shaken espresso at Starbucks.
Does Brown Sugar Latte Have Coffee In It?
Yes, brown sugar latte recipes have coffee in them. Our brown sugar coffee recipe has both a shot of espresso and brewed coffee ice cubes for a strong coffee flavour.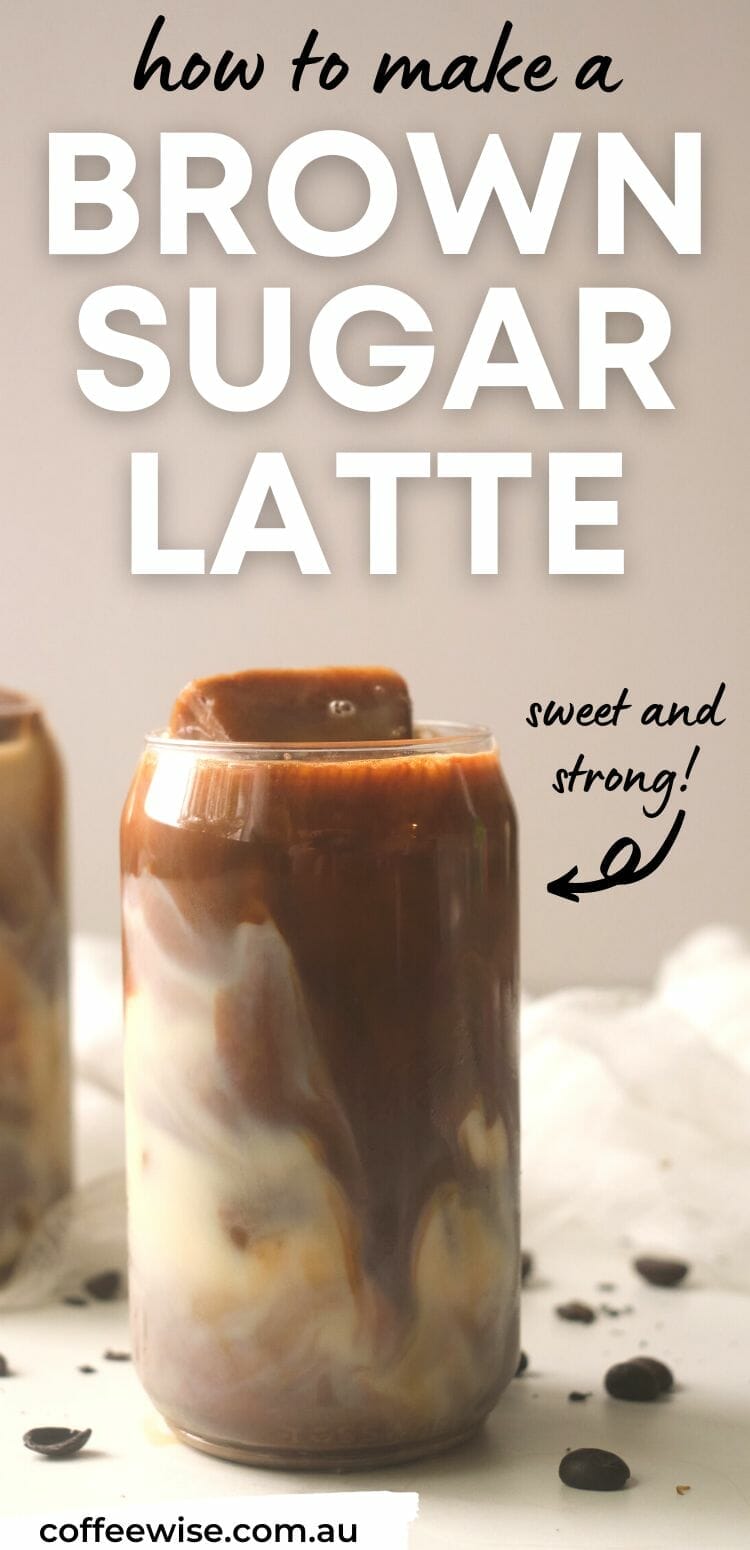 More Iced Espresso Recipes
If you enjoyed this iced brown sugar in coffee recipe, you may like to try some of these iced espresso recipes:
See all our at home coffee recipes here. If you love to make great coffee at home, read more about the best coffee equipment here.
Disclaimer: As an Amazon Associate I earn from qualifying purchases.
Like this recipe? Subscribe to my newsletter for all the latest recipes and brewing tips.
Plus don't forget to follow us on Pinterest or Facebook to see more great coffee recipes like this one in your feed.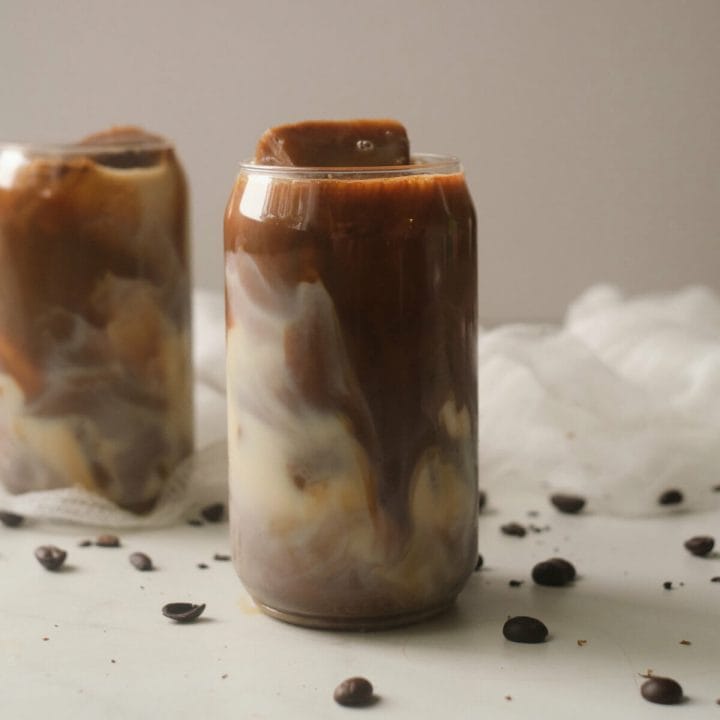 Easy Iced Brown Sugar Latte
Additional Time:
12 hours
Total Time:
12 hours
15 minutes
Icy cold, sweet and strong, this iced brown sugar latte with espresso and coffee ice cubes is the perfect iced coffee drink for hot Summer days.
Ingredients
Coffee Ice Cubes
Iced Brown Sugar Latte
1 cup milk
2 teaspoons brown sugar
1 shot espresso
Coffee ice cubes
Instructions
Make Coffee Ice Cubes
Brew a batch of coffee in your drip coffee maker or french press.
Pour cooled coffee into ice cube trays and freeze overnight.
Make Iced Brown Sugar Latte
Pull a shot of espresso coffee and set aside.
In a small jug add brown sugar and milk. Stir until combined.
Fill a glass with coffee ice cubes and pour the sweet milk over the ice.
Gently pour the espresso shot on top of the milk. Enjoy!
Notes
You can make a brown sugar iced latte with normal ice cubes but it will not be as strong. In this case, double the espresso quantity to 2 shots instead of a single shot.
If you don't have a home espresso machine to make your brown sugar coffee, use 1/2 cup strong brewed coffee or cold brew concentrate instead and reduce the amount of milk to 1/2 cup.
It is important to use brown sugar as it will (mostly) dissolve in the milk. Granulated sugar will not dissolve in cold drinks. To fully dissolve the sugar, mix a teaspoon of hot water to the sugar before combining with the milk.
Recommended Products
As an Amazon Associate and member of other affiliate programs, I earn from qualifying purchases.
Nutrition Information:
Yield:

1
Serving Size:

1
Amount Per Serving:
Calories:

156
Total Fat:

5g
Saturated Fat:

3g
Trans Fat:

0g
Unsaturated Fat:

2g
Cholesterol:

20mg
Sodium:

128mg
Carbohydrates:

20g
Fiber:

0g
Sugar:

19g
Protein:

8g
Please note that nutrition information is a computer generated estimate and should not be interpreted as a dietitian's advice. Values can vary greatly among brands, amounts and ingredients used.