If you love Nutella, coffee and ice cream, this Nutella coffee ice cream recipe is like a dream come true.
With a creamy, coffee flavour and topped with chocolatey Nutella swirls, homemade coffee ice cream has never tasted so good.
And to seal the deal this recipe for coffee ice cream is quick and easy to prepare, with no eggs or cooking required.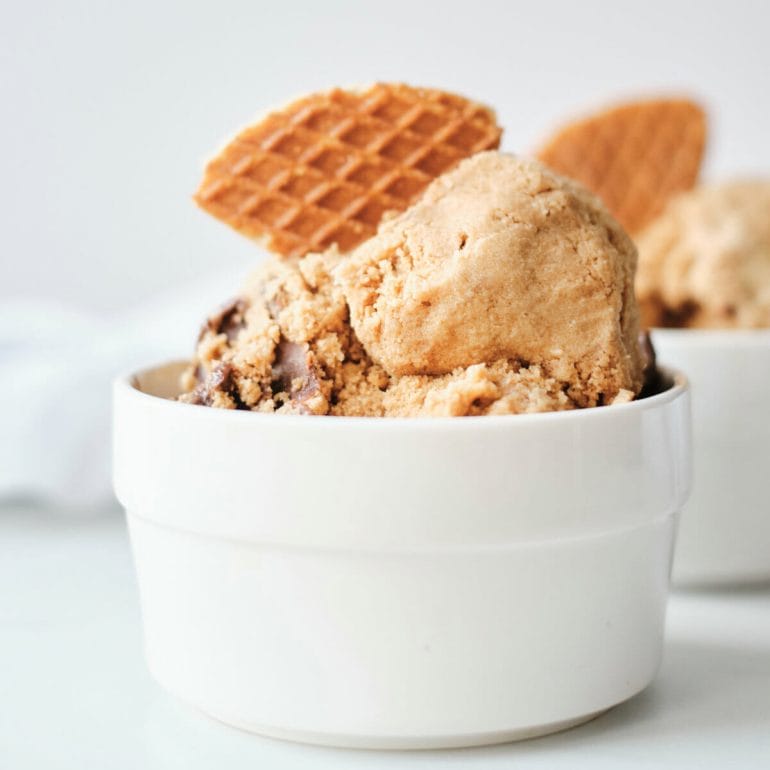 Why You Need To Make This Nutella Coffee Ice Cream
Making homemade ice cream seems daunting as many recipes are pretty complicated.
Which is why I wanted to share this coffee and Nutella ice cream recipe as it is so easy to make at home. Perfect for beginners and experienced DIY ice cream makers alike!
The main reason this coffee dessert recipe is so simple is because it is a no cook coffee ice cream recipe. It doesn't contain eggs so no cooking is required.
Another reason I love this homemade coffee flavoured ice cream recipe is because all the ingredients are churned together in one stage.
This makes it quick and easy to prepare. Which is perfect if you are looking for make ahead coffee dessert ideas for your next dinner party.
And the last reason? Well the combination of chocolate hazelnut spread and strong coffee (and a few other surprise ingredients) is such a perfect pairing. It is one of my favourite coffee ice cream flavors.
Equipment Needed
Note you will need an ice cream maker for this DIY coffee ice cream recipe. It doesn't matter which brand and model you have.
You will also need a freezer-safe container to store the ice cream – but any cake tin and most plastic containers are suitable. If you plan to store it for days or weeks, a container with a lid is best.
Other than that, no special equipment is required as the ingredients for this simple coffee ice cream recipe are combined in the ice cream maker together.
Nutella And Coffee Flavoured Ice Cream Ingredients
The easy coffee ice cream ingredients you will need are:
Vanilla yoghurt
Chocolate milk
Thickened (Heavy) cream
Espresso or strong coffee
Marshmallow Fluff
Nutella hazelnut chocolate spread
Chocolate Milk – Use your preferred brand of chocolate milk. In Australia I like Oak or Barista Bros. You want it to have a deep chocolate flavour.
To make espresso ice cream, pull 2 shots of espresso using an espresso machine. However, if you don't have an espresso machine, simply brew a strong pot of coffee using your preferred brewing method.
It is possible to use instant coffee too, simply make a strong coffee liquid using instant coffee granules.
Marshmallow Fluff is an amazing marshmallow spread – In Australia you can find it at most large supermarkets such as Coles or Woolworths in the international food section.
If you can't find it in store, you can buy it online.
How To Make Coffee Ice Cream With Nutella At Home
Scroll down to the recipe for the full ingredients list and instructions.
1. Freeze the ice cream barrel
This step depends on your make and model of ice cream maker. I use the KitchenAid ice cream maker attachment so the bowl needs to be frozen before use.
If your ice cream maker barrel needs to be pre-frozen, pop it in the freezer overnight.
Or if your ice cream maker does not need to be pre-frozen, move straight to the next step!
2. Prepare the ice cream mix
Once your ice cream barrel is ready and running, place all ingredients except the Nutella hazelnut spread into the ice cream maker.
Churn for 20-25 minutes, or follow your manufacturer instructions for churn time.
3. Soften the Nutella
Once the churn time is almost finished, place the Nutella in a microwave proof bowl.
Heat for 10 seconds at a time, stirring in between, until it is soft with a pouring consistency.
DO NOT OVERHEAT or the Nutella will separate.
4. Pour And Drizzle
Pour the eggless coffee ice cream mixture into a freezer-safe container and drizzle all over with the Nutella spread.
Place the ice cream in the freezer for 2-3 hours until completely firm.
Serve and enjoy!
What To Serve With Coffee Ice Cream
Coffee and Nutella homemade ice cream is pretty delicious served on its own, but here are some other ideas for what to serve with coffee ice cream:
Wafers or serve in a waffle cone
Chocolate syrup
A sprinkle of chocolate chips
A shot of espresso poured over the top to make an affogato.
How To Store Coffee Nutella Hazelnut Ice Cream
Store in the freezer in a freezer safe container for up to two weeks.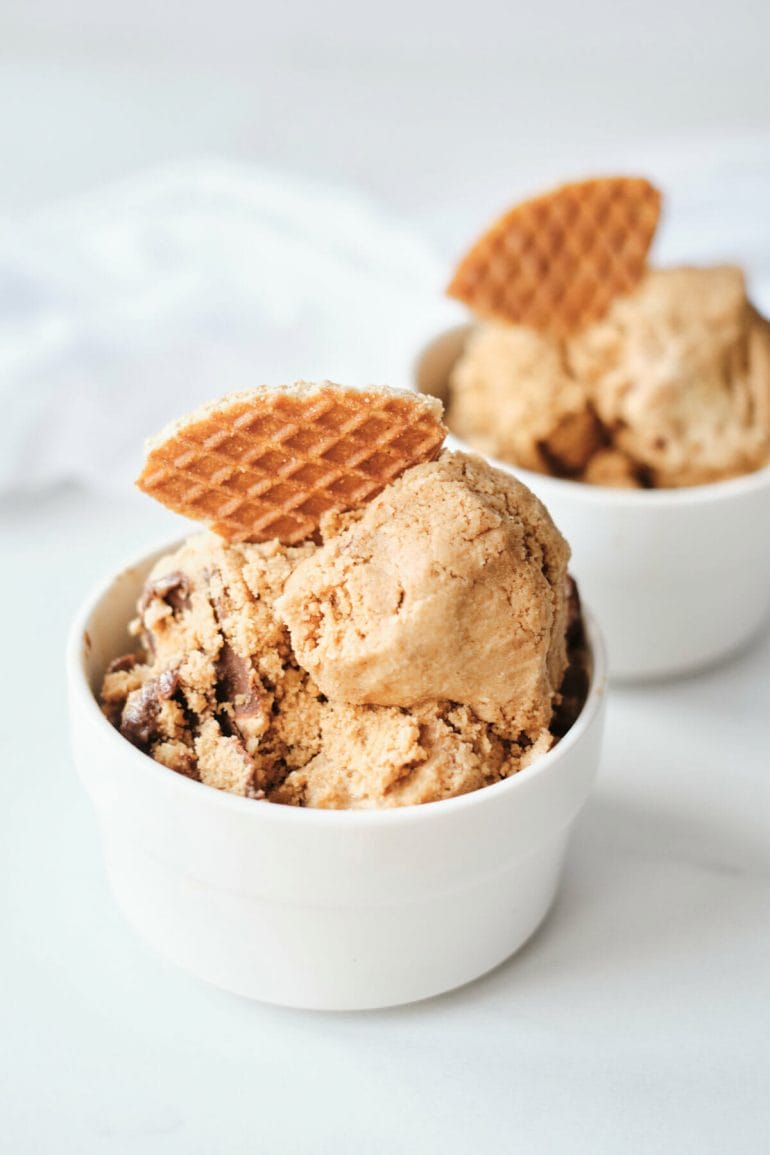 Hazelnut Coffee Ice Cream Questions Answered
Does Coffee Ice Cream Contain Caffeine?
If the coffee ice cream recipe contains coffee as an ingredient, it will contain caffeine. Instances where it won't contain caffeine are when the recipe calls for decaffeinated coffee or a coffee flavoured syrup.
My hazelnut coffee homemade ice cream recipe contains caffeine thanks to the inclusion of espresso / strong brewed coffee.
What Can I Use Instead Of Marshmallow Fluff?
There isn't really a good substitute for marshmallow fluff. So if you can't find marshmallow fluff at your supermarket, the best alternative is to make your own.
Can I Make Coffee Ice Cream With Instant Coffee?
Yes, you can make coffee ice cream with instant coffee. Simply use coffee made with instant coffee granules instead of espresso.
More Coffee Dessert Recipes
If you loved our coffee and Nutella swirl ice cream recipe, you may like to try some of these coffee dessert recipes:
See all our coffee recipes here. If you love to make great coffee at home, read more about the best coffee equipment here.
Disclaimer: As an Amazon Associate I earn from qualifying purchases.
Like this recipe? Subscribe to my newsletter for all the latest recipes and brewing tips.
Plus don't forget to follow us on Pinterest or Facebook to see more great coffee recipes like this one in your feed.
Homemade Nutella coffee ice cream
Total Time:
3 hours
10 minutes
This homemade Nutella coffee ice cream recipe is so easy to make at home. With a sweet and creamy taste, coffee flavoured ice cream is the perfect dessert for coffee lovers.
Ingredients
1 cup vanilla yoghurt
1 cup chocolate milk
1 cup thickened (heavy) cream
3 tablespoons espresso or strong coffee
1/4 cup marshmallow fluff (note 1)
1/2 cup Nutella hazelnut chocolate spread
Instructions
Pop the ice cream barrel in the freezer the night before to freeze (if required - note 2).
Place all ingredients except the Nutella hazelnut spread into the ice cream maker and churn for 20-25 minutes, or according to the manufacturer's instructions.
Pour the coffee flavoured ice cream into a freezer safe container.
Place the Nutella in a bowl in the microwave for 10-20 seconds until softened to a pouring consistency (note 3).
Drizzle the Nutella spread over the ice cream and freeze for 2-3 hours.
Serve and enjoy!
Notes
Marshmallow fluff is a spreadable marshmallow cream. In Australia you can find it at Coles or Woolworths in the International Food section, otherwise you can get it online.
Follow the manufacturer instructions to prepare your ice cream maker barrel. Some require pre-freezing, others don't.
Gently heat the Nutella to a pouring consistency in 10 second increments. Do not overheat or it can burn and/or separate.
Ice cream will keep in the freezer for 2 weeks, if it lasts that long!
Recommended Products
As an Amazon Associate and member of other affiliate programs, I earn from qualifying purchases.
Nutrition Information:
Yield:

8
Serving Size:

1
Amount Per Serving:
Calories:

238
Total Fat:

16g
Saturated Fat:

12g
Trans Fat:

0g
Unsaturated Fat:

4g
Cholesterol:

39mg
Sodium:

54mg
Carbohydrates:

19g
Fiber:

1g
Sugar:

17g
Protein:

4g
Please note that nutrition information is a computer generated estimate and should not be interpreted as a dietitian's advice. Values can vary greatly among brands, amounts and ingredients used.