If you've heard someone order a magic coffee drink at your local café or read about it online you may be asking yourself "what is a magic coffee?"
The magic coffee Melbourne made famous is gaining popularity around Australia and could eventually become an international café staple.
Part piccolo, part cortado and part latte, a cup of magic coffee is a popular coffee beverage for many Melbournites.
Here we go into everything there is to know about the magic coffee drink – where it originated, the standard magic coffee recipe and exactly how to make a magic coffee at home.
What is a magic coffee?
A magic coffee is composed of a double ristretto and 130ml of textured milk (microfoam), served in a 5or 6 oz ceramic cup.
While similar to a latte or a flat white, the use of ristretto shots and the smaller ratio of microfoam to coffee is what gives the magic its unique flavor and texture.
A magic coffee beverage has a stronger coffee flavor than a latte and is the perfect afternoon pick me up.
Magic coffee drink components
Because the Melbourne magic coffee is relatively new to the coffeehouse scene, its recipe remains pretty standard among the cafes that make it and is created with the following components.
1. Double ristretto
So what is ristretto? Ristretto is essentially a short shot of espresso, one that's been "restricted."
The restriction of water creates a shot that's smaller and sweeter (due to less extraction) than standard espresso.
To make a ristretto at home, simply stop the extraction a little quicker than normal.
So if you normally extract a double espresso for 30 seconds to achieve 60 ml, for a ristretto run the extraction for 15-20 seconds instead to achieve 30-40 mls.
2. Microfoam milk
Microfoam is distinct from milk froth commonly used to top cappuccinos.
More akin to the milk used to make a flat white, microfoam is glossy, viscous and has just a thin layer of froth.
The silky texture is different to steamed milk and happens to be better for latte art.
3. 5 oz ceramic cup
The two components are combined in a 5-ounce ceramic cup, which will hold the double ristretto (approx 30mls) and around 120mls of silky milk.
While this might seem like a full cup, the proportions just bring the drink to the brim of the cup because ristretto shots have less volume.
As many cafes serve a flat white in a larger 6 ounce cup, baristas will often serve a cup of magic coffee in a 6 ounce cup that is not filled right to the top.
Where did magic coffee come from?
The magic coffee originated in Melbourne, Australia when a barista messed up a beverage.
According to barista lore, the customer liked their messed-up beverage and the barista offhandedly served it as "a magic."
The customer then made magic coffee their preferred drink and continued to order it by that name.
More customers began ordering magic coffee at the cafe too, and it eventually spread to other nearby cafes.
The Magic coffee drink isn't yet common on standard menus like a long black is, but baristas in Australia are getting more familiar with making it.
Every decent barista in Melbourne knows how to make the beverage, and some in Sydney and Queensland are starting to recognize it too.
How to order a magic coffee
You'll be recognized as an outsider if you order "a magic coffee" in Melbourne, for it's simply called "a magic" by the local baristas and café regulars.
Aside from asking for a magic, there aren't any modifiers to specify because the drink has both standard components and a single size.
Outside of Melbourne and Australia, baristas are unlikely to know what a magic is unless they've traveled to the region.
To replicate the beverage at your local coffee shop, ask for a double ristretto flat white with less milk. This is basically what the drink is.
How to make a magic coffee at home
Making magic coffee requires an espresso machine that can both pull espresso and steam milk.
Alternatively you can use a stove top coffee maker and a standalone milk frother to froth your milk.
To make this unique coffee drink, follow the magic coffee recipe below.
1. Pull your ristretto
Fill a double basket and pull 2 shots as you typically would, except cut the shots short by about ⅓ of the pull time.
This is the easiest way to create a double ristretto.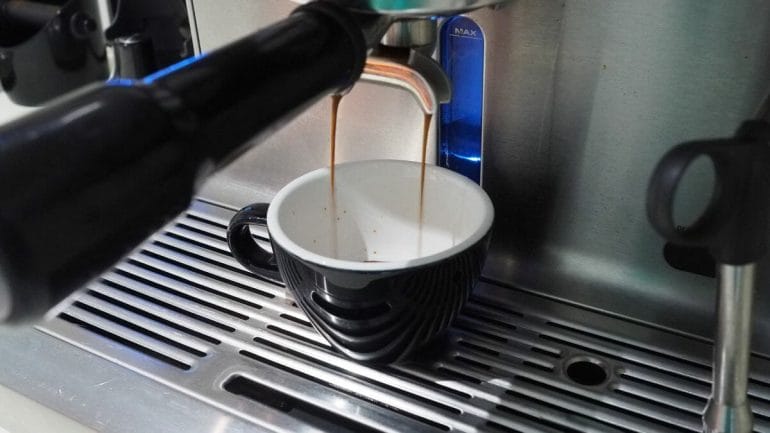 2. Froth and texture your milk
Steam milk in your milk jug so that it has only a thin layer of foam.
Start steaming with the wand just under the milk's surface, as you normally would.
Maintain the nozzle's position and heat until you have just a thin layer of foam, and then quickly submerge it to avoid making too much foam.
Froth the milk until the temperature reaches 60 degrees for a smooth and silky milk texture.
Need more help? See our full guide on how to froth milk for coffee here.
3. Pour your milk over the ristretto
The ideal cup to use is a rounded mug that's 5 ounces. These are fairly uncommon outside of cafes, though.
If you are using a 5 ounce cup (150ml to the rim), pour the milk over the ristretto shots until you fill the cup. This will be approximately 120 – 130ml of milk
You can instead use a 6-ounce cup and leave it slightly less than full or even a larger cup, but you will then need to measure the amount of milk you are adding to get the ratios right.
How much milk is in a magic coffee?
A magic coffee contains 120 – 130 mls of milk.
Because measuring milk to the ml is impractical in most cases, baristas commonly top off a 5-ounce cup until it's full as 5 ounces less 2 ristretto shots is approximately 130 mls (4.3 ounces).
What is the difference between magic coffee vs flat white?
The flat white is an Antipodean invention, although whether it's from Australia or New Zealand is an ongoing debate. The drink first appeared on an Aussie menu in 1983.
A flat white is composed of a single espresso and silky microfoam milk served in a 6 oz cup. Whereas a magic is a double ristretto served in a 5 oz cup.
So the key difference between a magic coffee vs flat white coffee is the coffee to milk ratio.
While a magic has a double ristretto with around 130 ml of milk, a flat white typically has between 150-200 mls of milk added to a single espresso shot.
This different espresso to milk ratio and use of ristretto instead of standard espresso shots is what gives magic coffee a different flavor profile to a flat white.
A flat white will have more coffee due to the larger quantity of espresso, but that flavor is more diluted due to the addition of extra milk.
Think of a flat white as a more traditional espresso profile but less strength than a magic overall.
What is the difference between magic coffee vs piccolo coffee?
The piccolo is another Australian creation and consists of a single ristretto shot and 90 mls of milk and a thin layer of foam.
Also known as a piccolo latte, it is essentially a mini latte coffee drink.
There are three main differences between the piccolo and magic coffee.
The piccolo is more diluted as it contains only a single ristretto shot. Even though the piccolo has less milk, the ratio of coffee to milk is less than in a magic coffee.
The second difference is the overall size of the drink. The piccolo is served in a 3-4 oz cup whereas the magic is served in a larger 5 oz cup.
The final difference is how the drink is served. In Australia a piccolo latte is typically served in a small demitasse glass like these whereas the magic is usually served in a ceramic cup with a handle and a saucer.
Introduce others to magic coffee
Now you know the answer to the question "what is a magic coffee" and you have an easy magic coffee recipe to make at home.
The magic coffee Melbourne created is a strong, sweet and smooth beverage that has wide appeal. The next time you're in a café, ask for a magic.
Although the barista might initially raise their eyebrows, you'll probably get to introduce them to a new beverage that many customers will enjoy.
Learn more about different coffee drinks in our coffee brew guides here. If you want to make better coffee at home, see all our coffee gear reviews here.
More coffee brewing guides
Disclaimer: As an Amazon Associate I earn from qualifying purchases.
Like this post? Don't forget where you found it! Save it to Pinterest for later.
Plus don't forget to follow us on Facebook , Twitter or Pinterest to see more great coffee brewing tips in your feed.
Magic Coffee Recipe
A simple magic coffee recipe that tastes just like the one from your favourite cafe. Enjoy this unique Australian coffee drink at home in three easy steps.
Ingredients
Finely ground coffee beans
130 ml (1/2 cup) of milk
Instructions
Extract a double ristretto from your espresso machine into your cup.
Froth your milk until it reaches 60-65 degrees and is glossy and thick.
Pour your milk over your ristretto shots.
Notes
1. Pull a double ristretto by shortening the espresso extraction time down from 30 seconds to 20 seconds.
2. If you don't own an espresso machine, a stovetop coffee maker works well. An electric or handheld milk frother can be used instead of an espresso machine steam wand to froth your milk.
2. Cafes serve a magic coffee in a 5 ounce ceramic cup. If you only have larger mugs, simply measure your milk before heating to ensure you don't add too much milk.
3. I use full cream milk, but low fat milk works equally well.
Nutrition Information:
Yield:

1
Serving Size:

1
Amount Per Serving:
Calories:

69
Total Fat:

3g
Saturated Fat:

2g
Trans Fat:

0g
Unsaturated Fat:

1g
Cholesterol:

11mg
Sodium:

68mg
Carbohydrates:

6g
Fiber:

0g
Sugar:

7g
Protein:

5g
Please note that nutrition information is a computer generated estimate and should not be interpreted as a dietitian's advice. Values can vary greatly among brands, amounts and ingredients used.