This easy mocha brownies recipe is a great example of the magical pairing of dark chocolate and espresso.
Fudgy and gooey on the inside, these espresso brownies have a subtle coffee flavour that enhances the overall taste.
Perfect for adults and kids alike, this simple brownie recipe will quickly become a family favourite.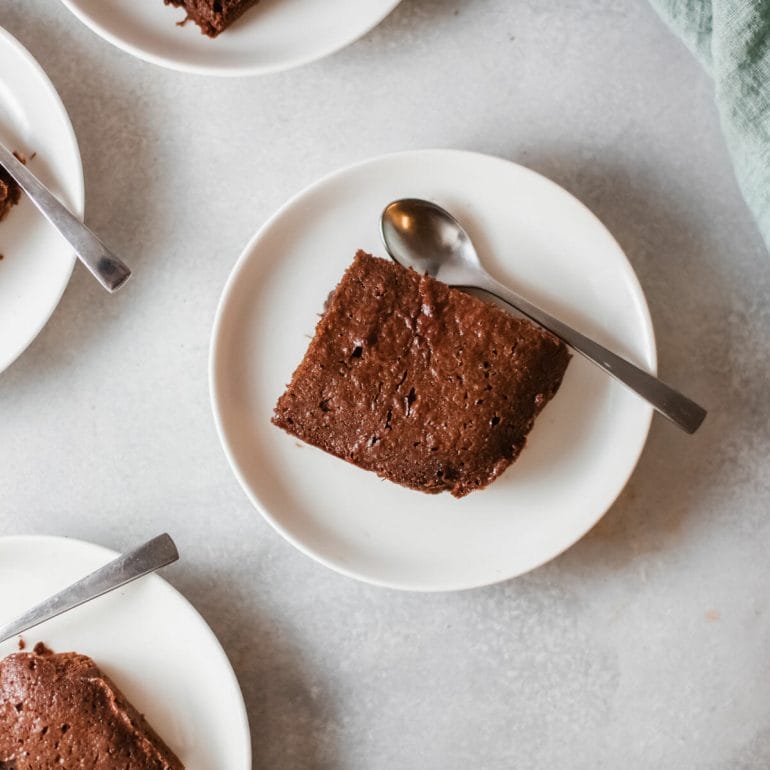 About Our Mocha Brownies Recipe
Brownies are one of my favourite things to bake. Not only are they the perfect snack when paired with a cup of coffee, they are also a great dessert when combined with a dusting of icing sugar, a spoonful of icecream and a spattering of raspberries.
There are hundreds of recipes for brownies, and plenty you can make from a box.
But what I love about this homemade brownie recipe is how quick and easy it is to whip up a batch of fudgy coffee brownies in under 45 minutes.
I used dark chocolate but you can easily swap it out for regular milk chocolate if you prefer a less intense chocolate flavour.
Adding coffee to brownies is one of the best baking tips for enhancing the taste of your brownie recipe. The coffee enhances the taste of the chocolate and can be added to any chocolate cake recipe.
I have kept the recipe super simple and have not included a topping (frosting). But if you wanted to make truly decadent mocha chocolate brownies, you could add a subtle coffee frosting.
Chocolate Coffee Brownie Equipment List
Okay, so here is what you need to make our coffee fudge brownies recipe:
20cm (8″) square cake tin
Baking paper
Mixing bowl
Wooden spoon and/or whisk
Measuring cups and spoons
If you don't have a 20cm tin, you can use different sized tins, but note this will potentially change your quantities and baking time. This site is helpful for working out the right conversions.
Ingredient List For Easy Espresso Brownies
To make our delicious brownie recipe you will need:
Dark chocolate (or milk if you prefer)
Butter – unsalted is best, but if you use salted, just don't add the extra salt
Castor sugar
Brown sugar (or muscovado sugar for a richer treacle flavour)
Eggs
Your best quality cocoa powder
Espresso powder
Salt
Plain flour
Like many coffee cake recipes, this one includes espresso powder. It gives a subtle coffee aroma and flavour without being overpowering.
Espresso powder can be expensive and hard to find in Australia – it is often available on Amazon. Click here to check if it is available now.
For this reason it makes a great coffee gift for those who love to bake with coffee flavours.
Espresso powder can be substituted for dark roast instant coffee granules dissolved in a small amount of water too. It won't have as superior a flavour as the espresso powder, but is a decent (and affordable) substitute.
Alternatively, if you have a good quality home coffee grinder, you can also try to make espresso powder from scratch.
To make the best tasting brownies, use a good quality dutch processed cocoa powder and dark chocolate that is at least 70% cocoa.
If you prefer not to use eggs or butter, this vegan brownies recipe shows you how and this vegan peanut butter brownie has no oil either.
How To Make Mocha Brownies From Scratch
Step 1 – Prepare your brownie ingredients
Many brownie recipes have you grease and flour the pan, but I think it is good to also line the base with baking paper. The paper makes it super easy to remove the brownies from the tin after baking and reduces any risk of sticking.
To melt the chocolate, chop into small pieces and place in a small microwave-safe bowl.
Melt in 30 second increments, stirring in between each time. You want the chocolate to be just melted and glossy. Too long and you will scald the chocolate and it will separate. You don't want that.
If you have a double boiler you can also melt your chocolate in a pan on top of just boiling water. Just make sure you keep the heat low and stir regularly.
Lightly whisk the eggs and set aside.
Step 2 – Combine your coffee brownie ingredients
The beauty of these easy mocha brownies is you make them in one bowl. No food processor or mixer required.
In a large bowl combine the melted butter and chocolate. Add the castor sugar and brown sugar and stir to combine.
Add the eggs and stir to combine. Then add the espresso powder, vanilla, cocoa and salt. Whisk until fully incorporated.
Finally add the flour and use a wooden spoon or spatula to stir until just combined.
Step 3 – Bake your espresso brownies
Once you have combined all ingredients, pour the batter into your prepared tin and pop in the oven.
The trickiest step with brownies is knowing when they are ready to come out. I have recommended 22 minutes, but this will depend a little on your oven. Keep an eye on them – they should be firm around the edges, but slightly soft in the middle.
If you like a gooey brownie recipe, get them out when the middle is just firm. If you prefer a more cake like texture, leave them in a little longer until a skewer comes out clean.
Set aside to cool in the tin. The brownies will continue to cook once out of the oven, so don't leave them in too long!
Once cooled, remove from the tin and slice to serve.
To serve your brownies as a coffee dessert, add a light dusting of icing sugar and serve with a side of icecream and raspberries.
Tips For Making Great Tasting Mocha Brownies
Use the best quality cocoa you have in the pantry.
Use espresso powder for a subtle coffee flavour.
Don't leave them in the oven too long – they will firm up a little once out of the oven.
If they are a little too soft in the centre after cooling, pop them in the refrigerator to firm up some more.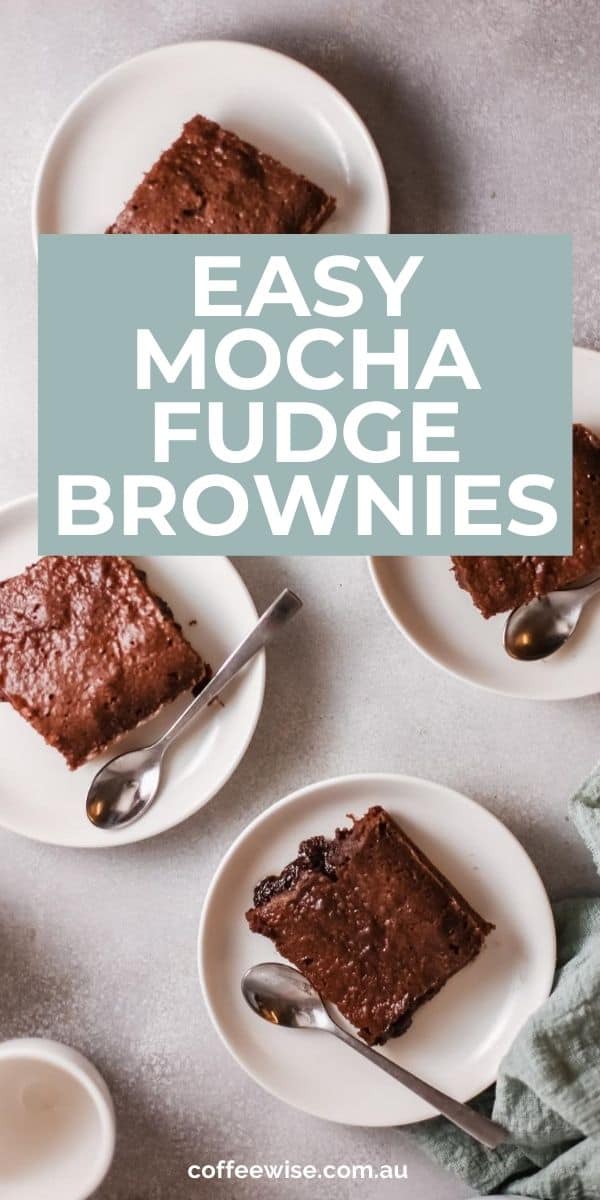 More coffee recipes to try
See more great recipes with coffee here. If you enjoy making coffee drinks at home, see our articles on the best coffee equipment here.
Disclaimer: As an Amazon Associate I earn from qualifying purchases.
Like this recipe? Subscribe to my newsletter for all the latest recipes and brewing tips.
Plus don't forget to follow us on Pinterest or Facebook to see more great coffee recipes like this one in your feed.
Easy Mocha Brownies
These espresso chocolate brownies are DELICIOUS! Velvety, fudgy and with the perfect coffee and chocolate notes.
Ingredients
170g (6 oz) dark chocolate, melted
125g (1/2 cup) unsalted butter, melted
1/2 cup castor sugar
1/4 cup brown sugar
3 eggs, lightly whisked
2 tsp espresso powder
3 tbsp cocoa powder
1 tsp vanilla extract
pinch of salt
3/4 cup plain flour
Instructions
Preheat the oven to 180 Celsius (160 fan forced / 350 F). Grease and flour a 20cm square baking pan. Line the base with baking powder and set aside.
In a bowl combine the melted butter with the melted chocolate until smooth.
Add the sugar and brown sugar and stir to combine.
Add the 3 eggs, the espresso powder, vanilla extract, cocoa powder, and salt and whisk in until fully incorporated.
Add the flour and with the help of a spatula stir until just combined.
Pour the batter into the prepared cake pan and put in the oven.
Bake for 22 minutes or until set on the edges.
Set aside to cool completely before removing from the pan.
Slice into 12 pieces and serve.
Notes
Don't have espresso powder? Substitute with an equal amount of dark roast instant coffee granules, dissolved in 2 tsp of hot water.
This is a fudgy brownie. If you prefer a more cake like consistency, bake for a little longer.
Nutrition Information:
Yield:

12
Serving Size:

1
Amount Per Serving:
Calories:

251
Total Fat:

14g
Saturated Fat:

8g
Trans Fat:

0g
Unsaturated Fat:

5g
Cholesterol:

70mg
Sodium:

35mg
Carbohydrates:

28g
Fiber:

1g
Sugar:

19g
Protein:

3g
Please note that nutrition information is a computer generated estimate and should not be interpreted as a dietitian's advice. Values can vary greatly among brands, amounts and ingredients used.